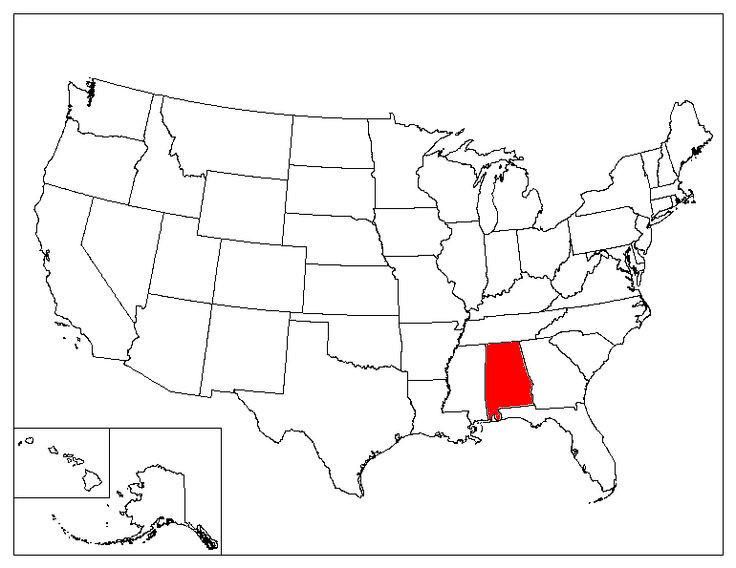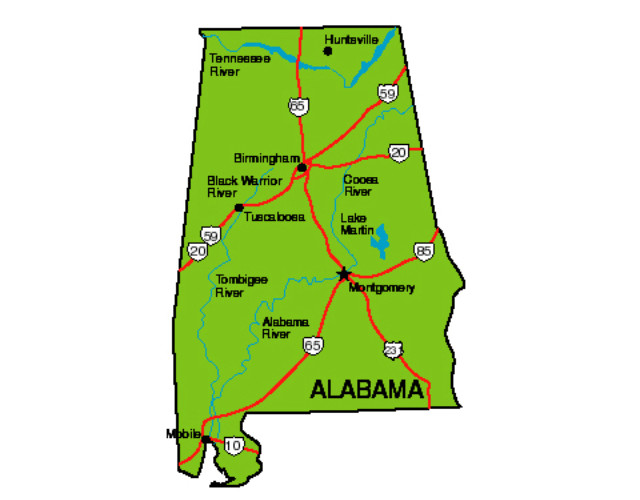 Geography & Demographics
State Abbreviation
AL
State Capital
Montgomery
State Size
Total (Land + Water): 52,419 sq miles; Land Only: 50,744 sq miles
Number of Counties
67
Time Zone
Central Time Zone
Bordering States
Florida, Georgia, Mississippi, Tennessee
Highest Point
Cheaha Mountain, 2,413 feet
National Parks
None
State Population (2015)
4,858,979
State Population Density
95.8 people / square mile
Area Codes
205, 251, 256, 334, 659, 938
Top 5 Cities (2010 population)
Birmingham (212,237)
Montgomery (205,764)
Mobile (195,111)
Huntsville (180,105)
Tuscaloosa (90,468)
Government & Legislature
State Symbols
| | |
| --- | --- |
| State Amphibian | Red hills salamander |
| State Bird | Yellowhammer |
| State Crustacean | Brown shrimp |
| State Flower | Camellia |
| State Fossil | Basilosaurus cetoides |
| State Fresh Water Fish | Largemouth bass |
| State Fruit | Blackberry |
| State Game Bird | Wild turkey |
| State Gemstone | Star blue quartz |
| State Horse | Rocking horse |
| State Insect | Monarch butterfly |
| State Mammal | Black bear |
| State Mineral | Hematite (red iron ore) |
| State Motto | Audemus jura nostra defendere (We dare defend our rights) |
| State Nickname | Yellowhammer State |
| State Nut | Pecan |
| State Quilt | Pine burr quilt |
| State Reptile | Alabama red-bellied turtle |
| State Rock | Marble |
| State Salt Water Fish | (Fighting) tarpon |
| State Shell | Scaphella junonia johnstoneae |
| State Soil | Bama soil series |
| State Spirit | Conecuh ridge Alabama fine whiskey |
| State Tree | Longleaf pine |
| State Tree Fruit | Peach |
| State Wildflower | Oak-leaf hydrangea |
Sports Teams
Taxes
Points of Interest
Famous People Born In Alabama
Nobel Prize Winners
Frederick C. Robbins (Physiology or Medicine, 1954)
Pro Football Hall Of Fame Members
Bart Starr (Quarterback. Inducted in 1977)
Buck Buchanan (Defensive Tackle. Inducted in 1990)
Ozzie Newsome (Tight End. Inducted in 1999)
John Stallworth (Wide Receiver. Inducted in 2002)
Andre Tippett (Linebacker. Inducted in 2008)
Walter Jones (Offensive Tackle. Inducted in 2014)
Ken Stabler (Quarterback. Inducted in 2016)
Baseball Hall Of Fame Players
Heinie Manush (Left Fielder. Inducted in 1964)
Satchel Paige (Pitcher. Inducted in 1971)
Early Wynn (Pitcher. Inducted in 1972)
Monte Irvin (Left Fielder. Inducted in 1973)
Joe Sewell (Shortstop. Inducted in 1977)
Willie Mays (Center Fielder. Inducted in 1979)
Hank Aaron (Right Fielder. Inducted in 1982)
Willie McCovey (First Baseman. Inducted in 1986)
Billy Williams (Left Fielder. Inducted in 1987)
Don Sutton (Pitcher. Inducted in 1998)
Ozzie Smith (Shortstop. Inducted in 2002)
Mule Suttles (First Baseman. Inducted in 2006)
Naismith Memorial Basketball Hall Of Fame Players
Charles Barkley (Forward. Inducted in 2006)
William Gates (Forward. Inducted in 1989)
Famous Actors And Actresses
Louise Fletcher
Octavia Spencer
Channing Tatum
Famous Singers
Nat King Cole
Lionel Richie
Candi Staton
Alabama Fun Facts
Birmingham is home to Vulcan, the world's largest cast iron statue. It is made of 100,000 pounds of iron and is 56 feet tall.
Alabama is the only state with a State Quilt: Pine Burr Quilt.
The Unclaimed Baggage Center is located in Scottsboro. The inventory of this store are the lost luggages from airlines.
The Saturn boosters, which were the rockets to put humans on the moon, were built in NASA's Marshall Space Flight Center in Huntsville. Huntsville is known as "The Rocket City." Some call it the "Rocket Capital of the World."
On February 16, 1968, the first 911 call in the United States was made in Haleyville, Alabama.
In Magnolia Springs, Alabama, mail is delivered by boat. This is the only city in the United States with all-water mail routes.
Alabama is the only state to have an alcoholic beverage as its official drink.
In 1703, Mobile became the first city in the American Continent to celebrate Mardi Gras, 15 years before New Orleans did so.
In 1886, the world's first Electric Trolley System was introduced in Montgomery.
In 1836 Alabama became the first state in the United States to declare Christmas a legal holiday.
This page was last updated on September 25, 2016.