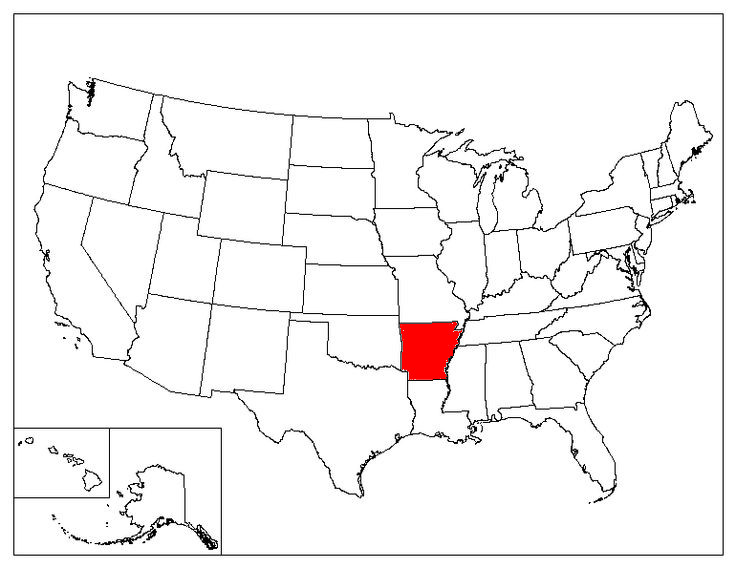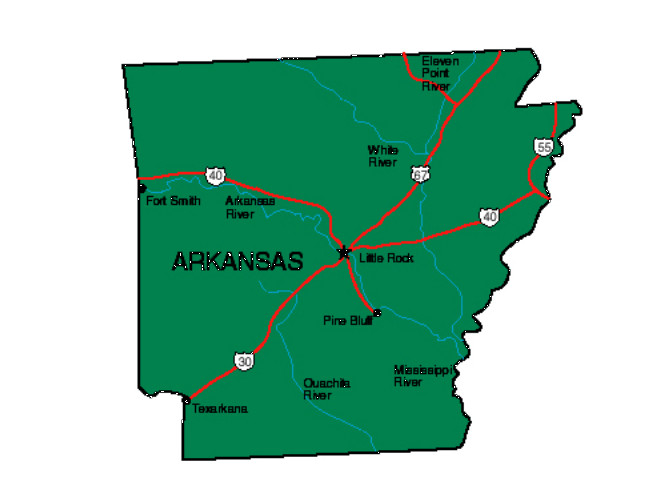 Geography & Demographics
State Abbreviation
AR
State Capital
Little Rock
State Size
Total (Land + Water): 53,179 sq miles; Land Only: 52,068 sq miles
Number of Counties
75
Time Zone
Central Time Zone
Bordering States
Louisiana, Mississippi, Missouri, Oklahoma, Tennessee, Texas
Highest Point
Mount Magazine, 2,753 feet
National Parks
Hot Springs National Park
State Population (2015)
2,978,204
State Population Density
57.2 people / square mile
Area Codes
327, 479, 501, 870
Top 5 Cities (2010 population)
Little Rock (193,524)
Fort Smith (86,209)
Fayetteville (73,580)
Springdale (69,797)
Jonesboro (67,263)
Government & Legislature
State Symbols
| | |
| --- | --- |
| State American Folk Dance | Square dance |
| State Beverage | Milk |
| State Bird | Mockingbird |
| State Butterfly | Diana fritillary |
| State Flower | Apple blossom |
| State Fruit and Vegetable | South Arkansas vine ripe pink tomato |
| State Gem | Diamond |
| State Grain | Rice |
| State Grape | Cynthiana |
| State Historic Cooking Vessel | Dutch oven |
| State Insect | Honeybee |
| State Instrument | Fiddle |
| State Mammal | White tail deer |
| State Motto | Regnat populus (The people rule) |
| State Mineral | Quartz crystal |
| State Nickname | The Natural State |
| State Nut | Pecan |
| State Rock | Bauxite |
| State Tree | Pine tree |
Sports Teams
Major Sports Teams
None
NCAA Division I Schools
University of Arkansas (SEC)
University of Arkansas at Little Rock (Sun Belt)
University of Arkansas at Pine Bluff (Southeastern)
Arkansas State University (Sun Belt)
University of Central Arkansas (Southland)
Taxes
Points of Interest
Famous People Born In Arkansas
United States Presidents
William J. Clinton (42nd President)
Pro Football Hall Of Fame Members
Don Hutson (Offensive End, Safety, Kicker . Inducted in 1963)
Joe Perry (Fullback. Inducted in 1969)
Lamar Hunt (Team Owner, AFL Co-Founder. Inducted in 1972)
Bobby Mitchell (Halfback, Flanker. Inducted in 1983)
Cortez Kennedy (Defensive Tackle. Inducted in 2012)
Willie Roaf (Offensive Tackle. Inducted in 2012)
Baseball Hall Of Fame Players
Dizzy Dean (Pitcher. Inducted in 1953)
Travis Jackson (Shortstop. Inducted in 1982)
George Kell (Third Baseman. Inducted in 1983)
Brooks Robinson (Third Baseman. Inducted in 1983)
Lou Brock (Left Fielder. Inducted in 1985)
Arky Vaughan (Shortstop. Inducted in 1985)
Naismith Memorial Basketball Hall Of Fame Players
Nat Clifton (Center-Forward. Inducted in 2014)
Joan Crawford (Center. Inducted in 1997)
Scottie Pippen (Forward. Inducted in 2010)
Goose Tatum (Forward. Inducted in 2011)
Famous Actors And Actresses
Mika Boorem
Lynda Carter
Emma Stone
Famous Singers
Johnny Cash
Iris DeMent
Levon Helm
Arkansas Fun Facts
The nameáArkansasácame from the Quapaw Indians, by way of early French explorers. The explorers met a group of Indians, known as the Ugakhpah, which means "people who live downstream.". These
Native Americans later were called the Quapaw, also called the Arkansaw.
The World's Championship Duck Calling Contest is held annually in Stuttgart.
It is illegal for the Arkansas River to rise above the Main Street Bridge in Little Rock. It is unclear how this law can be enforced.
In November, 1932, Hattie Caraway was elected senator in Arkansas. She became the first woman in the U.S. Senate.
Arkansas contains over 600,000 acres of lakes and 9,700 miles of streams and rivers. On July 2, 1962, Sam Walton founded opened the first Wal-Mart store in Rogers, Arkansas. 47 hot springs flow from the southwestern slope of Hot Springs Mountain. About 1,000,000 gallons of 143░F flow from the springs every day.
Mount Ida is known as the Quartz Crystal Capital of the World.
Pine Bluff is known as the world center of archery bow production.
Arkansas is the only state with an official State Cooking Vessel: Dutch oven.
This page was last updated on September 25, 2016.