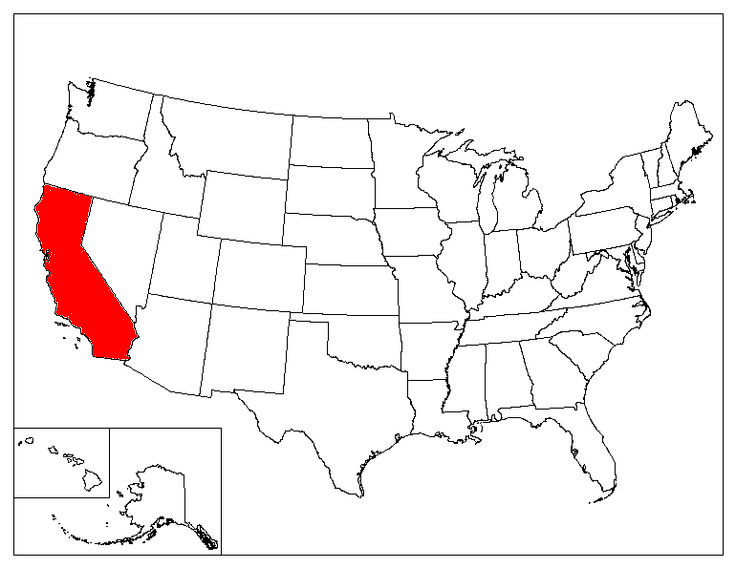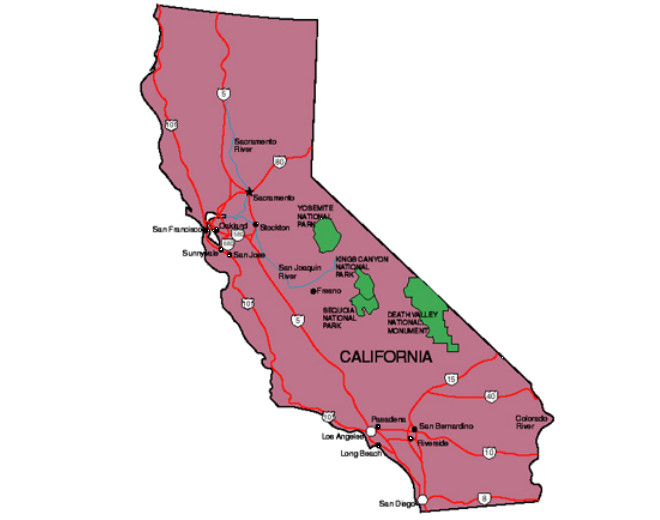 Geography & Demographics
State Abbreviation
CA
State Capital
Sacramento
State Size
Total (Land + Water): 163,696 sq miles; Land Only: 155,959 sq miles
Number of Counties
58
Time Zone
Pacific Time Zone
Bordering States
Arizona, Nevada, Oregon
Highest Point
Mount Whitney, 14,505 feet
National Parks
Channel Islands National Park
Death Valley National Park
Joshua Tree National Park
Kings Canyon National Park
Lassen Volcanic National Park
Redwood National Park
Sequoia National Park
Yosemite National Park
State Population (2015)
39,144,818
State Population Density
251.0 people / square mile
Area Codes
209, 213, 310, 323, 341, 369, 408, 415, 424, 442, 510, 530, 559, 562, 619, 626, 627, 628, 650, 657, 661, 669, 707, 714, 747, 752, 760, 764, 805, 818, 831, 858, 909, 916, 925, 935, 949, 951
Top 5 Cities (2010 population)
Los Angeles (3,792,621)
San Diego (1,307,402)
San Jose (945,942)
San Francisco (805,235)
Fresno (494,665)
Government & Legislature
State Symbols
| | |
| --- | --- |
| State Animal | California grizzly bear |
| State Bird | California Valley Quail |
| State Colors | Blue and gold |
| State Dance | West Coast swing dance |
| State Fife and Drum Corps | California Consolidated Drum Band |
| State Fish | Golden trout |
| State Flower | Golden poppy |
| State Folk Dance | Square dance |
| State Fossil | Saber-toothed cat |
| State Gemstone | Benitoite |
| State Gold Rush Ghost Town | Bodie |
| State Grass | Purple needlegrass |
| State Historical Society | California Historical Society |
| State Insect | California dogface butterfly |
| State Lichen | Lace lichen |
| State Marine Fish | Garibaldi |
| State Marine Mammal | California gray whale |
| State Motto | Eureka (I have found it) |
| State Marine Reptile | Pacific leatherback sea turtle |
| State Military Museum | California State Military Museum |
| State Mineral | Gold |
| State Nickname | Golden State |
| State Prehistoric Artifact | Chipped stone bear |
| State Reptile | Desert tortoise |
| State Rock | Serpentine |
| State Silver Rush Ghost Town | Calico |
| State Soil | San Joaquin Soil |
| State Song | "I Love You, California" |
| State Tall Ship | The Californian |
| State Theater | Pasadena Playhouse |
| State Tree | California redwood and sequoia |
| State Vietnam Veterans Memorial | California Vietnam Veterans Memorial in Sacramento's Capitol Park |
Sports Teams
Major Sports Teams
MLB: Los Angeles Angels, Los Angeles Dodgers, San Diego Padres, San Francisco Giants, Oakland A's
NFL: Los Angeles, Rams, San Diego Chargers, San Francisco 49ers, Oakland Raiders
NBA: Los Angeles Lakers, Los Angeles Clippers, Golden State Warriors, Sacramento Kings
NHL: Anaheim Mighty Ducks, Los Angeles Kings, San Jose Sharks
NCAA Division I Schools
University of California, Berkeley (Pac-12)
University of California, Davis (Big West)
University of California, Irvine (Big West)
University of California, Los Angeles (Pac-12)
California Polytechnic State University (Big West)
University of California, Riverside (Big West)
University of California, Santa Barbara (Big West)
California State University, Bakersfield (WAC)
California State University, Fresno (Mountain West)
California State University, Fullerton (Big West)
California State University, Long Beach (Big West)
California State University, Northridge (Big West)
California State University, Sacramento (Big Sky)
Loyola Marymount University (West Coast)
University of the Pacific (West Coast)
Pepperdine University (West Coast)
Saint Mary's College of California (West Coast)
University of San Diego (West Coast)
San Diego State University (Mountain West)
University of San Francisco (West Coast)
San Jose State University (Mountain West)
Santa Clara University (West Coast)
University of Southern California (Pac-12)
Stanford University (Pac-12)
Taxes
Popular Tourist Attractions
Famous People Born In California
Nobel Prize Winners
Joseph Erlanger (Physiology or Medicine, 1944)
Edwin M. McMillan (Chemistry, 1951)
Willis E. Lamb (Physics, 1955)
Owen Chamberlain (Physics, 1959)
John Steinbeck (Literature, 1962)
Luis Alvarez (Physics, 1968)
Dudley R. Herschbach (Chemistry, 1986)
Robert B. Laughlin (Physics, 1998)
Eric Cornell (Physics, 2001)
Leland Hartwell (Physiology or Medicine, 2001)
Thomas C. Schelling (Economic Sciences, 2005)
Andrew Z. Fire (Physiology or Medicine, 2006)
Elinor Ostrom (Economic Sciences, 2009)
Carol W. Greider (Physiology or Medicine, 2009)
Thomas J. Sargent (Economic Sciences, 2011)
William E. Moerner (Chemistry, 2014)
United States Presidents
Richard M. Nixon (37th President)
Pro Football Hall Of Fame Members
Mel Hein (Center, Linebacker. Inducted in 1963)
Hugh McElhenny (Halfback. Inducted in 1970)
Frank Gifford (Halfback, Flanker. Inducted in 1977)
Ron Mix (Offensive Tackle. Inducted in 1979)
Pete Rozelle (General Manager, NFL Commissioner. Inducted in 1985)
O. J. Simpson (Running Back. Inducted in 1985)
Bob St. Clair (Offensive Tackle. Inducted in 1990)
Tex Schramm (General Manager, Team President. Inducted in 1991)
Dan Fouts (Quarterback. Inducted in 1993)
Bill Walsh (Coach. Inducted in 1993)
Anthony Muñoz (Offensive Tackle. Inducted in 1998)
Marcus Allen (Running Back. Inducted in 2003)
James Lofton (Wide Receiver. Inducted in 2003)
Troy Aikman (Quarterback. Inducted in 2006)
Warren Moon (Quarterback. Inducted in 2006)
Gary Zimmerman (Offensive Tackle. Inducted in 2008)
Les Richter (Linebacker, Guard, Kicker. Inducted in 2011)
Larry Allen (Guard, Tackle. Inducted in 2013)
Junior Seau (Linebacker. Inducted in 2015)
Dick Stanfel (Guard. Inducted in 2016)
Baseball Hall Of Fame Players
Frank Chance (First Baseman. Inducted in 1946)
Harry Heilmann (Right Fielder. Inducted in 1952)
Joe DiMaggio (Center Fielder. Inducted in 1955)
Joe Cronin (Shortstop. Inducted in 1956)
Ted Williams (Left Fielder. Inducted in 1966)
Chick Hafey (Left Fielder. Inducted in 1971)
Harry Hooper (Right Fielder. Inducted in 1971)
Lefty Gomez (Pitcher. Inducted in 1972)
George Kelly (First Baseman. Inducted in 1973)
Bob Lemon (Pitcher. Inducted in 1976)
Duke Snider (Center Fielder. Inducted in 1980)
Don Drysdale (Pitcher. Inducted in 1984)
Bobby Doerr (Second Baseman. Inducted in 1986)
Ernie Lombardi (Catcher. Inducted in 1986)
Tony Lazzeri (Second Baseman. Inducted in 1991)
Tom Seaver (Pitcher. Inducted in 1992)
Eddie Murray (First Baseman. Inducted in 2003)
Gary Carter (Catcher. Inducted in 2003)
Dennis Eckersley (Pitcher. Inducted in 2004)
Tony Gwynn (Right Fielder. Inducted in 2007)
Joe Gordon (Second Baseman. Inducted in 2009)
Randy Johnson (Pitcher. Inducted in 2015)
Naismith Memorial Basketball Hall Of Fame Players
Gail Goodrich (Guard. Inducted in 1996)
Vic Hanson (Guard. Inducted in 1960)
Dennis Johnson (Guard. Inducted in 2010)
Lisa Leslie (Center. Inducted in 2015)
Hank Luisetti (Forward. Inducted in 1959)
Ann Meyers (Guard. Inducted in 1993)
Vern Mikkelsen (Forward. Inducted in 1995)
Cheryl Miller (Forward. Inducted in 1995)
Reggie Miller (Guard. Inducted in 2012)
Gary Payton (Guard. Inducted in 2013)
Jim Pollard (Center-Forward. Inducted in 1978)
Bill Walton (Center. Inducted in 1993)
Jamaal Wilkes (Guard-Forward. Inducted in 2012)
George Yardley (Guard-Forward. Inducted in 1996)
Hockey Hall Of Fame Members
Angela Ruggiero (Defense. Inducted in 2015)
Famous Actors And Actresses
Ben Affleck
Jessica Alba
Jennifer Aniston
Jeff Bridges
Nicolas Cage
Jessica Chastain
Cher
Ted Danson
Cameron Diaz
Leonardo DiCaprio
Robert Duvall
Clint Eastwood
Will Ferrell
Sally Field
Jodie Foster
Gene Hackman
Tom Hanks
Donah Hill
Dustin Hoffman
Helen Hunt
Dwayne Johnson
Angelina Jolie
Diane Keaton
Brie Larson
Liza Minnelli
Marilyn Monroe
Gwyneth Paltrow
Gregory Peck
Sean Penn
Cliff Robertson
Kristen Stewart
Famous Singers
Paula Abdul
Jeff Buckley
Colbie Caillat
Kim Carnes
Cher
Cherrelle
Snoop Dogg
Ella Fitzgerald
John Fogerty
Josh Groban
Etta James
Courtney Love
Mike Patton
Kate Perry
Steve Perry
Bonnie Raitt
Patrice Rushen
Raphael Saadiq
Gwen Stefani
Suzanne Vega
Tom Waits
Scott Weiland
California Fun Facts
California was the name given to a mythical island in the popular early 16th century Spanish novel Las Sergas de Esplandián. When the Spanish started exploring the Pacific coast, they applied this name to the Baja California Peninsula. That name stuck.
Spanish navigator Juan Rodríguez Cabrillo became the first European in recorded history to sight the region that is present-day California in 1542.
The first McDonald's restaurant opened in San Bernardino in 1940 by brothers Richard and Maurice McDonald.
San Bernardino County is the largest county in the United States, totaling 20,105 square miles.
Castroville is known as the Artichoke Capital of the World. In 1947, Norma Jean was crowned Castroville's first Artichoke Queen. She later became a world-famous actress by her screen name, Marilyn Monroe.
California has more national parks than any other state in USA. Of the 59 national parks in USA, California has 9 national parks.
On Jan. 24, 1848, James W. Marshall discovered gold at Sutter's Mill, starting the California Gold Rush and bringing settlers to the state in large numbers.
Fresno, California is the Raisin Capital of the World. 
William Todd designed the original California flag. He was the nephew of Mary Todd Lincoln, Abraham Lincoln's wife.
California is the only state that has hosted both the Summer and Winter Olympics.
At 14,505 feet, California's Mount Whitney is the highest peak in the lower 48 states.
In 1996, California became the first state to legalize marijuana (weed) for medical use.
This page was last updated on September 29, 2016.