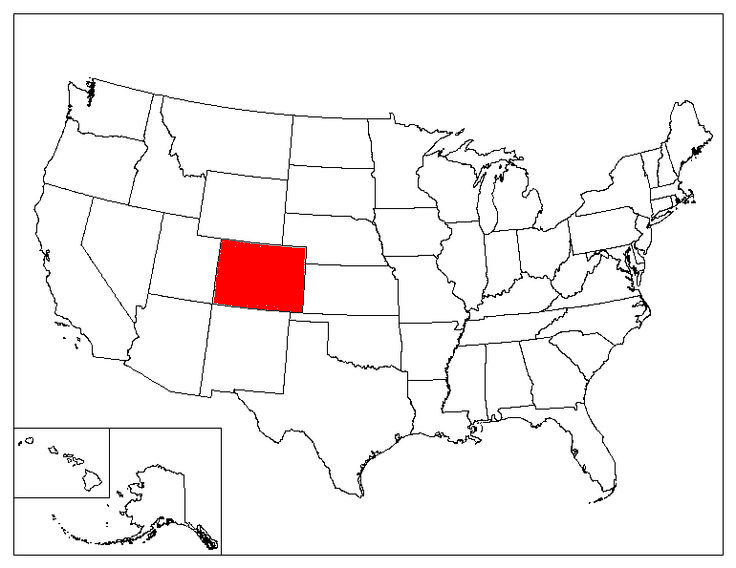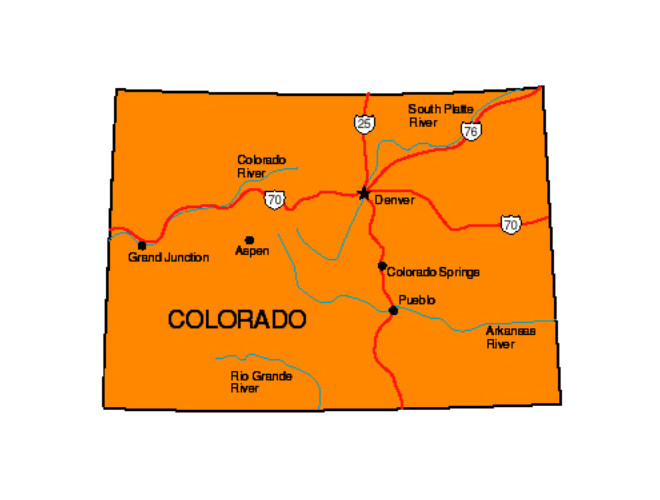 Geography & Demographics
State Abbreviation
CO
State Capital
Denver
State Size
Total (Land + Water): 104,094 sq miles; Land Only: 103,718 sq miles
Number of Counties
63
Time Zone
Mountain Time Zone
Bordering States
Arizona, Kansas, Nebraska, New Mexico, Oklahoma, Utah, Wyoming
Highest Point
Mount Elber, 14,440 feet
National Parks
Black Canyon of the Gunnison National Park
Great Sand Dunes National Park and Preserve
Mesa Verde National Park
Rocky Mountain National Park
State Population (2015)
5,456,574
State Population Density
52.6 people / square mile
Area Codes
303,719,720,970
Top 5 Cities (2010 population)
Denver (600,158)
Colorado Springs (416,427)
Aurora (325,078)
Fort Collins (143,986)
Lakewood (142,980)
Government & Legislature
State Symbols
| | |
| --- | --- |
| State Amphibian | Western tiger salamander |
| State Animal | Rocky mountain bighorn sheep |
| State Bird | Lark bunting |
| State Cactus | Claret cup cactus |
| State Fish | Greenback cutthroat trout |
| State Flower | Rocky Mountain columbine |
| State Folk Dance | Square dance |
| State Fossil | Stegosaurus |
| State Gemstone | Aquamarine |
| State Grass | Blue grama grass |
| State Insect | Colorado hairstreak butterfly |
| State Mineral | Rhodochrosite |
| State Motto | Nil sine numine (Nothing without the Deity) |
| State Nickname | Centennial State |
| State Pet | Dogs and cats that are adopted from Colorado animal shelters and rescues |
| State Reptile | Western painted turtle |
| State Rock | Yule marble |
| State Sport | Pack burro racing |
| State Tree | Colorado blue spruce |
Sports Teams
Taxes
Points of Interest
Famous People Born In Colorado
Nobel Prize Winners
Edward Tatum (Physiology or Medicine, 1958)
Willard F. Libby (Chemistry, 1960)
John L. Hall (Physics, 2005)
Pro Football Hall Of Fame Members
Dutch Clark (Quarterback. Inducted in 1963)
Baseball Hall Of Fame Players
Rich Gossage (Pitcher. Inducted in 2008)
Famous Actors And Actresses
Tim Allen
AnnaSophia Robb
Kristen Schaal
Colorado Fun Facts
The word 'Colorado' means 'colored' or 'colored red' in Spanish. The Colorado state was named after the Colorado River, which Spanish explorers named 'Río Colorado' (meaning 'colored river') for the red silt the river carried from the mountains.
Colorado is one of the states that form the Four Corners, the only location in the United States where four states intersect at one point. The other three states are Arizona, New Mexico, and Utah.
Colfax Avenue in Denver is the longest continuous street in America
The world's first rodeo was held on July 4th, 1869 in Deer Trail.
Colorado has the highest paved road in North America. The road to Mt. Evans climbs to 14,258 ft. above sea level.
Denver is nicknamed "The Mile High City" because its official elevation is exactly one mile (5,280 feet) above sea level.
The 13th step of the state capital building in Denver is exactly 1 mile high above sea level
Dove Creek is the pinto bean capital of the world.
The Pike's Peak Cog Railway in Manitou Springs is the highest railway in the United States, with a peak elevation of 14,111 feet above sea level.
Colorado is the only state with an official State Cactus: Claret cup cactus.
Royal Gorge Bridge in Caňon City, Colorado, is the highest bridge in the United States at 955 feet.
In 2012, Colorado (along with Washington) became the first to legalize marijuana (weed) for recreational use.
In Colorado, it is unlawful to mutilate a rock in a state park.
This page was last updated on September 25, 2016.