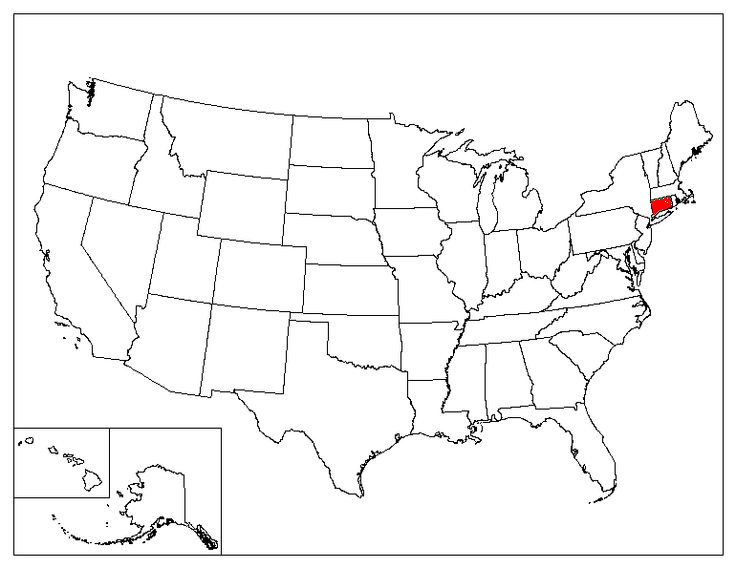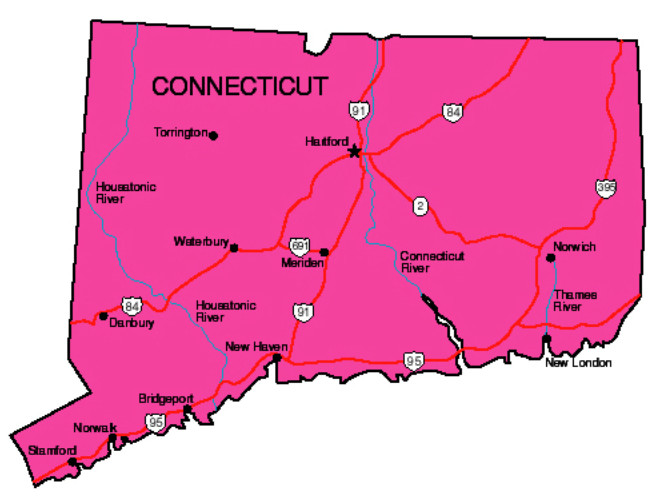 Geography & Demographics
State Abbreviation
CT
State Capital
Hartford
State Size
Total (Land + Water): 5,543 sq miles; Land Only: 4,845 sq miles
Number of Counties
8
Time Zone
Eastern Time Zone
Bordering States
Massachusetts, New York, Rhode Island
Highest Point
South side of Mount Frissell, 2,379 feet
National Parks
None
State Population (2015)
3,590,886
State Population Density
741.2 people / square mile
Area Codes
203, 475, 860, 959
Top 5 Cities (2010 population)
Bridgeport (144,229)
New Haven (129,779)
Hartford (124,775)
Stamford (122,643)
Waterbury (110,366)
Government & Legislature
State Symbols
| | |
| --- | --- |
| State Animal | Sperm whale |
| State Bird | Robin |
| State Composer | Charles Edward Ives |
| State Flower | Mountain laurel |
| State Folk Dance | Square dance |
| State Fossil | Eubrontes giganteus |
| State Hero | Nathan Hale |
| State Heroine | Prudence Crandall |
| State Insect | European mantis |
| State Mineral | Garnet |
| State Motto | Qui transtulit sustinet (He who transplanted sustains) |
| State Nickname | Constitution State |
| State Poet Laureate | Rennie McQuilkin |
| State Shellfish | Eastern oyster |
| State Ship | USS Nautilus |
| State Tree | White oak |
| State Troubadour | Kristen Graves |
Sports Teams
Taxes
Popular Tourist Attractions
Famous People Born In Connecticut
Nobel Prize Winners
Edward C. Kendall (Physiology or Medicine, 1950)
John F. Enders (Physiology or Medicine, 1954)
John H. van Vleck (Physics, 1977)
Roger W. Sperry (Physiology or Medicine, 1981)
Barbara McClintock (Physiology or Medicine, 1983)
Alfred G. Gilman (Physiology or Medicine, 1994)
George A. Akerlof (Economic Sciences, 2001)
Craig C. Mello (Physiology or Medicine, 2006)
United States Presidents
George W. Bush (43rd President)
Pro Football Hall Of Fame Members
Ken Strong (Halfback, Kicker. Inducted in 1967)
Andy Robustelli (Defensive End. Inducted in 1971)
Floyd Little (Running Back. Inducted in 2010)
Baseball Hall Of Fame Players
Jim O'Rourke (Left Fielder. Inducted in 1945)
Roger Connor (First Baseman. Inducted in 1976)
Naismith Memorial Basketball Hall Of Fame Players
Calvin Murphy (Guard. Inducted in 1993)
Famous Actors And Actresses
Ernest Borgnine
Katharine Hepburn
Seth MacFarlane
John Ratzenberger
Famous Singers
Michael Bolton
Karen Carpenter
Tony Scherr
Connecticut Fun Facts
The State of Connecticut is named after the River Connecticut, the largest river in New England. The word 'Connecticut' is derived from 'Quonehtacut', a Mohegan Indian word for "long tidal river."
The first telephone book was published in New Haven on February 21, 1878. It consisted of a single piece of cardboard and included 50 names.
Mary Dixon Kies of South Killingly was the first woman to receive a U.S. patent. She did so on May 5th, 1809, for a method of weaving straw with silk and thread to make hats.
The Hartford Courant, based in Connecticut, is the oldest U.S. newspaper still being published. It started published as a weekly on October 29, 1764.
The first automobile law was passed by the state of CT on May 21, 1901. The speed limit was set at 12 miles per hour in cities and 15 miles per hour on country roads.
First Ph.D. Degree in the United States was awarded by the Yale University in 1861 to Eugene Schuyler, Arthur Williams Wright, and James Morris Whiton.
In Connecticut, it's illegal to keep town records where liquor is sold.
In 1908, George Smith put candy on a stick and thus invented the lollipop. It is named after a famous racehorse at the time called Lolly Pop. He trademarked the term under the Bradley Smith Company of New Haven in 1931.
In 1889, the first public pay phone in the United States was installed by William Gray in Hartford.
Connecticut is the only state with an official State Composer (Charles Edward Ives), State Hero (Nathan Hale), and State Heroine (Prudence Crandall).
This page was last updated on September 29, 2016.