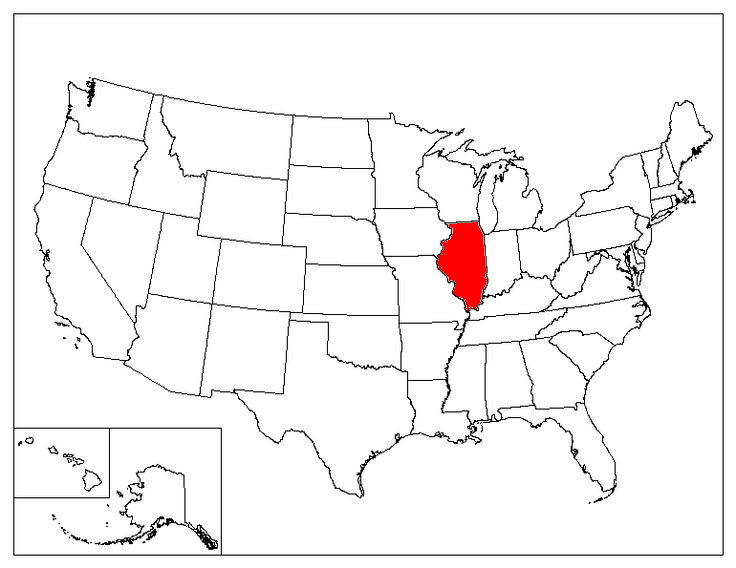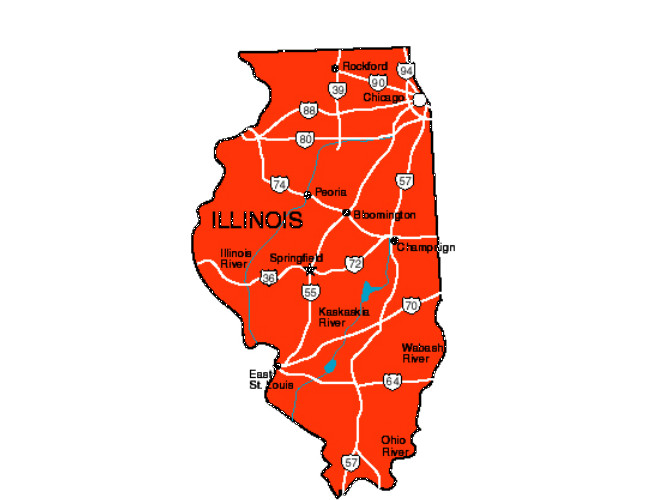 Geography & Demographics
State Abbreviation
IL
State Capital
Springfield
State Size
Total (Land + Water): 57,914 sq miles; Land Only: 55,584 sq miles
Number of Counties
102
Time Zone
Central Time Zone
Bordering States
Indiana, Iowa, Michigan, Kentucky, Missouri, Wisconsin
Highest Point
Charles Mound, 1,235 feet
National Parks
None
State Population (2015)
12,859,995
State Population Density
231.4 people / square mile
Area Codes
217, 224, 309, 312, 331, 447, 464, 618, 630, 708, 730, 773, 779, 815, 847, 872
Top 5 Cities (2010 population)
Chicago (2,695,598)
Aurora (197,899)
Rockford (152,871)
Joliet (147,433)
Naperville (141,853)
Government & Legislature
State Symbols
| | |
| --- | --- |
| State Amphibian | Eastern tiger salamander |
| State Animal | White-tailed deer |
| State Bird | Cardinal |
| State Dance | Square dance |
| State Fish | Bluegill |
| State Flower | Violet |
| State Fossil | Tully monster |
| State Insect | Monarch butterfly |
| State Mineral | Fluorite |
| State Motto | State sovereignty, national union |
| State Nickname | Prairie State |
| State Prarie Grass | Big bluestem |
| State Reptile | Painted turtle |
| State Snack Food | Popcorn |
| State Soil | Drummer silty clay loam |
| State Tree | White oak |
Sports Teams
Taxes
Famous People Born In Illinois
Nobel Prize Winners
Robert Andrews Millikan (Physics, 1923)
Jane Addams (Peace, 1931)
Clinton Davisson (Physics, 1937)
Edward A. Doisy (Physiology or Medicine, 1943)
E. M. Purcell (Physics, 1952)
Ernest Hemingway (Literature, 1954)
Vincent du Vigneaud (Chemistry, 1955)
James Watson (Physiology or Medicine, 1962)
Robert W. Holley (Physiology or Medicine, 1968)
Stanford Moore (Chemistry, 1972)
Robert Schrieffer (Physics, 1972)
Paul J. Flory (Chemistry, 1974)
Ben R. Mottelson (Physics, 1975)
James Cronin (Physics, 1980)
James Tobin (Economic Sciences, 1981)
Thomas R. Cech (Chemistry, 1989)
Harry M. Markowitz (Economic Sciences, 1990)
Jerome I. Friedman (Physics, 1990)
James J. Heckman (Economic Sciences, 2000)
H. Robert Horvitz (Physiology or Medicine, 2002)
Edmund S. Phelps (Economic Sciences, 2006)
Martin Chalfie (Chemistry, 2008)
Saul Perlmutter (Physics, 2011)
Bruce A. Beutler (Physiology or Medicine, 2011)
Lars Peter Hansen (Economic Sciences, 2013)
United States Presidents
Ronald Reagan (40th President)
Pro Football Hall Of Fame Members
George Halas (Offensive End, Coach, Team Owner, NFL co-organizer. Inducted in 1963)
George Trafton (Center. Inducted in 1964)
John "Paddy" Driscoll (Quarterback. Inducted in 1965)
Otto Graham (Quarterback. Inducted in 1965)
Hugh "Shorty" Ray (Technical Advisor on the Rules, Supervisor of Officials. Inducted in 1966)
Charles Bidwill (Team Owner. Inducted in 1967)
George Connor (Linebacker. Inducted in 1975)
Ray Nitschke (Linebacker. Inducted in 1978)
Dick Butkus (Linebacker. Inducted in 1979)
George Musso (Offensive Guard, Offensive Tackle. Inducted in 1982)
Mike McCormack (Offensive Tackle. Inducted in 1984)
Marv Levy (Coach. Inducted in 2001)
Ron Yary (Offensive Tackle. Inducted in 2001)
Hank Stram (Coach. Inducted in 2003)
Fritz Pollard (Halfback, Coach. Inducted in 2005)
Shannon Sharpe (Tight End. Inducted in 2011)
Baseball Hall Of Fame Players
Joe McGinnity (Pitcher. Inducted in 1946)
Ray Schalk (Catcher. Inducted in 1955)
Red Ruffing (Pitcher. Inducted in 1967)
Lou Boudreau (Shortstop. Inducted in 1970)
Jim Bottomley (First Baseman. Inducted in 1974)
Freddie Lindstrom (Third Baseman. Inducted in 1976)
Robin Roberts (Pitcher. Inducted in 1976)
Red Schoendienst (Second Baseman. Inducted in 1989)
Robin Yount (Shortstop. Inducted in 1999)
Kirby Puckett (Center Fielder. Inducted in 2001)
Rickey Henderson (Left Fielder. Inducted in 2009)
Naismith Memorial Basketball Hall Of Fame Players
Cynthia Cooper-Dyke (Guard. Inducted in 2010)
Harry Gallatin (Center-Forward. Inducted in 1991)
Robert Gruenig (Center. Inducted in 1963)
Dan Issel (Center-Forward. Inducted in 1993)
Ed Krause (Center. Inducted in 1976)
George Mikan (Center. Inducted in 1959)
Pat Page (Guard. Inducted in 1962)
Andy Phillip (Guard-Forward. Inducted in 1961)
John Schommer (Guard. Inducted in 1959)
Isiah Thomas (Guard. Inducted in 2000)
Hockey Hall Of Fame Members
Cammi Granato (Center. Inducted in 2010)
Chris Chelios (Defense. Inducted in 2013)
Famous Actors And Actresses
Amitabh Bachchan
Harrison Ford
Charlton Heston
William Holden
Marlee Matlin
Melissa McCarthy
Frances McDormand
George Wendt
Robin Williams
Famous Singers
Billy Corgan
R. Kelly
Chaka Khan
Minnie Riperton
Grace Slick
Patti Smith
Eddie Vedder
Illinois Fun Facts
The name "Illinois" comes from a Native American word meaning "tribe of superior men."
The world's first skyscraper, the ten-story Home Insurance Building, was built in Chicago in 1885.
The IATA airport code "ORD" for Chicago's O'Hare Airport comes from its original name, Orchard Field. O'Hare Airport was named in honor of Lieutenant Commander Edward H. "Butch" O'Hare.
The first all-color TV station, WMAQ-TV, debuted in Chicago on April 15, 1956.
Illinois is home to the world's largest bottle of catsup, a 170-feet tall water tower located south of downtown Collinsville, Illinois.
Carol Moseley Braun became the first female African-American Senator when she was elected to the U.S. Senate in Illinois in 1992.
Illinois is the largest producer of pumpkins in the United States, and Morton is the self-proclaimed "Pumpkin Capitol of the World."
In Illinois, the legal drinking age is 21. Those under 21 can drink legally provided that they are participating in a culinary arts, food service, or restaurant management degree program of which a portion of the program includes instruction on responsible alcoholic beverage serving methods.
The official State Snack Food in Illinois is popcorn. A group of elementary school students, with help from their teacher, Fran Hollister, at Cunningham Elementary School in Joliet petitioned Illinois legistrators to make popcorn the official snack food of Illinois, and State Senator Larry Walsh sponsored the bill. The bill was passed in 2003.
This page was last updated on September 25, 2016.