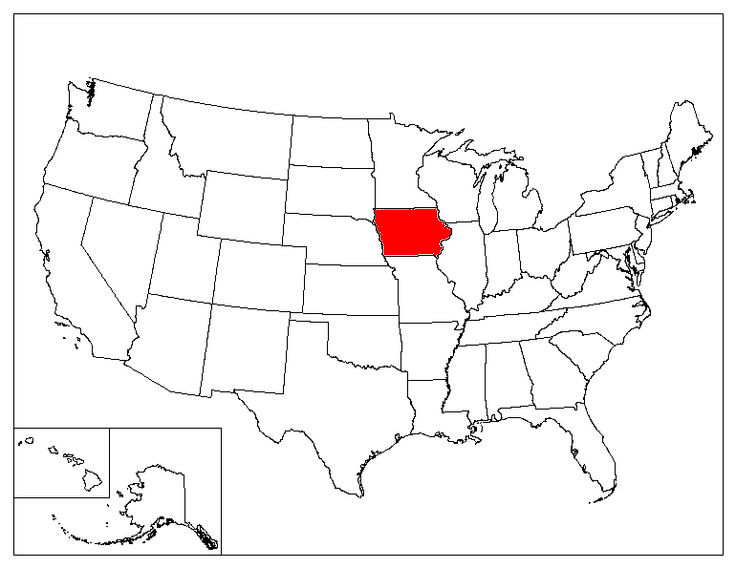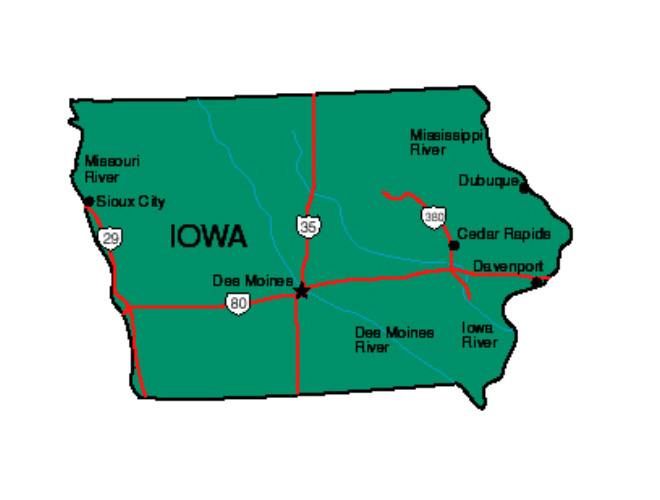 Geography & Demographics
State Abbreviation
IA
State Capital
Des Moines
State Size
Total (Land + Water): 56,272 sq miles; Land Only: 55,869 sq miles
Number of Counties
99
Time Zone
Central Time Zone
Bordering States
Illinois, Minnesota, Missouri, Nebraska, South Dakota, Wisconsin
Highest Point
Hawkeye Point, 1,671 feet
National Parks
None
State Population (2015)
3,123,899
State Population Density
55.9 people / square mile
Area Codes
319, 515, 563, 641, 712
Top 5 Cities (2010 population)
Des Moines (203,433)
Cedar Rapids (126,326)
Davenport (99,685)
Sioux City (82,684)
Waterloo (68,406)
Government & Legislature
State Symbols
| | |
| --- | --- |
| State Bird | Eastern goldfinch |
| State Flower | Wild rose |
| State Motto | Our liberties we prize and our rights we will maintain |
| State Nickname | Hawkeye State |
| State Rock | Geode |
| State Tree | Bur oak |
Sports Teams
Taxes
Famous People Born In Iowa
Nobel Prize Winners
Norman Borlaug (Peace, 1970)
Edwin G. Krebs (Physiology or Medicine, 1992)
Stanley B. Prusiner (Physiology or Medicine, 1997)
Alan Heeger (Chemistry, 2000)
United States Presidents
Herbert Hoover (31st President)
Baseball Hall Of Fame Players
Cap Anson (First Baseman. Inducted in 1939)
Fred Clarke (Left Fielder. Inducted in 1945)
Dazzy Vance (Pitcher. Inducted in 1955)
Bob Feller (Pitcher. Inducted in 1962)
Red Faber (Pitcher. Inducted in 1964)
Dave Bancroft (Shortstop. Inducted in 1971)
Famous Actors And Actresses
Cloris Leachman
Michelle Monaghan
John Wayne
Iowa Fun Facts
Iowa derives its name from the Ioway people, one of the Native American tribes that made the region their home.
Iowa is the only state in the Unites States whose eastern and western borders are formed entirely by rivers.
Iowa is the only state in the United States that has two vowels as the first two letters of its name and has two vowels as its state abbreviation (IA).
Iowa is called "The Hawkeye State" to honor Indian Chief Black Hawk.
Iowan Arabella Mansfield the first female lawyer in the United States. She was admitted to the Iowa bar in 1869.
Iowa is the largest producer of ethanol among all the states in the United States. Not surprisingly, Iowa is also the largest producer of corn among all U.S. states.
The novel and movie "The Bridges of Madison County" was set in Madison County, Iowa.
Iowa State University is the oldest land grant college in the United States.
In Iowa, ministers must obtain a permit to carry their liquor across state lines.
This page was last updated on September 25, 2016.