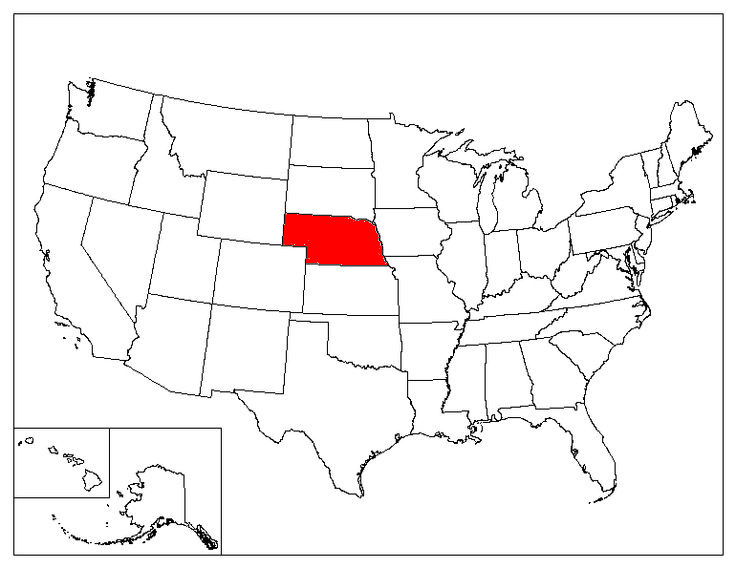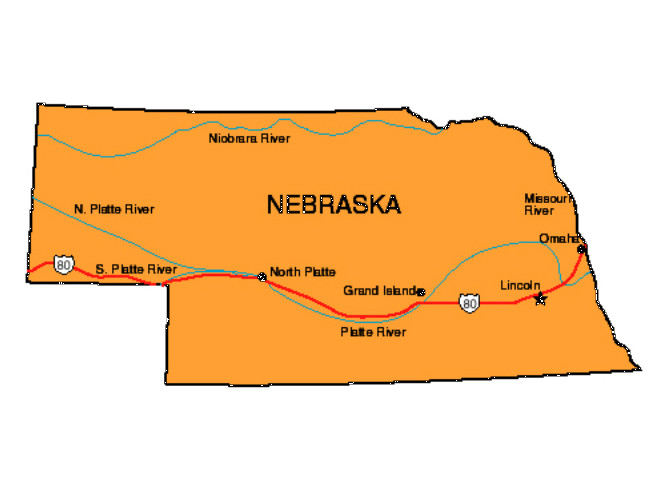 Geography & Demographics
State Abbreviation
NE
State Capital
Lincoln
State Size
Total (Land + Water): 77,354 sq miles; Land Only: 76,872 sq miles
Number of Counties
93
Time Zone
Central Time Zone, Mountain Time Zone
Bordering States
Colorado, Iowa, Kansas, Missouri, South Dakota, Wyoming
Highest Point
Panorama Point, 5,427 feet
National Parks
None
State Population (2015)
1,896,190
State Population Density
24.7 people / square mile
Area Codes
308, 402
Top 5 Cities (2010 population)
Omaha (408,958)
Lincoln (258,379)
Bellevue (50,137)
Grand Island (48,520)
Kearney (30,787)
Government & Legislature
State Symbols
| | |
| --- | --- |
| State Bird | Western meadowlark |
| State Fish | Channel catfish |
| State Flower | Goldenrod |
| State Fossil | Mammoth |
| State Gem | Blue chalcedoney |
| State Grass | Little bluestem |
| State Insect | Honeybee |
| State Mammal | Whitetail deer |
| State Motto | Equality before the law |
| State Nickname | Cornhusker State; Beef State |
| State Rock | Prairie agate |
| State Tree | Cottonwood |
Sports Teams
Taxes
Popular Tourist Attractions
Famous People Born In Nebraska
Nobel Prize Winners
George Beadle (Physiology or Medicine, 1958)
Lawrence R. Klein (Economic Sciences, 1980)
Val Fitch (Physics, 1980)
United States Presidents
Gerald R. Ford (38th President)
Pro Football Hall Of Fame Members
William R. Lyman (Tackle. Inducted in 1964)
Guy Chamberlin (End, Running Back. Inducted in 1965)
Mick Tingelhoff (Center. Inducted in 2015)
Baseball Hall Of Fame Players
Grover Cleveland Alexander (Pitcher. Inducted in 1938)
Sam Crawford (Right Fielder. Inducted in 1957)
Bob Gibson (Pitcher. Inducted in 1981)
Richie Ashburn (Center Fielder. Inducted in 1995)
Wade Boggs (Third Baseman. Inducted in 2005)
Famous Actors And Actresses
Marlon Brando
Henry Fonda
Hilary Swank
Nebraska Fun Facts
Nebraska's name comes from the Otoe Indian words nebrathka, meaning "flat waterť." The words refer to the Platte River that flows through the state
Nebraska is the only state in the United States with a unicameral legislature (meaning a single legislative chamber). All other states have bicameral legislature (house and senate).
The Lied Jungle in Omaha's Henry Doorly Zoo and Aquarium is the largest indoor rainforest in the United States.
The National Museum of Roller Skating is located in Lincoln, Nebraska
On Saturdays when the University of Nebraska football team plays at home, the stadium itself becomes the third-largest city in Nebraska. The stadium capacity is 87,000, and the third-largest city, Bellevue, had a population of 50,137 in 2010.
The first American Arbor Day was originated in Nebraska City, Nebraska, by J. Sterling Morton. On April 10, 1872, an estimated one million trees were planted in Nebraska.
The Bessey Ranger District of the Nebraska National Forest is the largest hand-planted forest in the world and covers more than 90,000 acres.
In 1927, Edwin Perkins of Hastings, Nebraska invented the powdered soft drink Kool-Aid.
In Nebraska in 1986 for the first time ever two women ran against each other for governorship of a state.
Omaha has been the home of the College World Series since 1950.
This page was last updated on September 29, 2016.