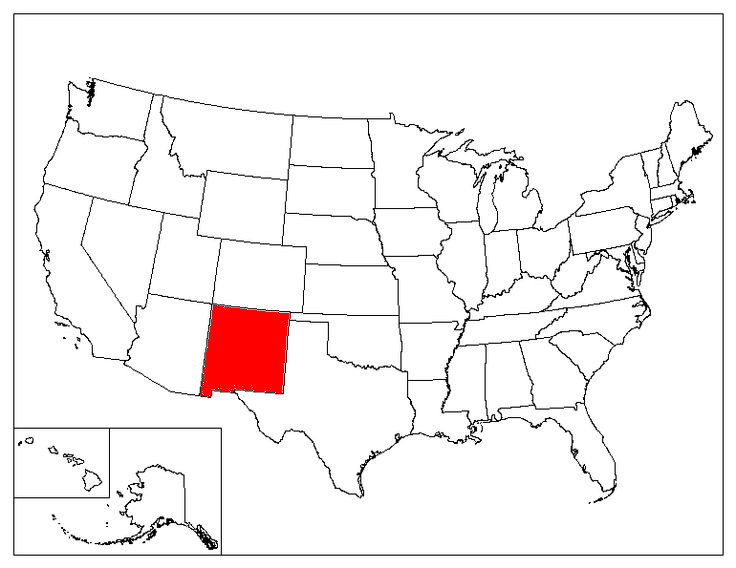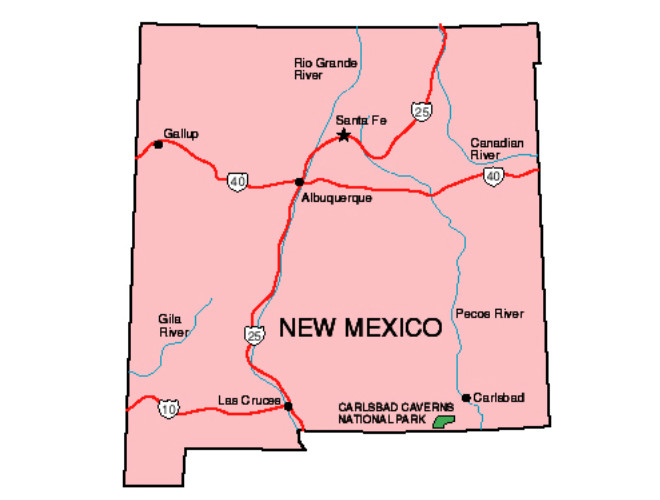 Geography & Demographics
State Abbreviation
NM
State Capital
Santa Fe
State Size
Total (Land + Water): 121,589 sq miles; Land Only: 121,356 sq miles
Number of Counties
33
Time Zone
Mountain Time Zone
Bordering States
Arizona, Colorado, Oklahoma, Texas, Utah
Highest Point
Wheeler Peak, 13,167 feet
National Parks
Carlsbad Caverns National Park
State Population (2015)
2,085,109
State Population Density
17.2 people / square mile
Area Codes
505, 575, 957
Top 5 Cities (2010 population)
Albuquerque (545,852)
Las Cruces (97,618)
Rio Rancho (87,521)
Santa Fe (67,947)
Roswell (48,366)
Government & Legislature
State Symbols
| | |
| --- | --- |
| State Aircraft | Hot air balloon |
| State Amphibian | New Mexico spadefoot toad |
| State Animal | New Mexico black bear |
| State Bird | Roadrunner |
| State Butterfly | Sandia hairstreak |
| State Cookie | Bizcochito |
| State Cowboy Song | "Under the New Mexico Skies" |
| State Fish | New Mexico cutthroat trout |
| State Flower | Yucca |
| State Folklorist | Claude Stephenson |
| State Fossil | Coelophysis |
| State Gem | Turquoise |
| State Grass | Blue grama grass |
| State Guitar | New Mexico sunrise |
| State Insect | Tarantula hawk wasp |
| State Mammal | Smokey bear |
| State Motto | Crescit eundo (It grows as it goes) |
| State Necklace | Squash blossom necklace |
| State Nickname | Land of Enchantment |
| State Poem | "A Nuevo Mexico" |
| State Question | "Red or green?" |
| State Reptile | New Mexico whiptail lizard |
| State Tie | Bolo tie |
| State Train | Cumbres & Toltec Railroad |
| State Tree | Pinon pine |
| State Vegetable | Chile and frijoles |
Sports Teams
Taxes
Points of Interest
Famous People Born In New Mexico
Nobel Prize Winners
Paul Modrich (Chemistry, 2015)
Pro Football Hall Of Fame Members
Tommy McDonald (Wide Receiver. Inducted in 1998)
Ronnie Lott (Cornerback, Safety. Inducted in 2000)
Baseball Hall Of Fame Players
Ralph Kiner (Left Fielder. Inducted in 1975)
Famous Actors And Actresses
Anna Gunn
Neil Patrick Harris
Demi Moore
Famous Singers
John Denver
Al Hurricane
Demi Lovato
New Mexico Fun Facts
New Mexico was named by the Spanish for lands north of the Rio Grande (Nuevo Mexico). The word Mexico is named after Mexitli, an Aztec war god. Mexico means 'place where Mexitli lives."
At 7,198 feet above sea level, Santa Fe is the highest capital city in the United States.
New Mexico has the largest Hispanic population of all the states. As of 2010, about 46.3% of the state's population are Hispanics.
Micro-Soft was founded on April 4, 1975 by Bill Gates and Paul Allen in Albuquerque, New Mexico. The company moved to Bellevue, Washington, in 1979 since it was hard to recruit top programmers to Albuquerque.
The nine-day Albuquerque International Balloon Fiesta held each October is the largest balloon convention in the world. 
New Mexico's the only state with an official question: "Red or green?"
Founded in 1610, Santa Fe, New Mexico is the oldest capital city in the United States.
The world's first detonation of a nuclear weapon took place on July 16, 1945, in the Jornada del Muerto desert about 35 miles southeast of Socorro, New Mexico. 
New Mexico is one of the states that form the Four Corners, the only location in the United States where four states intersect at one point. The other three states are Arizona, Colorado, and Utah.
New Mexico is the only state in the United States where lawmakers don't receive salaries. New Mexico's lawmakers do enjoy a generous pension plan.
This page was last updated on September 24, 2016.