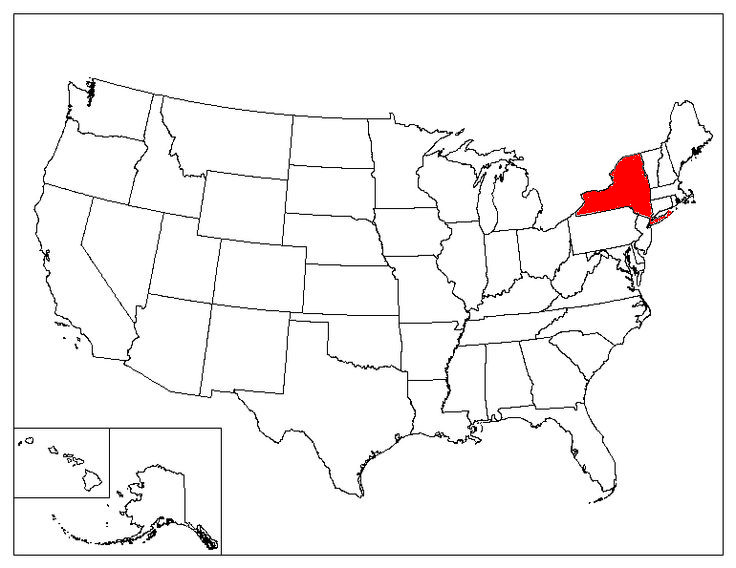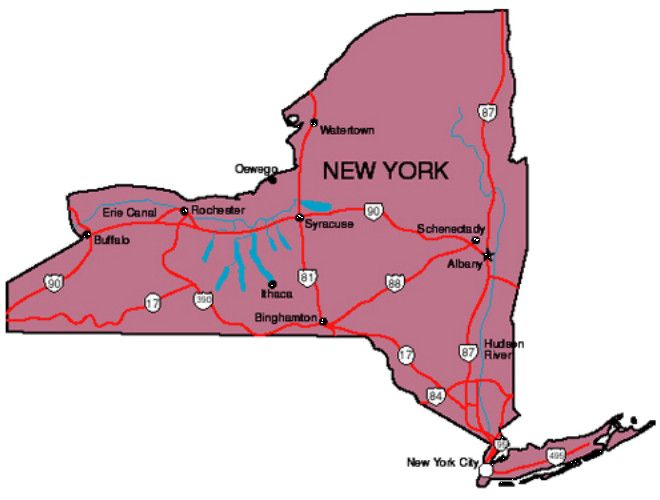 Geography & Demographics
State Abbreviation
NY
State Capital
Albany
State Size
Total (Land + Water): 54,556 sq miles; Land Only: 47,214 sq miles
Number of Counties
62
Time Zone
Eastern Time Zone
Bordering States
Connecticut, Massachusetts, New Jersey, Pennsylvania, Rhode Island (water border), Vermont
Highest Point
Mount Marcy, 5,343 feet
National Parks
None
State Population (2015)
19,795,791
State Population Density
419.3 people / square mile
Area Codes
212, 315, 347, 516, 518, 585, 607, 631, 646, 716, 718, 845, 914, 917
Top 5 Cities (2010 population)
New York (8,175,133)
Buffalo (261,310)
Rochester (210,565)
Yonkers (195,976)
Syracuse (145,170)
Government & Legislature
State Symbols
| | |
| --- | --- |
| State Animal | Beaver |
| State Beverage | Milk |
| State Bird | Bluebird |
| State Bush | Lilac |
| State Flower | Rose |
| State Fossil | Eurypterus remipes |
| State Fresh Water Fish | Brook trout |
| State Fruit | Apple |
| State Gem | Garnet |
| State Insect | Ladybug |
| State Marine or Saltwater Fish | Striped bass |
| State Motto | Excelsior (Ever upward) |
| State Muffin | Apple muffin |
| State Nickname | Empire State |
| State Shell | Bay scallop |
| State Turtle | Snapping turtle |
| State Tree | Sugar maple |
Sports Teams
Major Sports Teams
MLB: New York Mets, New York Yankees
NFL: Buffalo Bills
NBA: New York Knicks, Brooklyn Nets
NHL: New York Islanders, New York Rangers, Buffalo Sabres
NCAA Division I Schools
University at Albany, SUNY (America East)
Binghamton University (America East)
University at Buffalo (Mid-American)
Canisius College (Metro Atlantic Atheletic)
Colgate University (Patriot)
Columbia University (Ivy)
Cornell University (Ivy)
Fordham University (Atlantic 10)
Hofstra University (Colonial Athletic Association)
Iona College (Metro Atlantic Athletic)
Long Island University–Brooklyn (Northeast)
Manhattan College (Metro Atlantic Athletic)
Marist College (Metro Atlantic Athletic)
Niagara University (Metro Atlantic Athletic)
St. Bonaventure University (Atlantic 10)
St. Francis College (Northeast)
St. John's University (Big East)
Siena College (Metro Atlantic Athletic)
Stony Brook University (America East)
Syracuse University (ACC)
United States Military Academy (Army) (Patriot)
Wagner College (Northeast)
Taxes
Points of Interest
Famous People Born In New York
Nobel Prize Winners
Theodore Roosevelt (Peace, 1906)
Elihu Root (Peace, 1912)
Frank B. Kellogg (Peace, 1929)
Irving Langmuir (Chemistry, 1932)
Eugene O'Neill (Literature, 1936)
Carl D. Anderson (Physics, 1936)
John H. Northrop (Chemistry, 1946)
John R. Mott (Peace, 1946)
Hermann J. Muller (Physiology or Medicine, 1946)
Arthur Kornberg (Physiology or Medicine, 1959)
Robert Hofstadter (Physics, 1961)
Richard P. Feynman (Physics, 1965)
Julian Schwinger (Physics, 1965)
George Wald (Physiology or Medicine, 1967)
Marshall W. Nirenberg (Physiology or Medicine, 1968)
Murray Gell-Mann (Physics, 1969)
Julius Axelrod (Physiology or Medicine, 1970)
William H. Stein (Chemistry, 1972)
Kenneth J. Arrow (Economic Sciences, 1972)
Leon N. Cooper (Physics, 1972)
Gerald M. Edelman (Physiology or Medicine, 1972)
David Baltimore (Physiology or Medicine, 1975)
Milton Friedman (Economic Sciences, 1976)
Burton Richter (Physics, 1976)
Baruch S. Blumberg (Physiology or Medicine, 1976)
D. Carleton Gajdusek (Physiology or Medicine, 1976)
Rosalyn Yalow (Physiology or Medicine, 1977)
Hamilton O. Smith (Physiology or Medicine, 1978)
Sheldon Glashow (Physics, 1979)
Steven Weinberg (Physics, 1979)
Paul Berg (Chemistry, 1980)
Arthur L. Schawlow (Physics, 1981)
Herbert A. Hauptman (Chemistry, 1985)
Jerome Karle (Chemistry, 1985)
Michael S. Brown (Physiology or Medicine, 1985)
Stanley Cohen (Physiology or Medicine, 1986)
Robert M. Solow (Economic Sciences, 1987)
Leon M. Lederman (Physics, 1988)
Melvin Schwartz (Physics, 1988)
Gertrude B. Elion (Physiology or Medicine, 1988)
Harold E. Varmus (Physiology or Medicine, 1989)
Robert W. Fogel (Economic Sciences, 1993)
Russell A. Hulse (Physics, 1993)
Martin L. Perl (Physics, 1995)
David M. Lee (Physics, 1996)
Robert C. Merton (Economic Sciences, 1997)
Louis J. Ignarro (Physiology or Medicine, 1998)
Paul Greengard (Physiology or Medicine, 2000)
John B. Fenn (Chemistry, 2002)
Robert F. Engle III (Economic Sciences, 2003)
Irwin Rose (Chemistry, 2004)
Edward C. Prescott (Economic Sciences, 2004)
H. David Politzer (Physics, 2004)
Frank Wilczek (Physics, 2004)
Richard Axel (Physiology or Medicine, 2004)
Roy J. Glauber (Physics, 2005)
Eric S. Maskin (Economic Sciences, 2007)
Roger Y. Tsien (Chemistry, 2008)
Paul Krugman (Economic Sciences, 2008)
George E. Smith (Physics, 2009)
Peter A. Diamond (Economic Sciences, 2010)
Robert J. Lefkowitz (Chemistry, 2012)
Alvin E. Roth (Economic Sciences, 2012)
John O'Keefe (Physiology or Medicine, 2014)
United States Presidents
Martin Van Buren (8th President)
Millard Fillmore (13th President)
Theodore Roosevelt (26th President)
Franklin D. Roosevelt (32nd President)
Pro Football Hall Of Fame Members
Tim Mara (Team Owner, Team Founder. Inducted in 1963)
Dan Fortmann (Offensive Lineman. Inducted in 1965)
Sid Luckman (Quarterback. Inducted in 1965)
Bob Waterfield (Quarterback. Inducted in 1965)
Dan Reeves (Team Owner. Inducted in 1967)
Art Donovan (Defensive Tackle. Inducted in 1968)
Vince Lombardi (Coach, General Manager. Inducted in 1971)
John Mackey (Tight End. Inducted in 1992)
Wellington Mara (Team Owner, Team Administrator. Inducted in 1997)
Art Monk (Wide Receiver. Inducted in 2008)
Bill Polian (General Manager, Team President. Inducted in 2015)
Kevin Greene (Linebacker. Inducted in 2016)
Baseball Hall Of Fame Players
Lou Gehrig (First Baseman. Inducted in 1939)
Eddie Collins (Second Baseman. Inducted in 1939)
Charles Radbourn (Pitcher. Inducted in 1939)
Willie Keeler (Right Fielder. Inducted in 1939)
Dan Brouthers (First Baseman. Inducted in 1945)
Jimmy Collins (Third Baseman. Inducted in 1945)
King Kelly (Right Fielder. Inducted in 1945)
Johnny Evers (Second Baseman. Inducted in 1946)
Frankie Frisch (Second Baseman. Inducted in 1947)
Hank Greenberg (First Baseman. Inducted in 1956)
Waite Hoyt (Pitcher. Inducted in 1969)
Sandy Koufax (Pitcher. Inducted in 1972)
Warren Spahn (Pitcher. Inducted in 1973)
Mickey Welch (Pitcher. Inducted in 1973)
Whitey Ford (Pitcher. Inducted in 1974)
Carl Yastrzemski (Left Fielder. Inducted in 1989)
Jim Palmer (Pitcher. Inducted in 1990)
Phil Rizzuto (Shortstop. Inducted in 1994)
George Davis (Shortstop. Inducted in 1998)
Bid McPhee (Second Baseman. Inducted in 2000)
Deacon White (Third Baseman. Inducted in 2013)
Craig Biggio (Second Baseman. Inducted in 2015)
Naismith Memorial Basketball Hall Of Fame Players
Kareem Abdul-Jabbar (Center. Inducted in 1995)
Nate Archibald (Guard. Inducted in 1991)
John Beckman (Guard. Inducted in 1973)
Joseph Brennan (Guard. Inducted in 1975)
Roger Brown (Guard-Forward. Inducted in 2013)
Al Cervi (Guard-Forward. Inducted in 1985)
Bob Cousy (Guard. Inducted in 1971)
Billy Cunningham (Center-Forward. Inducted in 1986)
Dutch Dehnert (Forward. Inducted in 1969)
Julius Erving (Guard-Forward. Inducted in 1993)
Marty Friedman (Guard. Inducted in 1972)
Richie Guerin (Guard. Inducted in 2013)
Connie Hawkins (Center-Forward. Inducted in 1992)
Nat Holman (Guard. Inducted in 1964)
Chuck Hyatt (Guard. Inducted in 1959)
Michael Jordan (Guard-Forward. Inducted in 2009)
Bernard King (Forward. Inducted in 2013)
Bob Lanier (Center. Inducted in 1992)
Joe Lapchick (Center. Inducted in 1966)
Nancy Lieberman (Guard. Inducted in 1996)
Bobby McDermott (Guard. Inducted in 1988)
Dick McGuire (Guard. Inducted in 1993)
Chris Mullin (Guard-Forward. Inducted in 2011)
John Russell (Guard. Inducted in 1964)
Dolph Schayes (Center-Forward. Inducted in 1973)
Barney Sedran (Guard. Inducted in 1962)
Ed Wachter (Center. Inducted in 1961)
Bobby Wanzer (Guard. Inducted in 1987)
Lenny Wilkens (Guard. Inducted in 1989)
Hockey Hall Of Fame Members
Billy Burch (Center, Defense. Inducted in 1974)
Joe Mullen (Right Wing. Inducted in 2000)
Famous Actors And Actresses
Anne Bancroft
Humphrey Bogart
Shirley Booth
Adrien Brody
James Cagney
Art Carney
Tom Cruise
Robert De Niro
Robert Downey, Jr.
Richard Dreyfuss
Jane Fonda
Anne Hathaway
Susan Hayward
Philip Seymour Hoffman
Judy Holliday
Scarlett Johansson
Burt Lancaster
Lee Marvin
Jack Nicholson
Al Pacino
Rhea Perlman
Adam Sandler
Susan Sarandon
Martin Scorsese
Melanie Sloan
Rod Steiger
Ben Stiller
Barbra Streisand
Jon Voight
Denzel Washington
Kristen Wiig
Famous Singers
Christina Aguilera
Fiona Apple
Pat Benatar
Mary J. Blige
Laura Branigan
Danielle Brisebois
Mariah Carey
Neil Diamond
Dion DiMucci
Lady Gaga
Debbie Gibson
Sophie B. Hawkins
L. L. Cool J.
Billy Joel
Norah Jones
Alicia Keys
Cyndi Lauper
Huey Lewis
Barry Manilow
Lou Reed
Jennifer Rush
Carly Simon
Barbra Streisand
Keith Sweat
Steven Tyler
Luther Vandross
Vanessa Williams
Jay Z
New York Fun Facts
New York was named by the British in honor of the Duke of York, who later became King James II of England.
New York City served as the capital of United States from January 11, 1785 to December 5, 1790.
The 641-mile long Governor Thomas E. Dewey Thruway is the longest toll road in the United States.
On April 25, 1901, New York became the first state to require license plates on automobiles.
Lake Placid, New York is the only American city to host Winter Olympics twice. It hosted the 1932 and the 1980 Winter Olympics.
New York City has more people than 39 of the 50 states in the United States.
One World Trade Center in New York City is the tallest building in the United States at 1,776 feet.
The first documented American chess tournament was held in New York in 1843.
The New York City Subway has the largest annual ridership of all subway systems in the United States. It is also the longest subway system in the United States.
The New York City Subway has 422 stations, making it the subway system with the most number of stations in the world.
The borough of Brooklyn would be the fourth largest city in the United States. Queens would also be the fourth largest nationally.
Through 2015, 64 Nobel Prize winners were born in the state of New York, the most among all states. New York City alone has produced 45 Nobel Prize winners.
This page was last updated on September 25, 2016.