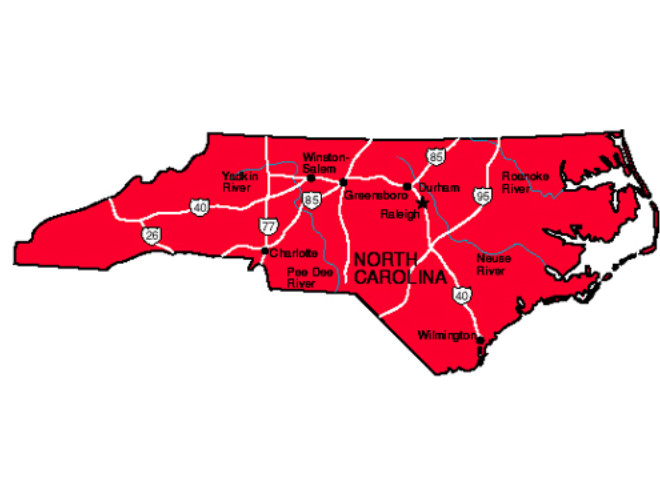 Geography & Demographics
State Abbreviation
NC
State Capital
Raleigh
State Size
Total (Land + Water): 53,819 sq miles; Land Only: 48,711 sq miles
Number of Counties
100
Time Zone
Eastern Time Zone
Bordering States
Georgia, South Carolina, Tennessee, Virginia
Highest Point
Mount Mitchell, 6,684 feet
National Parks
Great Smoky Mountains National Park
State Population (2015)
10,042,802
State Population Density
206.2 people / square mile
Area Codes
252, 336, 704, 828, 910, 919, 980, 984
Top 5 Cities (2010 population)
Charlotte (731,424)
Raleigh (403,892)
Greensboro (269,666)
Winston-Salem (229,617)
Durham (228,330)
Government & Legislature
State Symbols
| | |
| --- | --- |
| State Berry | Blueberry and strawberry |
| State Bird | Cardinal |
| State Beverage | Milk |
| State Boat | Shad Boat |
| State Butterfly | Eastern tiger swallowtail |
| State Carnivorous Plant | Venus flytrap |
| State Christmas Tree | Fraser fir |
| State Colors | Red and blue |
| State Dog | Plott hound |
| State Fish | Channel bass |
| State Flower | Dogwood |
| State Folk Dance | Clogging |
| State Freshwater Trout | Southern Appalachian brook trout |
| State Frog | Pine barrens treefrog |
| State Fruit | Grape |
| State Horse | Colonial Spanish mustang |
| State Insect | Honeybee |
| State Mammal | Gray squirrel |
| State Marsupial | Virginia opossom |
| State Mineral | Gold |
| State Motto | Esse quam videri (To be, rather than to seem) |
| State Nickname | Tar Heel State |
| State Popular Dance | Shag |
| State Pottery Birthplace | Seagrove area |
| State Reptile | Eastern box turtle |
| State Rock | Granite |
| State Salamander | Marbled salamander |
| State Shell | Scotch bonnet |
| State Song | "The Old North State" |
| State Stone | Emerald |
| State Tree | Pine |
| State Toast | The Tar Heel toast |
| State Vegetable | Sweet potato |
| State Wildflower | Carolina lily |
Sports Teams
Taxes
Points of Interest
Famous People Born In North Carolina
Nobel Prize Winners
Kary B. Mullis (Chemistry, 1993)
Daniel L. McFadden (Economic Sciences, 2000)
United States Presidents
James K. Polk (11th President)
Andrew Johnson (17th President)
Pro Football Hall Of Fame Members
Bobby Bell (Linebacker, Defensive End. Inducted in 1983)
Sonny Jurgensen (Quarterback. Inducted in 1983)
Joe Gibbs (Coach. Inducted in 1996)
Dwight Stephenson (Center. Inducted in 1998)
Carl Eller (Defensive End. Inducted in 2004)
Bruce Matthews (Offensive Tackle. Inducted in 2007)
Charlie Sanders (Tight End. Inducted in 2007)
Chris Hanburger (Linebacker. Inducted in 2011)
Baseball Hall Of Fame Players
Luke Appling (Shortstop. Inducted in 1964)
Buck Leonard (First Baseman. Inducted in 1972)
Rick Ferrell (Catcher. Inducted in 1984)
Hoyt Wilhelm (Pitcher. Inducted in 1985)
Enos Slaughter (Right Fielder. Inducted in 1985)
Catfish Hunter (Pitcher. Inducted in 1987)
Gaylord Perry (Pitcher. Inducted in 1991)
Naismith Memorial Basketball Hall Of Fame Players
Walt Bellamy (Center. Inducted in 1993)
Sam Jones (Guard. Inducted in 1984)
Bob McAdoo (Center-Forward. Inducted in 2000)
David Thompson (Guard-Forward. Inducted in 1996)
James Worthy (Forward. Inducted in 2003)
Famous Actors And Actresses
Andy Griffith
Julianne Moore
Mary Elizabeth Winstead
Famous Singers
Tori Amos
Alicia Bridges
Nina Simone
Randy Travis
North Carolina Fun Facts
The Carolina colony was established by British and it was split in 1729 into North and South Carolina as it was deemed to big to govern effectively. Carolina is named after King Charles I of England. Carolus is Latin for Charles.
The Wright brothers completed the first successful flight of a mechanically propelled airplane at Kitty Hawk, North Carolina on December 17, 1903.
Pepsi was developed in 1893 by Caleb Bradham and introduced as "Brad's Drink" in New Bern, North Carolina. It was renamed Pepsi in 1898, named after the digestive enzyme pepsin and kola nuts used in the recipe.
The Cape Hatteras Lighthouse in Buxton, North Carolina, is the tallest lighthouse in the United States at 193 feet.
North Carolina is the largest producer of sweet potatoes in the United States.
The first English child born in America, Virginia Dare, was born in Roanoke Island, North Carolina, in 1587.
High Point is known as the Furniture Capital of the World.
Krispy Kreme Doughnut was founded in Winston-Salem, North Carolina, on July 13, 1937.
North Carolina is the only state with an official State Christmas Tree: Fraser fir.
This page was last updated on September 22, 2016.