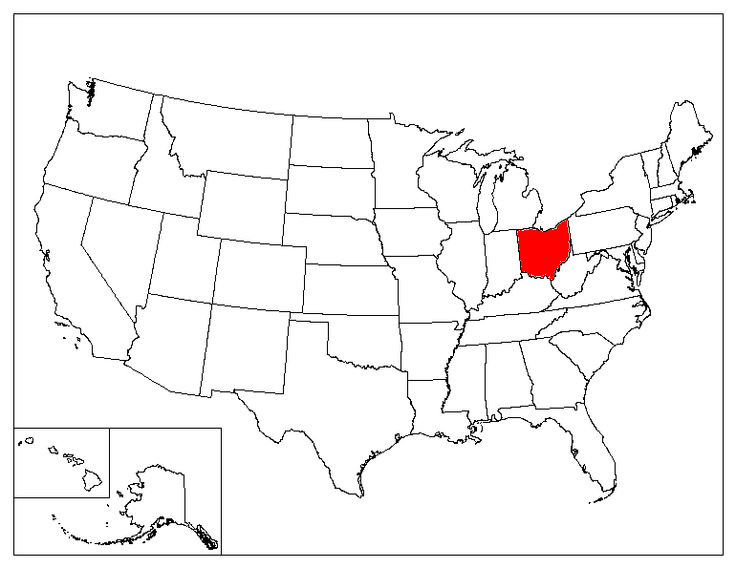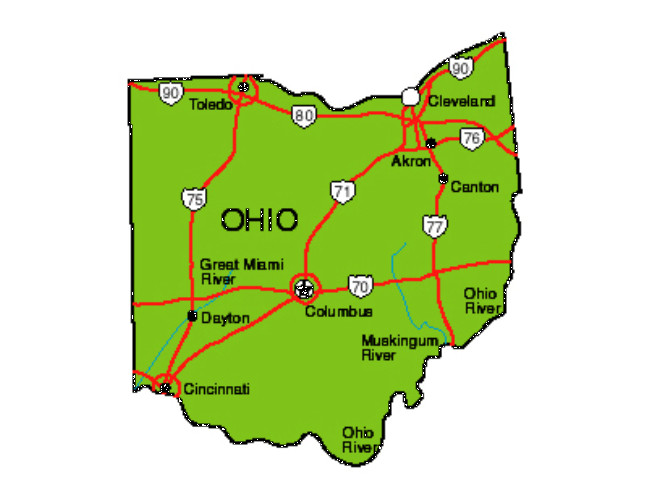 Geography & Demographics
State Abbreviation
OH
State Capital
Columbus
State Size
Total (Land + Water): 44,825 sq miles; Land Only: 40,948 sq miles
Number of Counties
88
Time Zone
Eastern Time Zone
Bordering States
Indiana, Kentucky, Michigan, Pennsylvania, West Virginia
Highest Point
Campbell Hill, 1,549 feet
National Parks
Cuyahoga Valley National Park
State Population (2015)
11,613,423
State Population Density
283.6 people / square mile
Area Codes
216, 234, 283, 330, 380, 419, 440, 513, 567, 614, 740, 937
Top 5 Cities (2010 population)
Columbus (787,003)
Cleveland (396,815)
Cincinnati (296,943)
Toledo (287,208)
Akron (199,110)
Government & Legislature
State Symbols
| | |
| --- | --- |
| State Amphibian | Spotted salamander |
| State Artifact | The Adena Pipe |
| State Beverage | Tomato juice |
| State Bird | Cardinal |
| State Bicentennial Bridge | The Blaine Hill Bridge |
| State Flower | Scarlet carnation |
| State Fossil | Isotelus |
| State Frog | Bullfrog |
| State Fruit | Tomato |
| State Gemstone | Ohio flint |
| State Insect | Ladybug |
| State Mammal | White-tailed deer |
| State Motto | With God, all things are possible |
| State Native Fruit | Pawpaw |
| State Nickname | Buckeye State |
| State Prehistoric Monument | Newark Earthworks |
| State Reptile | Black racer snake |
| State Rock Song | "Hang on Sloppy" |
| State Song | "Beautiful Ohio" |
| State Tree | Buckeye |
| State Wildflower | White trillium |
Sports Teams
Major Sports Teams
MLB: Cleveland Indians, Cincinnati Reds
NFL: Cleveland Browns, Cincinnati Bengals
NBA: Cleveland Cavaliers
NHL: Columbus Blue Jackets
NCAA Division I Schools
University of Akron (Mid-American)
Bowling Green State University (Mid-American)
University of Cincinnati (American Athletic)
Cleveland State University (Horizon)
University of Dayton (Atlantic 10)
Kent State University (Mid-American)
Miami University (Mid-American)
Ohio University (Mid-American)
Ohio State University (Big Ten)
University of Toledo (Mid-American)
Wright State University (Horizon)
Xavier University (Big East)
Youngstown State University (Horizon)
Taxes
Points of Interest
Famous People Born In Ohio
Nobel Prize Winners
Charles G. Dawes (Peace, 1925)
Aarthur H. Compton (Physics, 1927)
Donald A. Glaser (Physics, 1960)
William Lipscomb (Chemistry, 1976)
Toni Morrison (Literature, 1993)
F. Sherwood Rowland (Chemistry, 1995)
Richard E. Smalley (Chemistry, 1996)
Paul C. Lauterbur (Physiology or Medicine, 2003)
United States Presidents
Ulysses S. Grant (18th President)
Rutherford B. Hayes (19th President)
James A. Garfield (20th President)
Benjamin Harrison (23rd President)
William McKinley (25th President)
William H. Taft (27th President)
Warren G. Harding (29th President)
Pro Football Hall Of Fame Members
Joseph Carr (Team Owner, NFL President, NFL co-organizer. Inducted in 1963)
Pete Henry (Tackle, Kicker, Punter. Inducted in 1963)
Clarke Hinkle (Fullback, Linebacker, Defensive Back. Inducted in 1964)
Paul Brown (Coach, General Manager, Team Owner. Inducted in 1967)
Cliff Battles (Halfback, Defensive Back. Inducted in 1968)
Lou Groza (Offensive Tackle, Kicker. Inducted in 1974)
Dante Lavelli (Offensive End. Inducted in 1975)
Bill Willis (Defensive Tackle. Inducted in 1977)
Paul Warfield (Wide Receiver. Inducted in 1983)
Roger Staubach (Quarterback. Inducted in 1985)
Larry Csonka (Fullback. Inducted in 1987)
Len Dawson (Quarterback. Inducted in 1987)
Alan Page (Defensive Tackle. Inducted in 1988)
Jack Lambert (Linebacker. Inducted in 1990)
Chuck Noll (Coach. Inducted in 1993)
Dan Dierdorf (Offensive Tackle. Inducted in 1996)
Don Shula (Coach. Inducted in 1997)
Tom Mack (Offensive Guard, Offensive Tackle. Inducted in 1999)
Bob Brown (Offensive Tackle. Inducted in 2004)
Benny Friedman (Quarterback. Inducted in 2005)
Ralph C. Wilson (Team Owner, Team Founder, AFL Co-Founder. Inducted in 2009)
Dick LeBeau (Cornerback. Inducted in 2010)
Cris Carter (Wide Receiver. Inducted in 2013)
Edward J. DeBartolo, Jr. (Team Owner. Inducted in 2016)
Orlando Pace (Offensive Tackle. Inducted in 2016)
Baseball Hall Of Fame Players
Cy Young (Pitcher. Inducted in 1937)
George Sisler (First Baseman. Inducted in 1939)
Buck Ewing (Catcher. Inducted in 1939)
Roger Bresnahan (Catcher. Inducted in 1945)
Ed Delahanty (Left Fielder. Inducted in 1945)
Elmer Flick (Right Fielder. Inducted in 1963)
Jesse Haines (Pitcher. Inducted in 1970)
Rube Marquard (Pitcher. Inducted in 1971)
Rollie Fingers (Pitcher. Inducted in 1992)
Mike Schmidt (Third Baseman. Inducted in 1995)
Phil Niekro (Pitcher. Inducted in 1997)
Ray Brown (Pitcher. Inducted in 2006)
Barry Larkin (Shortstop. Inducted in 2012)
Naismith Memorial Basketball Hall Of Fame Players
John Havlicek (Guard-Forward. Inducted in 1984)
Gus Johnson (Forward. Inducted in 2010)
Neil Johnston (Center. Inducted in 1990)
Jerry Lucas (Center-Forward. Inducted in 1980)
Nate Thurmond (Center-Forward. Inducted in 1985)
Famous Actors And Actresses
Warner Baxter
Halle Berry
Clark Gable
Paul Newman
Famous Singers
Anita Baker
Tracy Chapman
Chrissie Hynde
James Ingram
Bobby Womack
Ohio Fun Facts
The state of Ohio was named after the river 'Ohio'. The Ohio river was named for the Iroquois word ohi-yo', meaning "great river."
Ohio is nicknamed the Buckeye State because of the buckeye trees commonly found throughout the Ohio River Valley.
Ohio's swallowtail flag is the only non-rectangular U.S. state flag.
Founded in 1869, Cincinnati Red Stockings was the first professional baseball team. In its tour it went 57-0, and won the first game 45-9.
The first speeding ticket for an automobile driver was given by a policeman in Dayton, Ohio, in 1904, to Harry Myers for going 12 miles per hour on West Third Street.
On August 5, 1914, the American Traffic Signal Company installed the first traffic signal system in the United States on the corner of East 105th Street and Euclid Avenue in Cleveland, Ohio.
Cleveland is home to the Rock and Roll Hall of Fame.
The Pro Football Hall of Fame is located in Canton, Ohio.
Columbus Crew Stadium is the first soccer-specific stadium in the United States.
In Ohio, it is illegal to get a fish drunk.
This page was last updated on September 25, 2016.