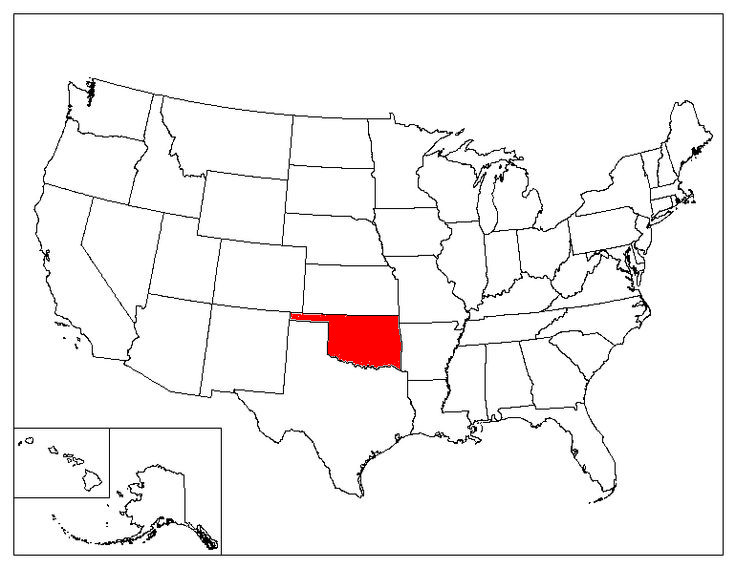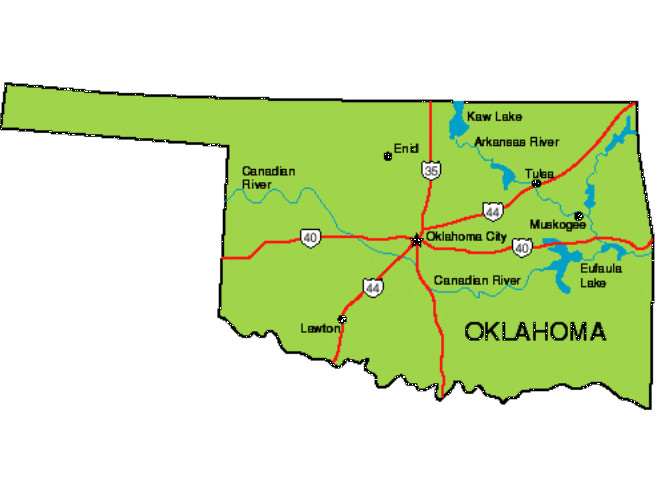 Geography & Demographics
State Abbreviation
OK
State Capital
Oklahoma City
State Size
Total (Land + Water): 69,898 sq miles; Land Only: 68,667 sq miles
Number of Counties
77
Time Zone
Central Time Zone
Bordering States
Arkansas, Colorado, Kansas, Missouri, New Mexico, Texas
Highest Point
Black Mesa, 4,975 feet
National Parks
None
State Population (2015)
3,911,338
State Population Density
57.0 people / square mile
Area Codes
405, 580, 918
Top 5 Cities (2010 population)
Oklahoma City (579,999)
Tulsa (391,906)
Norman (110,925)
Broken Arrow (98,850)
Lawton (96,867)
Government & Legislature
State Symbols
| | |
| --- | --- |
| State Animal | American bison |
| State Bird | Scissor-tailed flycatcher |
| State Colors | Green and white |
| State Fish | White or sand bass |
| State Flower | Mistletoe |
| State Grass | Indian grass |
| State Insect | Honeybee |
| State Motto | Labor omnia vincit (Labor conquers all things) |
| State Musical Instrument | Fiddle |
| State Nickname | Sooner State |
| State Reptile | Mountain boomer (collared lizard) |
| State Rock | Rose rock |
| State Song | "Oklahoma!" |
| State Tree | Redbud |
| State Wildflower | Indian blanket |
Sports Teams
Taxes
Points of Interest
Famous People Born In Oklahoma
Pro Football Hall Of Fame Members
Jim Thorpe (Halfback, Coach, League President. Inducted in 1963)
Steve Owen (Tackle, Coach. Inducted in 1966)
Steve Largent (Wide Receiver. Inducted in 1995)
Lee Roy Selmon (Defensive End. Inducted in 1995)
Dan Hampton (Defensive Tackle, Defensive End. Inducted in 2002)
Baseball Hall Of Fame Players
Paul Waner (Right Fielder. Inducted in 1952)
Lloyd Waner (Center Fielder. Inducted in 1967)
Mickey Mantle (Center Fielder. Inducted in 1974)
Willie Stargell (Left Fielder. Inducted in 1988)
Johnny Bench (Catcher. Inducted in 1989)
Bullet Rogan (Pitcher. Inducted in 1998)
Naismith Memorial Basketball Hall Of Fame Players
Marques Haynes (Guard. Inducted in 1998)
William Johnson (Center. Inducted in 1977)
Jack McCracken (Forward. Inducted in 1962)
Famous Actors And Actresses
Jennifer Jones
Olivia Munn
Brad Pitt
Famous Singers
Garth Brooks
Vince Gill
Toby Keith
Reba McEntire
Oklahoma Fun Facts
The name "Oklahoma" comes from two Choctaw Indian words: "okla" meaning people, and "humma" meaning red, so the state's name literally means "red people."
The Land Rush of 1889 permitted settlers to claim the Unassigned Lands in present-day Oklahoma. Some settlers tried to beat the system by entering the area before the official start at noon on April 22, 1889. These settlers were called the Sooners, and that's where Oklahoma got its nickname.
Cimarron County is the only county in the U.S. that touches four states: Colorado, New Mexico, Texas and Kansas.
Oklahoma has more than 200 man-made lakes. That's more than any other state in the United States.
The world's largest concrete totem pole is in Foyil, Oklahoma. It is 90 feet tall and 30 feet around at its widest point.
Oklahoma is the main producer of iodine in the United States.
Shopping cart was invented in Oklahoma. Sylvan Goldman, owner of the Hympty Dumpty supermarket chain in Oklahoma City, introduced the "folding basket carriers" on June 4, 1937.
The world's first parking meter, known as Park-O-Meter No. 1, is installed on the southeast corner of what was then First Street and Robinson Avenue in Oklahoma City, Oklahoma, on July 16, 1935.
Oklahoma is one of only two states whose capital city's name includes the state name. The other is Indianapolis, Indiana.
The first official tornado forecast and the first successful tornado forecast in recorded history happened at Tinker Air Force Base in Oklahoma City, Oklahoma, in 1948.
In 1907, Oklahoma became the last state to declare Christmas as a legal holiday.
In 1977, Oklahoma became the first state to adopt lethal injection as a means of execution.
This page was last updated on September 24, 2016.