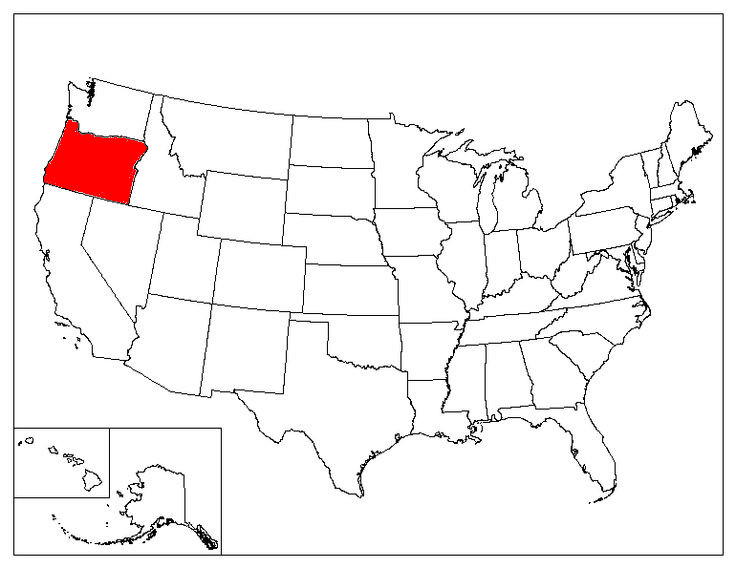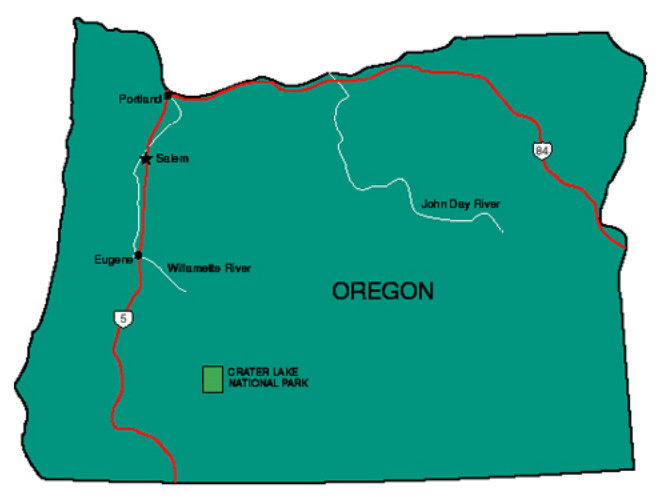 Geography & Demographics
State Abbreviation
OR
State Capital
Salem
State Size
Total (Land + Water): 98,381 sq miles; Land Only: 95,997 sq miles
Number of Counties
36
Time Zone
Pacific Time Zone, Mountain Time Zone
Bordering States
California, Idaho, Nevada, Washington
Highest Point
Mount Hood, 11,249 feet
National Parks
Crater Lake National Park
State Population (2015)
4,028,977
State Population Density
42.0 people / square mile
Area Codes
458, 503, 541, 971
Top 5 Cities (2010 population)
Portland (583,776)
Eugene (156,185)
Salem (154,637)
Gresham (105,594)
Hillsboro (91,611)
Government & Legislature
State Symbols
| | |
| --- | --- |
| State Animal | American beaver |
| State Beverage | Milk |
| State Bird | Western meadowlark |
| State Crustacean | Dungeness crab |
| State Dance | Square dance |
| State Fish | Chinook salmon |
| State Flower | Oregon grape |
| State Fossil | Metasequoia (dawn redwood) |
| State Fruit | Pear |
| State Gemstone | Oregon sunstone |
| State Insect | Oregon swallowtail |
| State Motto | Alis volat propriis (She flies with her own wings) |
| State Mushroom | Pacific golden chanterelle |
| State Nickname | Beaver State |
| State Pie | Hazelnut |
| State Rock | Thunder-egg (geode) |
| State Seashell | Oregon hairy triton |
| State Soil | Jory soil |
| State Song | "Oregon, My Oregon" |
| State Tree | Douglas fir |
Sports Teams
Taxes
Points of Interest
Famous People Born In Oregon
Nobel Prize Winners
Linus Pauling (Chemistry, 1954)
Linus Pauling (Peace, 1962)
Carl Wieman (Physics, 2001)
Dale T. Mortensen (Economic Sciences, 2010)
Pro Football Hall Of Fame Members
Dave Wilcox (Linebacker. Inducted in 2000)
Naismith Memorial Basketball Hall Of Fame Players
Lauren Gale (Forward. Inducted in 1977)
Famous Actors And Actresses
Ty Burrell
Kaitlin Olson
Sally Struthers
Oregon Fun Facts
The first known use of the name "Oregon" was by Major Robert Rogers in 1765. The origin of the name, though, is unclear. There are several competing theories, some proposing that it came from French, and some proposing that it came from a Native Indian language.
Crater Lake of Oregon is the deepest lake in the United States, with a maximum depth is 1,943 feet.
Humongous Fungus, a single specimen of Armillaria solidipes in Malheur National Forest in Oregon, has been growing for about 2,400 years, covering 3.4 square miles. It is one of the largest living organisms on earth.
Portlandís name was decided with a coin toss on whether to name the place after Portland, Maine, or Boston, Massachusetts.†In 1845 this controversy was settled with a coin toss which Francis Pettygrove, who was from Portland, Maine, won in a series of two out of three tosses, and the community was called "Portland." The coin used for this decision, now known as the Portland Penny, is on display in the headquarters of the Oregon Historical Society.
Boring is a town in Oregon. It was named after William H. Boring of Oregon. Boring, Oregon has a sister city in Scotland that named "Dull." Together these two towns celebrate "Boring and Dull Day" annually on August 9.
Oregon's state flag is the only state flag in the United States to have different designs on each side.
The passing of Ballot Measure 60 in 1998 made Oregon the first state in the United States to conduct all elections by mail.
In 1994, Oregon became the first state in the United States to legalize physician-assisted suicide.
At 7,993 feet deep, Hells Canyon in Oregon is the deepest river gorge in North America.
In Oregon, drivers must yield to pedestrians who are standing on the sidewalk.
This page was last updated on September 18, 2016.