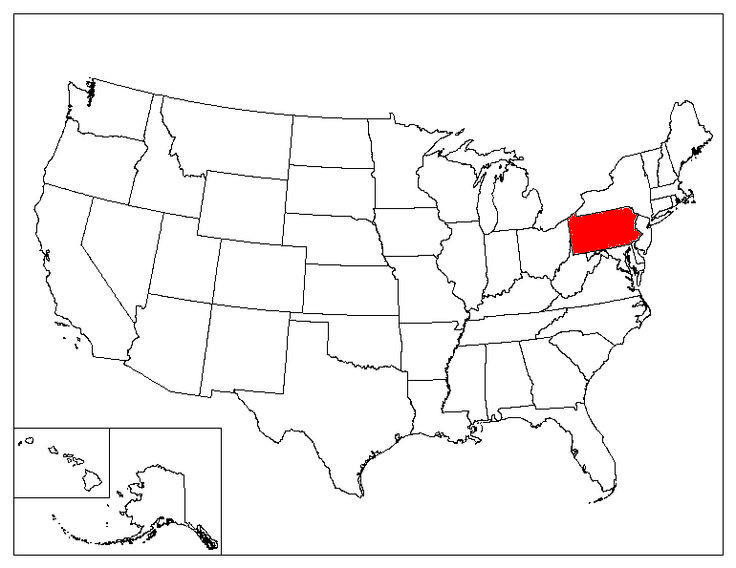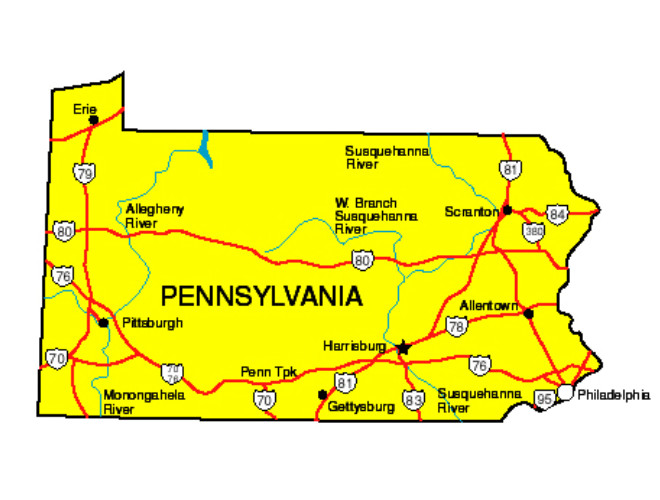 Geography & Demographics
State Abbreviation
PA
State Capital
Harrisburg
State Size
Total (Land + Water): 46,055 sq miles; Land Only: 44,817 sq miles
Number of Counties
67
Time Zone
Eastern Time Zone
Bordering States
Delaware, Maryland, New Jersey, New York, Ohio, West Virginia
Highest Point
Mount Davis, 3,213 feet
National Parks
None
State Population (2015)
12,802,503
State Population Density
285.7 people / square mile
Area Codes
215, 267, 272, 412, 445, 484, 570, 582, 610, 717, 724, 814, 835, 878
Top 5 Cities (2010 population)
Philadelphia (1,526,006)
Pittsburgh (305,704)
Allentown (118,032)
Erie (101,786)
Reading (88,082)
Government & Legislature
State Symbols
| | |
| --- | --- |
| State Aircraft | Piper J-3 Cub |
| State Animal | White-tailed deer |
| State Beautification and Conservation Plant | Penngift crownvetch |
| State Beverage | Milk |
| State Bird | Ruffed grouse |
| State Dog | Great dane |
| State Electric Locomotive | GG1 4859 |
| State Firearm | Pennsylvania long rifle |
| State Fish | Brook trout |
| State Flower | Mountain laurel |
| State Fossil | Phacops rana |
| State Game Bird | Ruffed grouse |
| State Insect | Pennsylvania firefly |
| State Motto | Virtue, Liberty, and Independence |
| State Nickname | Keystone State |
| State Ship | US Brig Niagara |
| State Song | "Pennsylvania" |
| State Steam Locomotive | K4s 1361 and K4s 3750 |
| State Tree | Hemlock |
Sports Teams
Major Sports Teams
MLB: Philadelphia Phillies, Pittsburgh Pirates
NFL: Philadelphia Eagles, Pittsburgh Steelers
NBA: Philadelphia 76ers
NHL: Philadelphia Flyers, Pittsburgh Penguins
NCAA Division I Schools
Bucknell University (Patriot)
Drexel University (Colonial Athletic Association)
Duquesne University (Atlantic 10)
La Salle University (Atlantic 10)
Lafayette College (Patriot)
Lehigh University (Patriot)
University of Pennsylvania (Ivy)
Pennsylvania State University (Big Ten)
University of Pittsburgh (ACC)
Robert Morris University (Northeast)
Saint Francis University (Northeast)
Saint Joseph's University (Atlantic 10)
Temple University (American Athletic)
Villanova University (Big East)
Taxes
Points of Interest
Famous People Born In Pennsylvania
Nobel Prize Winners
Theodore W. Richards (Chemistry, 1914)
Philip S. Hench (Physiology or Medicine, 1950)
George C. Marshall (Peace, 1953)
Keffer Hartline (Physiology or Medicine, 1967)
Christian Anfinsen (Chemistry, 1972)
Howard M. Temin (Physiology or Medicine, 1975)
William A. Fowler (Physics, 1983)
J. Michael Bishop (Physiology or Medicine, 1989)
Gary Becker (Economic Sciences, 1992)
Joseph H. Taylor Jr. (Physics, 1993)
Clifford G. Shull (Physics, 1994)
Edward B. Lewis (Physiology or Medicine, 1995)
William D. Phillips (Physics, 1997)
Barry Sharpless (Chemistry, 2001)
United States Presidents
James Buchanan (15th President)
Pro Football Hall Of Fame Members
Bert Bell (Team Owner, Coach, NFL Commissioner. Inducted in 1963)
Harold "Red" Grange (Halfback. Inducted in 1963)
Art Rooney (Team Owner, Team Founder. Inducted in 1964)
Chuck Bednarik (Center, Linebacker. Inducted in 1967)
Joe Stydahar (Tackle. Inducted in 1967)
Emlen Tunnell (Safety. Inducted in 1967)
Charley Trippi (Halfback, Quarterback. Inducted in 1968)
Joe Schmidt (Linebacker. Inducted in 1973)
Bill George (Linebacker. Inducted in 1974)
Lenny Moore (Halfback. Inducted in 1975)
Johnny Unitas (Quarterback. Inducted in 1979)
Herbert Adderley (Cornerback. Inducted in 1980)
George Blanda (Quarterback, Kicker. Inducted in 1981)
Joe Namath (Quarterback. Inducted in 1985)
Fred Biletnikoff (Wide Receiver. Inducted in 1988)
Mike Ditka (Tight End. Inducted in 1988)
Jack Ham (Linebacker. Inducted in 1988)
Stan Jones (Offensive Tackle, Offensive Guard, Defensive Tackle. Inducted in 1991)
Tony Dorsett (Running Back. Inducted in 1994)
Leroy Kelly (Running Back. Inducted in 1994)
Randy White (Defensive Tackle. Inducted in 1994)
Joe Montana (Quarterback. Inducted in 2000)
Dan Rooney (Team Owner. Inducted in 2000)
Mike Munchak (Guard. Inducted in 2001)
Jim Kelly (Quarterback. Inducted in 2002)
Dan Marino (Quarterback. Inducted in 2005)
Russ Grimm (Guard. Inducted in 2010)
Jack Butler (Cornerback. Inducted in 2012)
Curtis Martin (Running Back. Inducted in 2012)
Andre Reed (Wide Receiver. Inducted in 2014)
Ron Wolf (General Manager. Inducted in 2015)
Marvin Harrison (Wide Receiver. Inducted in 2016)
Baseball Hall Of Fame Players
Christy Mathewson (Pitcher. Inducted in 1936)
Honus Wagner (Shortstop. Inducted in 1936)
Hugh Jennings (Shortstop. Inducted in 1945)
Eddie Plank (Pitcher. Inducted in 1946)
Rube Waddell (Pitcher. Inducted in 1946)
Ed Walsh (Pitcher. Inducted in 1946)
Herb Pennock (Pitcher. Inducted in 1948)
Bobby Wallace (Shortstop. Inducted in 1953)
John Ward (Shortstop. Inducted in 1964)
Roy Campanella (Catcher. Inducted in 1969)
Stan Musial (Left Fielder. Inducted in 1969)
Stan Coveleski (Pitcher. Inducted in 1969)
Hack Wilson (Center Fielder. Inducted in 1979)
Reggie Jackson (Right Fielder. Inducted in 1993)
Nellie Fox (Second Baseman. Inducted in 1997)
Bruce Sutter (Pitcher. Inducted in 2006)
Mike Piazza (Catcher. Inducted in 2016)
Ken Griffey Jr. (Center Fielder. Inducted in 2016)
Naismith Memorial Basketball Hall Of Fame Players
Paul Arizin (Guard-Forward. Inducted in 1978)
Wilt Chamberlain (Center. Inducted in 1979)
Bob Davies (Guard-Forward. Inducted in 1970)
Tom Gola (Guard-Forward. Inducted in 1976)
Buddy Jeannette (Guard. Inducted in 1994)
Pete Maravich (Guard. Inducted in 1987)
Earl Monroe (Guard. Inducted in 1990)
Cumberland Posey (Guard. Inducted in 2016)
Guy Rodgers (Guard. Inducted in 2014)
Dawn Staley (Guard. Inducted in 2013)
Maurice Stokes (Center-Forward. Inducted in 2004)
Jack Twyman (Forward. Inducted in 1983)
Hockey Hall Of Fame Members
Hobey Baker (Right Wing. Inducted in 1945)
Famous Actors And Actresses
F. Murray Abraham
Lionel Barrymore
Bradley Cooper
Broderick Crawford
Janet Gaynor
Grace Kelly
Will Smith
Jimmy Stewart
Sharon Stone
Famous Singers
Daryl Hall
Billie Holiday
Joan Jett
Lisa "Left Eye" Lopes
Taylor Swift
Pennsylvania Fun Facts
Pennsylvania is named after William Penn's father, Admiral William Penn. William Penn was granted the land by British King Charles II. The word "Sylvania" means "land that is full of trees."
Of the original Thirteen Colonies, Pennsylvania is the only state that does not border the Atlantic Ocean.
Gulf Refining Co. opened America's first gas station on Baum Blvd., Pittsburgh, Pennsylvania, on December 1, 1913.
Kennett Square, Pennsylvania, is the Mushroom Capital of the World as mushroom farming in the region produces over a million pounds of mushrooms a week.
ENIAC, the world's first all-purpose computer, was built in the University of Pennsylvania and launched on February 15, 1946.
Every year, the Little League World Series is held in South Williamsport. Taiwan has won the most number of championships at 17.
The Moravian Book Shop in Bethlehem, Pennsylvania, opened in 1745 and is the oldest continuously operating bookshop in the United States, quite possibly the world.
The Philadelphia Zoo was the first zoo in the United States.
Pennsylvania Hospital in Philadelphia, founded by Benjamin Franklin and Dr. Thomas Bond on May 11, 1751, is the first hospital in the United States. It is also home to America's first medical library.
The First stock exchange in the United States was founded in Philadelphia in 1790
The Wharton School of Business of the University of Pennsylvania, established in 1881, is the first business school in the United States.
This page was last updated on September 25, 2016.