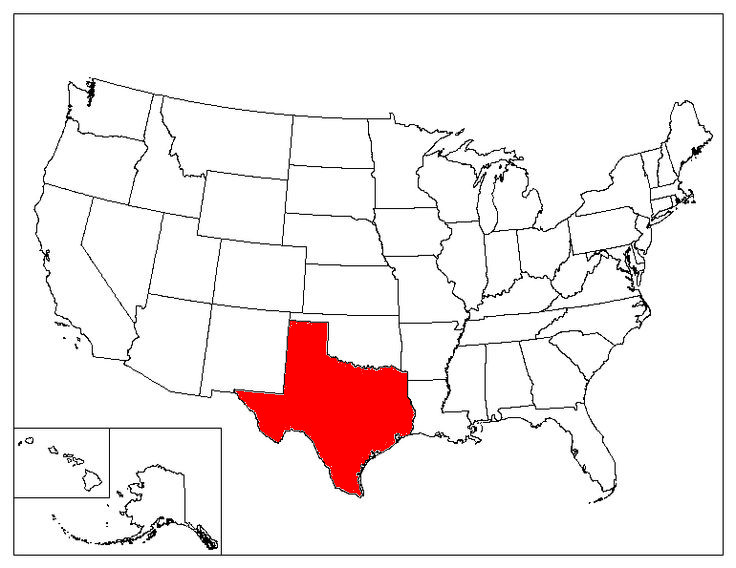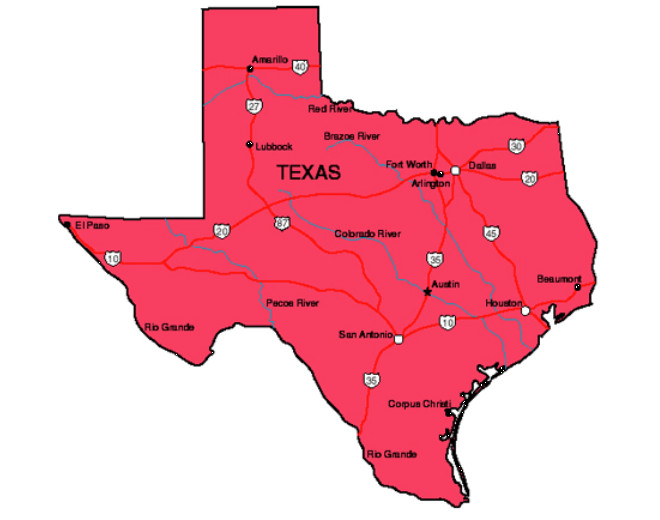 Geography & Demographics
State Abbreviation
TX
State Capital
Austin
State Size
Total (Land + Water): 268,581 sq miles; Land Only: 261,797 sq miles
Number of Counties
254
Time Zones
Central Time Zone, Mountain Time Zone
Bordering States
Arkansas, Louisiana, New Mexico, Oklahoma
Highest Point
Guadalupe Peak, 8,751 feet
National Parks
Big Bend National Park
Guadalupe Mountains National Park
State Population (2015)
27,469,114
State Population Density
104.9 people / square mile
Area Codes
210, 214, 254, 281, 325, 361, 409, 430, 432, 469, 512, 682, 713, 737, 806, 817, 830, 903, 915, 936, 940, 956, 972, 979
Top 5 Cities (2010 population)
Houston (2,145,146)
San Antonio (1,359,758)
Dallas (1,223,229)
Austin (820,611)
Fort Worth (758,738)
Government & Legislature
State Symbols
| | |
| --- | --- |
| State 10K | Texas Round-Up 10K |
| State Air Force | Commemorative Air Force |
| State Amphibian | Texas toad |
| State Aquarium | Texas State Aquarium |
| State Bird | Mockingbird |
| State Bison Herd | Texas state bison herd at Caprock Canyons State Park |
| State Bluebonnet City | Ennis |
| State Bluebonnet Festival | Cappell Hill Bluebonnet Festival |
| State Bluebonnet Trail | Ennis |
| State Bread | Pan de campo |
| State Cobbler | Peach cobbler |
| State Cooking Implement | Cast iron Dutch oven |
| State Crustacean | Texas Gulf shrimp |
| State Dinosaur | Paluxysaurus jonesi |
| State Dish | Chili |
| State Dog Breed | Blue lacy |
| State Domino Game | 42 |
| State Epic Poem | Legend of Old Stone Ranch |
| State Fiber and Fabric | Cotton |
| State Fish | Guadalupe bass |
| State Flower | Bluebonnet |
| State Flower Song | "Bluebonnets" |
| State Flying Mammal | Mexican free-tailed bat |
| State Folk Dance | Square dance |
| State Footwear | Cowboy boot |
| State Fruit | Texas red grapefruit |
| State Gem | Texas blue topaz |
| State Gemstone Cut | Lone star cut |
| State Grass | Sideoats grama |
| State Hat | Cowboy hat |
| State Health Nut | Pecan |
| State Horse | American quarter horse |
| State Insect | Monarch butterfly |
| State Large Mammal | Longhorn |
| State Longhorn Herd | Foundation Herd of the Texas Parks and Wildlife Department |
| State Maritime Museum | Texas Maritime Museum |
| State Motto | Friendship |
| State Music | Western Swing |
| State Musical Instrument | Guitar |
| State Native Pepper | Chiltepin |
| State Native Shrub | Texas purple sage |
| Nickname | Lone Star State |
| State Pastry | Sopaipilla and strudel |
| State Pepper | Jalapeno |
| State Pie | Pecan pie |
| State Plant | Prickly pear cactus |
| State Play | "The Lone Star", "Texas", "Beyond The Sundown", "Fandangle" |
| State Pollinator | Western honey bee |
| State Precious Metal | Silver |
| State Reptile | Texas horned lizard |
| State Rodeo Drill Team | Ghostriders |
| State Salt Water Fish | Red drum |
| State Sea Turtle | Kemp's ridley sea turtle |
| State Shell | Lightning whelk |
| State Ship | U.S.S. Texas |
| State Shrub | Crape myrtle |
| State Small Mammal | Armadillo |
| State Snack | Tortilla chips and salsa |
| State Song | "Texas, Our Texas" |
| State Sport | Rodeo |
| State Squash | Pumpkin |
| State Stone | Petrified palmwood |
| State Tall Ship | Elissa |
| State Tree | Pecan |
| State Vegetable | Sweet onion |
| State Vehicle | Chuck wagon |
| State Waterlily | Nymphaea Texas dawn |
Sports Teams
Taxes
Points of Interest
Famous People Born In Texas
Nobel Prize Winners
Robert Woodrow Wilson (Physics, 1978)
Bruce Merrifield (Chemistry, 1984)
E. Donnall Thomas (Physiology or Medicine, 1990)
Robert F. Curl Jr. (Chemistry, 1996)
United States Presidents
Dwight D. Eisenhower (34th President)
Lyndon B. Johnson (36th President)
Pro Football Hall Of Fame Members
Sammy Baugh (Quarterback, Defensive Back, Punter. Inducted in 1963)
Bulldog Turner (Center, Linebacker. Inducted in 1966)
Bobby Layne (Quarterback, Kicker. Inducted in 1967)
Y. A. Tittle (Quarterback. Inducted in 1971)
Ollie Matson (Halfback. Inducted in 1972)
Raymond Berry (Wide Receiver. Inducted in 1973)
Tony Canadeo (Halfback. Inducted in 1974)
Dick "Night Train" Lane (Cornerback. Inducted in 1974)
Forrest Gregg (Offensive Tackle, Offensive Guard. Inducted in 1977)
Lance Alworth (Wide Receiver. Inducted in 1978)
Yale Lary (Safety, Punter, Returner. Inducted in 1979)
Bob Lilly (Defensive Tackle. Inducted in 1980)
Charley Taylor (Wide Receiver. Inducted in 1984)
Ken Houston (Safety. Inducted in 1986)
Doak Walker (Halfback, Kicker. Inducted in 1986)
Joe Greene (Defensive Tackle. Inducted in 1987)
Don Maynard (Wide Receiver. Inducted in 1987)
Gene Upshaw (Guard. Inducted in 1987)
Tom Landry (Coach. Inducted in 1990)
Earl Campbell (Running Back. Inducted in 1991)
Jimmy Johnson (Cornerback. Inducted in 1994)
Mel Renfro (Cornerback, Safety. Inducted in 1996)
Mike Haynes (Cornerback. Inducted in 1997)
Mike Singletary (Linebacker. Inducted in 1998)
Eric Dickerson (Running Back. Inducted in 1999)
Thurman Thomas (Running Back. Inducted in 2007)
Darrell Green (Cornerback. Inducted in 2008)
Emmitt Thomas (Cornerback. Inducted in 2008)
John Randle (Defensive Tackle. Inducted in 2010)
Michael Strahan (Defensive End. Inducted in 2014)
Tim Brown (Wide Receiver. Inducted in 2015)
Baseball Hall Of Fame Players
Tris Speaker (Center Fielder. Inducted in 1937)
Rogers Hornsby (Second Baseman. Inducted in 1942)
Ross Youngs (Right Fielder. Inducted in 1972)
Ernie Banks (Shortstop. Inducted in 1977)
Eddie Mathews (Third Baseman. Inducted in 1978)
Frank Robinson (Right Fielder. Inducted in 1982)
Joe Morgan (Second Baseman. Inducted in 1990)
Bill Foster (Pitcher. Inducted in 1996)
Willie Wells (Shortstop. Inducted in 1997)
Nolan Ryan (Pitcher. Inducted in 1999)
Joe Williams (Pitcher. Inducted in 1999)
Hilton Smith (Pitcher. Inducted in 2001)
Biz Mackey (Catcher. Inducted in 2006)
Louis Santop (Catcher. Inducted in 2006)
Andy Cooper (Pitcher. Inducted in 2006)
Greg Maddux (Pitcher. Inducted in 2014)
Naismith Memorial Basketball Hall Of Fame Players
Zelmo Beaty (Center. Inducted in 2016)
K.C. Jones (Guard. Inducted in 1989)
Slater Martin (Guard. Inducted in 1982)
Slater Martin (Guard. Inducted in 1982)
Bill Sharman (Guard. Inducted in 1976)
Sheryl Swoopes (Guard. Inducted in 2016)
Hockey Hall Of Fame Members
Brian Leetch (Defense. Inducted in 2009)
Famous Actors And Actresses
Joan Crawford
Jamie Foxx
Woody Harrelson
Matthew McConaughey
Sissy Spacek
Forest Whitaker
Robin Wright
Famous Singers
Erykah Badu
Beyonce
Buddy Holly
Janis Joplin
Meat Loaf
Johnny Mathis
Willie Nelson
Roy Orbison
Kenny Rogers
Jessica Simpson
George Strait
Barry White
Texas Fun Facts
The name Texas came from the Caddo Indian word tejas, meaning "friends" or "allies."
Texas has highest highway speed limit in the United States. A stretch of toll road between Austin and San Antonio permits drivers to go 85 miles per hour.
Texas produces more crude oil and natural gas than any other state in the United States.
Bracken Cave in Comal County, Texas, is the summer home to the largest colony of bats in the world. An estimated 20 million Mexican free-tailed bats roost in the cave from March to October every year.
Dr. Pepper was invented in Waco, Texas, by Charles Alderton in 1885.
Astrodome was first multi-purpose domed stadium in the world. It was built in Houston and opened in 1965.
The 567.31-foot San Jacinto Monument in Harris County, Texas, is world's tallest war memorial. The star at the top of the monument weighs 220 tons.
The Tyler Municipal Rose Garden in Tyler, Texas, is the largest rose garden in the United States.
Texas was an independent nation from 1836 to 1845.
Texas is the only state with an official State Domino Game: 42.
On December 7, 1982, the first person executed by lethal injection occurred in Texas.
This page was last updated on September 25, 2016.