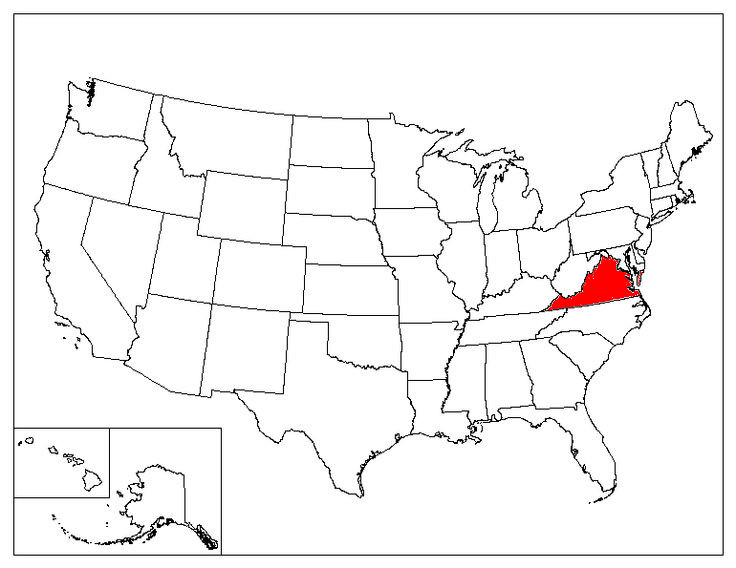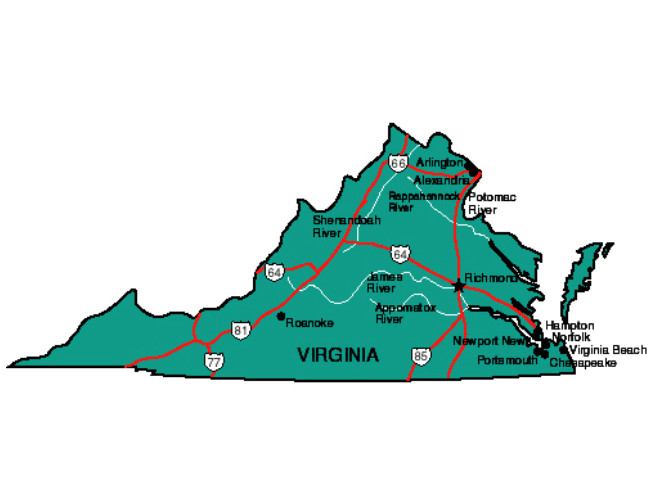 Geography & Demographics
State Abbreviation
VA
State Capital
Richmond
State Size
Total (Land + Water): 42,774 sq miles; Land Only: 39,594 sq miles
Number of Counties
95
Time Zone
Eastern Time Zone
Bordering States
Kentucky, Maryland, North Carolina, Tennessee, West Virginia
Highest Point
Mount Rogers, 5,729 feet
National Parks
Shenandoah National Park
State Population (2015)
8,382,993
State Population Density
211.7 people / square mile
Area Codes
276, 434, 540, 571, 703, 757, 804
Top 5 Cities (2010 population)
Virginia Beach (437,994)
Norfolk (242,803)
Chesapeake (222,209)
Arlington (207,627)
Richmond (204,214)
Government & Legislature
State Symbols
| | |
| --- | --- |
| State Bat | Virginia big-eared bat |
| State Bird | Cardinal |
| State Boat | Chesapeake Bay deadrise |
| State Dog | American foxhound |
| State Drink | Milk |
| State Flower | American dogwood |
| State Folk Dance | Square dance |
| State Fossil | Cheaspecten jeffersonius |
| State Fresh Water Fish | Brook trout |
| State Insect | Tiger swallowtail butterfly |
| State Maple Festival | Highland County Maple Festival |
| State Motto | Sic semper tyrannis (Thus always to tyrants) |
| State Nickname | The Old Dominion; Mother of Presidents |
| State Salt Water Fish | Striped bass |
| State Shell | Eastern oyster |
| State Song | "Our Great Virginia" (traditional), "Sweet Virginia Breeze" (popular) |
| State Tree | American dogwood |
Sports Teams
Taxes
Popular Tourist Attractions
Famous People Born In Virginia
Nobel Prize Winners
Woodrow Wilson (Peace, 1919)
John C. Mather (Physics, 2006)
United States Presidents
George Washington (1st President)
Thomas Jefferson (3rd President)
James Madison (4th President)
James Monroe (5th President)
William Henry Harrison (9th President)
John Tyler (10th President)
Zachary Taylor (12th President)
Woodrow Wilson (28th President)
Pro Football Hall Of Fame Members
Bill Dudley (Halfback. Inducted in 1966)
Ace Parker (Quarterback. Inducted in 1972)
Rosey Brown (Offensive Tackle. Inducted in 1975)
Willie Lanier (Linebacker. Inducted in 1986)
Fran Tarkenton (Quarterback. Inducted in 1986)
Henry Jordan (Defensive Tackle. Inducted in 1995)
Lawrence Taylor (Linebacker. Inducted in 1999)
George Allen (Coach, General Manager. Inducted in 2002)
Bruce Smith (Defensive End. Inducted in 2009)
Charles Haley (Defensive End, Linebacker. Inducted in 2015)
Baseball Hall Of Fame Players
Eppa Rixey (Pitcher. Inducted in 1963)
Ray Dandridge (Third Baseman. Inducted in 1987)
Leon Day (Pitcher. Inducted in 1995)
Jud Wilson (Third Baseman. Inducted in 2006)
Pete Hill (Center Fielder. Inducted in 2006)
Naismith Memorial Basketball Hall Of Fame Players
Allen Iverson (Guard. Inducted in 2016)
Moses Malone (Center-Forward. Inducted in 2001)
Alonzo Mourning (Center. Inducted in 2014)
Ralph Sampson (Center. Inducted in 2012)
Famous Actors And Actresses
Sandra Bullock
Shirley MacLaine
George C. Scott
Famous Singers
Chris Brown
Missy Elliott
Parrell Williams
Virginia Fun Facts
Virginia was named for England's "Virgin Queen," Elizabeth I.
Jamestown was the first permanent English settlement in the American Continent. It was also the first capital of Virginia.
The Pentagon building in Arlington, Virginia is the largest office building in the world.
The first theater in America was built at Williamsburg, Virginia in 1716.
Virginia is the first state in the United States to elect a black governor: Douglas Wilder was elected as Governor in 1990.
Virginia was one of the two states that donated land to build Washington D.C. The other state was Maryland.
The College of William and Mary in Williamsburg is the second oldest in the United States, it was founded in 1693.
Virginia is the only state with an official State Bat: Virginia big-eared bat.
In Virginia, it is illegal to hunt wild animals on Sundays with the exception of raccoons, which may be hunted until 2:00 AM.
This page was last updated on September 29, 2016.