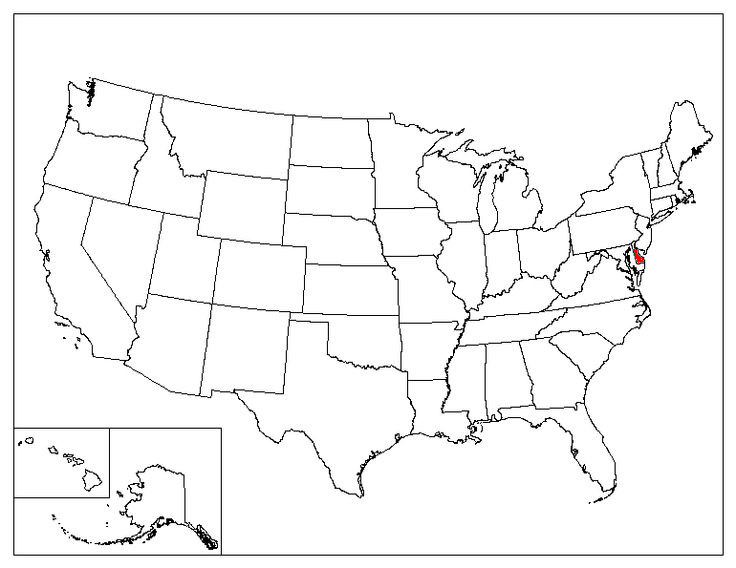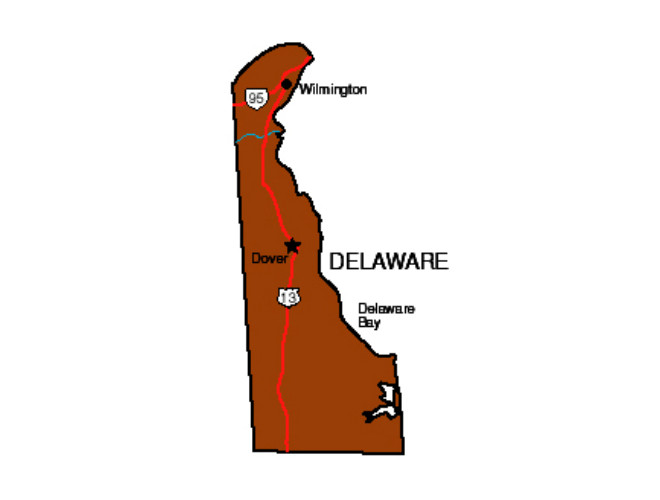 Delaware is known for:
Historical landmarks
Chemical manufacturing
Being a tax-free state
The first state to ratify the Constitution
Large number of companies incorporated in the state
Agricultural industry
Financial industry, including the presence of many major credit card companies
Geography & Demographics
State Abbreviation
DE
State Capital
Dover
State Size
Total (Land + Water): 2,489 sq miles; Land Only: 1,954 sq miles
Number of Counties
3
Time Zone
Eastern Time Zone
Bordering States
Maryland, New Jersey, Pennsylvania
Highest Point
Near the Ebright Azimuth, 447 feet
Tallest Building
Chase Manhattan Center in Wilmington, 360 feet
Largest Stadium
Delaware Stadium in Newark, capacity 18,309
National Parks
None
State Population (2020)
989,948
State Population Density
506.6 people / square mile
Area Codes
302
Top 5 Cities (2020 population)
Wilmington (70,376)
Dover (38,199)
Newark (33,849)
Middletown (23,765)
Milford (12,278)
Government & Legislature
State Symbols
| | |
| --- | --- |
| State Beverage | Milk |
| State Bird | Blue hen chicken |
| State Bug | Lady bug |
| State Butterfly | Tiger swallowtail |
| State Dessert | Peach pie |
| State Fish | Weakfish |
| State Flower | Peach blossom |
| State Fruit | Strawberry |
| State Herb | Sweet golden rod |
| State Macroinvertebrate | Stonefly |
| State Marine Animal | Horseshoe crab |
| State Motto | Liberty and Independence |
| State Nickname | Diamond State; First State |
| State Star | Delaware Diamond |
| State Tree | American holly |
| State Wildlife Animal | Grey Fox |
Sports Teams
Major Sports Teams
None
NCAA Division I Schools
University of Delaware (Colonial Athletic Association)
Delaware State University (Mid-Eastern Athletic)
Popular Tourist Attractions
Festivals and Events
Top festivals and events in Delaware. They are listed in approximate order of when they take place during the year.
Popular Iconic Delaware Foods
Delaware is famous for the following foods:
Scrapple
Slippery Dumplings
The Bobbie
Thrashers French Fries
Blue Claw Crabs
Nic-o-boli
Delaware Crab Cakes
Peach Pie
Famous People Born In Delaware
Nobel Prize Winners
Famous Actors And Actresses
Aubrey Plaza
Teri Polo
Elisabeth Shue
Delaware Fun Facts
Delaware was named after the Delaware River and Bay, which in turn was named after Thomas West (Lord De La Warr), the governor of the Colony of Virginia in 1610.
Due to the lenient banking laws of Delaware, over half of all publicly traded corporations in the United States are incorporated in Delaware.
On December 21, 1776, Delaware became the first state with a State Constitution.
Delaware is one of the five states in the United States that do not impose a state sales tax.
Delaware has the smallest number of counties of any state in the Unites States, with only three: New Castle, Kent, and Sussex.
With an average elevation of only 60 feet, Delaware is the lowest state in the Unites States.
Delaware is the only state without any National Park System units such as national parks, historic sites, battlefields, memorials, monuments, and seashores.
Delaware is one of the two states in the United States with an official State Herb, sweet golden rod.
At its widest point, Delaware is only 35 miles in width.
In Delaware, it's illegal to show R-rated movies at drive-in theaters.
This page was last updated on July 10, 2023.


ADVERTISEMENTS