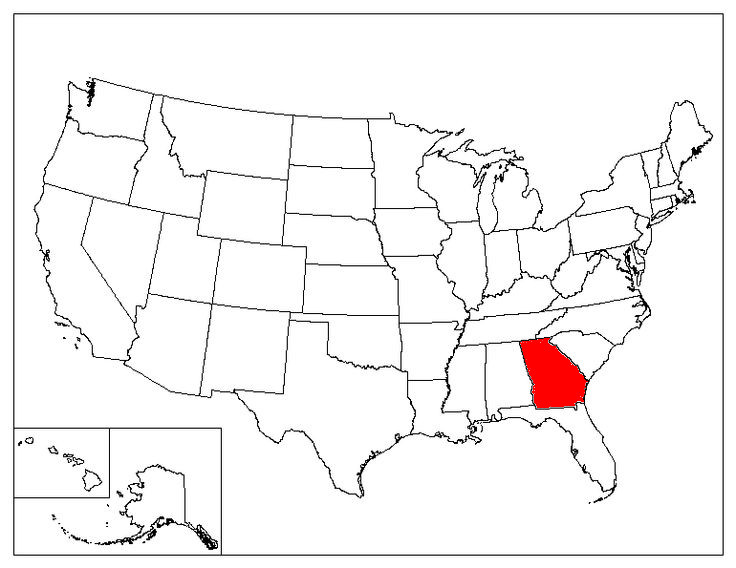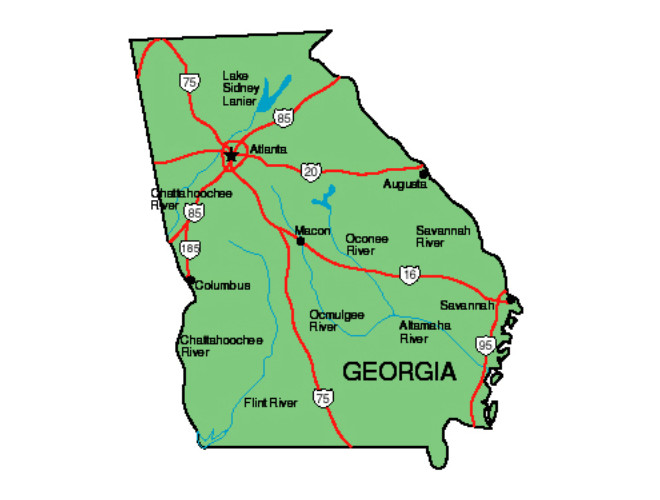 This page contains a wealth of information on the state of Georgia. Please click on the type of the fact that you are interested in:
Geography & Demographics
State Abbreviation
GA
State Capital
Atlanta
State Size
Total (Land + Water): 59,425 sq miles; Land Only: 57,906 sq miles
Number of Counties
159
Time Zone
Eastern Time Zone
Bordering States
Alabama, Florida, North Carolina, South Carolina, Tennessee
Highest Point
Brasstown Bald, 4,784 feet
National Parks
None
State Population (2015)
10,214,860
State Population Density
176.4 people / square mile
Area Codes
229, 404, 470, 478, 678, 706, 762, 770, 912
Top 5 Cities (2010 population)
Atlanta (420,003)
Augusta (195,844)
Columbus (189,885)
Savannah (136,286)
Athens (115,452)
Government & Legislature
State Symbols
| | |
| --- | --- |
| State Amphibian | Green tree frog |
| State Bird | Brown thrasher |
| State Crop | Peanut |
| State Fish | Largemouth bass |
| State Flower | Cherokee rose |
| State Fruit | Peach |
| State Insect | Honeybee |
| State Marine Mammal | Right whale |
| State Mineral | Staurolite |
| State Motto | Wisdom, justice, and moderation |
| State Nickname | Peach State; Empire State of the South |
| State Reptile | Gopher tortoise |
| State Tree | Live oak |
| State Vegetable | Vidalia onion |
Sports Teams
Popular Tourist Attractions
Famous People Born In Georgia
Nobel Prize Winners
Martin Luther King Jr. (Peace, 1964)
Jimmy Carter (Peace, 2002)
United States Presidents
Jimmy Carter (39th President)
Pro Football Hall Of Fame Members
Marion Motley (Fullback. Inducted in 1968)
Jim Brown (Fullback. Inducted in 1971)
Jim Parker (Offensive Guard, Offensive Tackle. Inducted in 1972)
Mel Blount (Cornerback. Inducted in 1989)
John Hannah (Guard. Inducted in 1991)
Larry Little (Guard. Inducted in 1993)
Rayfield Wright (Offensive Tackle. Inducted in 2006)
Richard Dent (Defensive End. Inducted in 2011)
Ray Guy (Punter. Inducted in 2014)
Baseball Hall Of Fame Players
Ty Cobb (Center Fielder. Inducted in 1936)
Bill Terry (First Baseman. Inducted in 1954)
Jackie Robinson (Second Baseman. Inducted in 1962)
Josh Gibson (Catcher. Inducted in 1972)
Johnny Mize (First Baseman. Inducted in 1981)
Frank Thomas (First Baseman. Inducted in 2014)
Naismith Memorial Basketball Hall Of Fame Players
Teresa Edwards (Guard. Inducted in 2011)
Walt Frazier (Guard. Inducted in 1987)
Famous Actors And Actresses
Holly Hunter
Julia Roberts
Joanne Woodward
Famous Singers
Ray Charles
Amy Grant
Alan Jackson
Jennifer Paige
Otis Redding
Kanye West
Georgia Fun Facts
Georgia was named for King George II of England.
Georgia was founded in 1732 by British Member of Parliament James Oglethorpe. Oglethorpe's original intention was to use the colony as a place for debt-ridden people to get a fresh start.
Georgia is the largest state east of the Mississippi River.
Georgia has seven official natural wonders: Amicalola Falls, the Okefenokee Swamp, Providence Canyon, Radium Springs, Stone Mountain, Tallulah Gorge, and Warm Springs.
Coca-Cola was invented in May 1886 by John Pemberton in Atlanta, Georgia.
The popular theme park - Six Flags Over Georgia, was actually named for six flags that flew over the lands that comprise of present-day Georgia. The six flags are that of England, Spain, France, Confederate States of America, United States, and Georgia.
In Georgia, it's illegal to live on a boat for more than 30 days during a calendar year.
Wesleyan College in Macon was the first college in the world established as a full college for women. It started in 1836 as Georgia Female College.
Georgia is the only state with an official State Crop, peanut.
The Hatsfield Jackson Atlanta International Airport is the world's busiest airport in terms of number of passengers served.
This page was last updated on October 01, 2017.