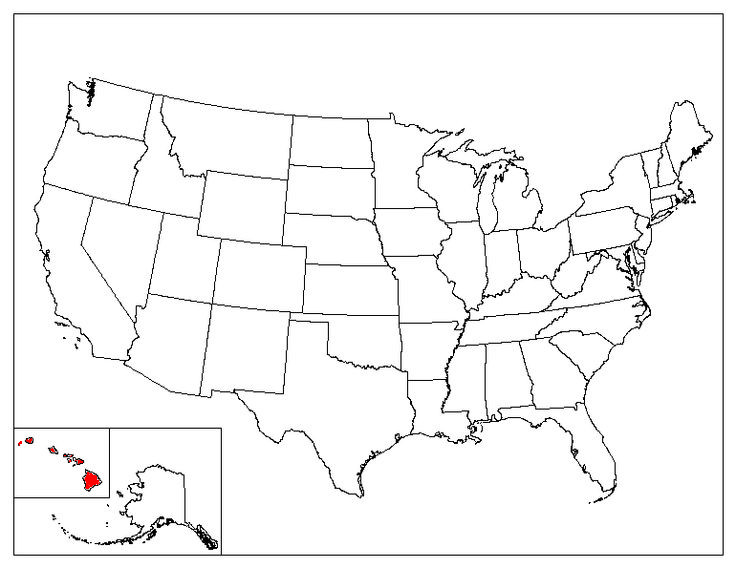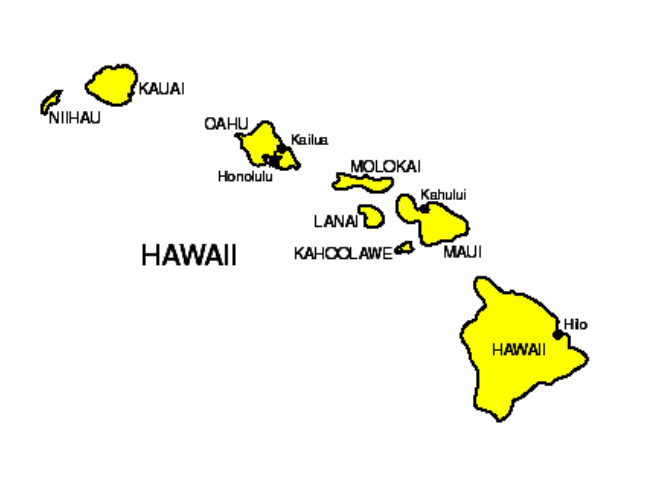 Hawaii is known for:
Aloha shirt
Luaus
The Hula dance
Lei
Stunning beaches
Volcanic activity
Water sports
High cost of living
Coffee
Surfing
Pineapple
Geography & Demographics
State Abbreviation
HI
State Capital
Honolulu
State Size
Total (Land + Water): 10,931 sq miles; Land Only: 6,423 sq miles
Number of Counties
67
Time Zone
Hawaii-Aleutian Time Zone
Bordering States
None
Highest Point
Mauna Kea on the Island of Hawaii, 13,803 feet
Tallest Building
The Central Ala Moana in Honolulu, 435 feet
Largest Stadium
War Memorial Stadium in Wailuku, capacity 20,000
National Parks
Haleakala National Park
Hawaii Volcanoes National Park
State Population (2020)
1,455,271
State Population Density
226.6 people / square mile
Area Codes
808
Top 5 Cities (2020 population)
Honolulu (341,302)
East Honolulu (47,540)
Pearl City (45,605)
Hilo (45,056)
Waipahu (39,469)
Government & Legislature
State Symbols
| | |
| --- | --- |
| State Bird | Nene |
| State Dance | Hula |
| State Fish | Rectangular triggerfish |
| State Flower | Hibiscus |
| State Gem | Ekaha ku moana (black coral) |
| State Individual Sport | Surfing |
| State Insect | Pulelehua (Kamehameha butterfly) |
| State Kahiko Musical Instrument | Pahu |
| State Land Mammal | Hawaiian hoary bat |
| State Mammal | Hawaiian monk seal |
| State Marine Mammal | Humpback whale |
| State Motto | Ua mau ke ea o ka aina i ka pono (The life of the land is perpetuated in righteousness) |
| Nickname | Aloha State |
| State Plant | Taro |
| State Spirit | The Aloha Spirit |
| State Team Sport | Outrigger canoe paddling |
| State Tree | Kukui (also called candlenut tree) |
Sports Teams
Popular Tourist Attractions
UNESCO Heritage Sites
Festivals and Events
Top festivals and events in Hawaii. They are listed in approximate order of when they take place during the year.
| | | |
| --- | --- | --- |
| Festival / Event | When | Location |
| Honolulu Festival | March | Honolulu, Oahu |
| Merrie Monarch Festival | April | Big Island |
| Waikiki Spam Jam | April | Waikiki, Honolulu, Oahu |
| Shinnyo Lantern Floating Hawaii | Memorial Day | Honolulu, Oahu |
| Maui Film Festival | June | Wailea, Maui |
| Prince Lot Hula Festival | July | Moanalua Gardens, Honolulu, Oahu |
| Ukulele Festival Hawaii | July | Kapiolani Park, Honolulu, Oahu |
| Aloha Festivals | September | Honolulu, Oahu |
| Hawaii International Film Festival | November | Honolulu, Oahu |
| Kona Coffee Cultural Festival | November | Kailua-Kona, Big Island |
Popular Iconic Hawaii Foods
Hawaii is famous for the following foods:
Poke Bowl
Spam Musubi
Kalua Pig
Loco Moco
Manapua
Shaved Ice
Lau Lau
Saimin
Poi
Lomi Salmon
Acai Bowl
Haupia Pie
Malasadas
Famous People Born In Hawaii
Nobel Prize Winners
United States Presidents
Barak Obama (44th President)
Famous Actors And Actresses
Lauren Graham
Nicole Kidman
Jason Momoa
Famous Singers
Yvonne Elliman
Anuhea Jenkins
Bruno Mars
Hawaii Fun Facts
Iolani Palace in Honolulu is the only royal palace in the United States.
Hawaii is the southernmost state in the United States.
Ka Lae on the Big Island of Hawaii is the southernmost point in the United States.
Hawaii is the only state that grows coffee.
Hawaii is one of the two states in the United States that do not observe Daylight Savings Time (Arizona is the other).
In Hawaii you will be fined for riding in the back of a passenger car without a seatbelt, however you can ride in the bed of a pickup truck with no safety equipment
By law, no building on Kauai is allowed to be built taller than a palm tree.
Hawaii is the only state in the United States to honor a king, celebrating King Kamehameha Day on June 11th since 1872. King Kamehameha I (Kamehameha the Great) is known for uniting the Hawaiian Islands in 1810.
There are only 12 letters in the Hawaiian alphabet. Vowels include A, E, I, O, and U. Consonants include H, K, L, M, N, P, and W.
The widest state from east to west is Hawaii, stretching across 1,500 miles.
In 1970, Hawaii became the first state to legalize abortions on the request of the woman.
This page was last updated on July 10, 2023.


ADVERTISEMENTS