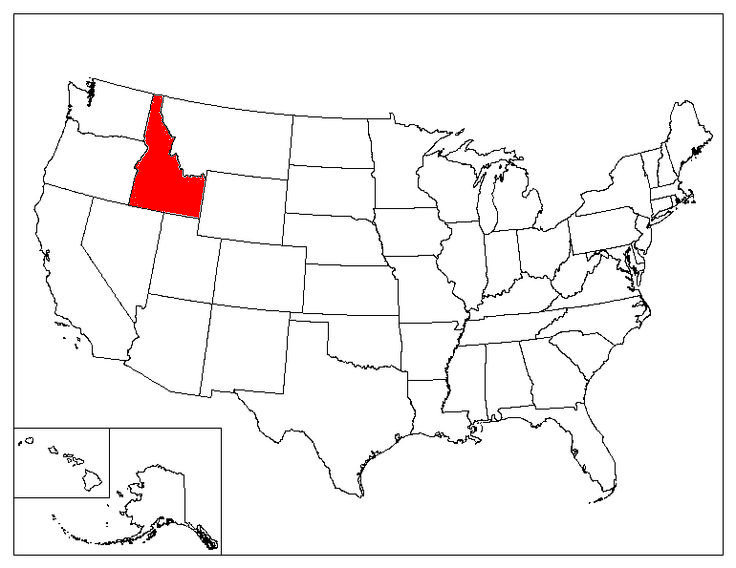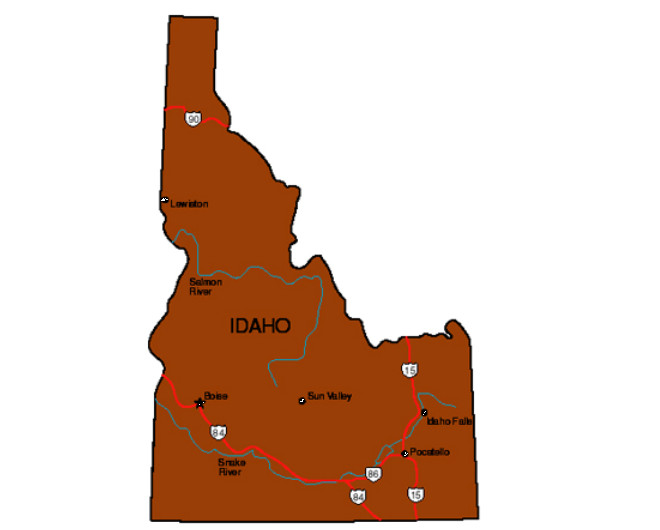 Idaho is known for:
Potatoes
Gems
Scenic mountain landscapes
Miles of protected wilderness
Outdoor recreation areas
Huckleberries
Mining
Hot springs
Geography & Demographics
State Abbreviation
ID
State Capital
Boise
State Size
Total (Land + Water): 83,570 sq miles; Land Only: 82,747 sq miles
Number of Counties
44
Time Zone
Mountain Time Zone, Pacific Time Zone
Bordering States
Montana, Nevada, Oregon, Utah, Washington, Wyoming
Highest Point
Borah Peak, 12,668 feet
National Parks
None
State Population (2020)
1,839,106
State Population Density
22.2 people / square mile
Area Codes
208, 986
Top 5 Cities (2020 population)
Boise (229,776)
Meridian (121,182)
Nampa (103,215)
Idaho Falls (64,142)
Caldwell (60,674)
Government & Legislature
State Symbols
| | |
| --- | --- |
| State Amphibian | Idaho giant salamander |
| State Bird | Mountain bluebird |
| State Dance | Square dance |
| State Fish | Cutthroat trout |
| State Flower | Syringa |
| State Fossil | Hagerman horse fossil |
| State Fruit | Huckleberry |
| State Gem | Idaho star garnet |
| State Horse | Appaloosa horse |
| State Insect | Monarch butterfly |
| State Motto | Esto perpetua (Let it be perpetual) |
| State Nickname | Gem State |
| State Raptor | Peregrine falcon |
| State Tree | Western white pine |
| State Vegetable | Potato |
Sports Teams
Popular Tourist Attractions
Popular Iconic Idaho Foods
Idaho is famous for the following foods:
Finger Steaks
Croquetas
Idaho Ice Cream Potato
Huckleberry Ice Cream
Morel Mushrooms
The Idahoan
Trout
Famous People Born In Idaho
Nobel Prize Winners
Pro Football Hall Of Fame Members
Larry Wilson (Safety. Inducted in 1978)
Baseball Hall Of Fame Players
Harmon Killebrew (First Baseman. Inducted in 1984)
Famous Actors And Actresses
Sherry Jackson
Aaron Paul
Jeremy Shada
Idaho Fun Facts
Idaho is a made-up word. When Congress was considering a name for present-day Colorado, lobbyist George Willing suggested the name "Idaho," claiming it was an Indian word that means "gem of the mountains." This name was not chosen for Colorado, but two years later it was used when the Idaho Territory was created in 1863.
American Falls is unique from most communities because the entire town was moved in the mid-1920s when the original American Falls Dam was constructed.
Hell's Canyon is the deepest gorge in America at 7,993 feet.
Idaho is called the "Gem State" because nearly every known type of gemstone has been found in the state of Idaho. More than 72 different precious and semi-precious gemstones are mined from Idaho.
Idaho is the only state in the United States with an official State Raptor, peregrine falcon.
Soda Springs boasts the largest man-made geyser in the world.
Idaho is one of only two places in the world where star garnets can be found in any significant quantities (India is the other).
The statehouse in Boise is geothermally heated from underground hot springs.
On July 17, 1955, the town of Arco became the first city in the world to be lit by atomic energy.
Idaho's Shoshone Falls is called the "Niagara of the West." It is 212 feet high—45 feet higher than Niagara Falls.
This page was last updated on January 30, 2023.


ADVERTISEMENTS