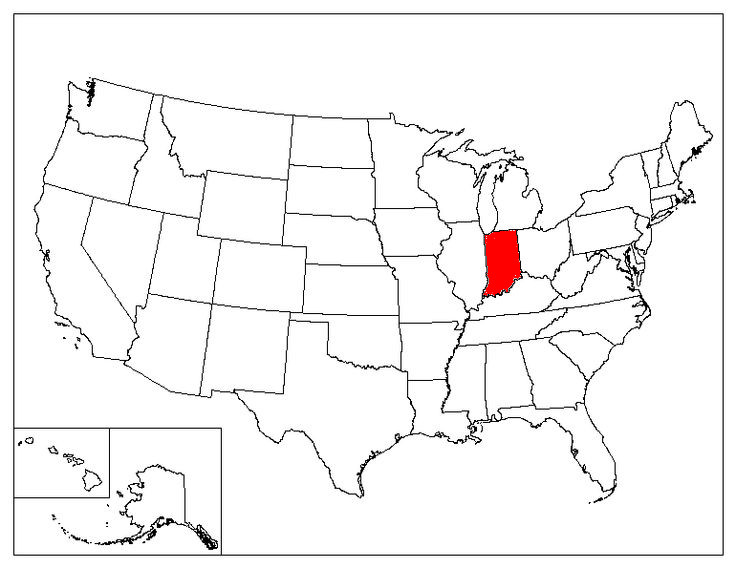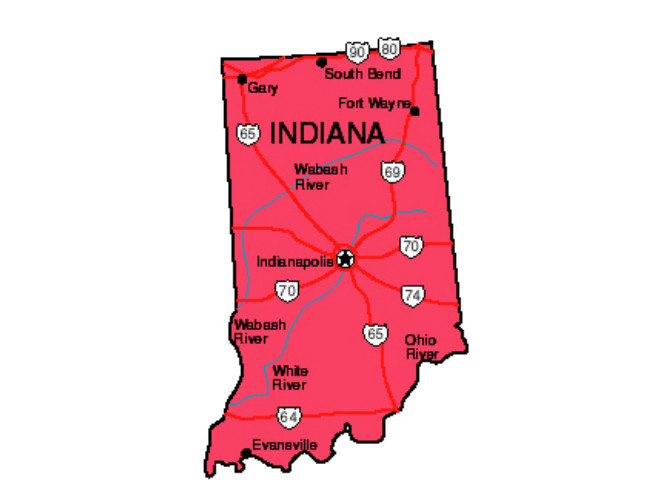 This page contains a wealth of information on the state of Indiana. Please click on the type of the fact that you are interested in:
Geography & Demographics
State Abbreviation
IN
State Capital
Indianapolis
State Size
Total (Land + Water): 36,418 sq miles; Land Only: 35,867 sq miles
Number of Counties
92
Time Zone
Eastern Time Zone, Central Time Zone
Bordering States
Illinois, Kentucky, Michigan, Ohio
Highest Point
Hoosier Hill, 1,257 feet
National Parks
None
State Population (2020)
6,790,280
State Population Density
189.3 people / square mile
Area Codes
219, 260, 317, 463, 574, 765, 812
Top 5 Cities (2010 population)
Indianapolis (820,445)
Fort Wayne (253,691)
Evansville (117,429)
South Bend (101,168)
Hammond (80,830)
Government & Legislature
State Symbols
| | |
| --- | --- |
| State Bird | Cardinal |
| State Flower | Peony |
| State Motto | The Crossroads of America |
| State Nickname | Hoosier State |
| State Pie | Sugar cream pie |
| State River | Wabash river |
| State Stone | Salem limestone |
| State Tree | Tulip tree |
Sports Teams
Popular Tourist Attractions
Famous People Born In Indiana
Nobel Prize Winners
Pro Football Hall Of Fame Members
Weeb Ewbank (Coach / General Manager. Inducted in 1978)
Bob Griese (Quarterback. Inducted in 1990)
Rod Woodson (Cornerback, Safety, Kick Returner. Inducted in 2009)
Chris Doleman (Defensive End / Linebacker. Inducted in 2012)
Baseball Hall Of Fame Players
Mordecai Brown (Pitcher. Inducted in 1949)
Max Carey (Center Fielder. Inducted in 1961)
Edd Roush (Center Fielder. Inducted in 1962)
Sam Rice (Right Fielder. Inducted in 1963)
Sam Thompson (Right Fielder. Inducted in 1974)
Billy Herman (Second Baseman. Inducted in 1975)
Oscar Charleston (Center Fielder. Inducted in 1976)
Amos Rusie (Pitcher. Inducted in 1977)
Chuck Klein (Right Fielder. Inducted in 1980)
Naismith Memorial Basketball Hall Of Fame Players
Branch McCracken (Forward. Inducted in 1960)
Charles Murphy (Center. Inducted in 1960)
John Wooden (Guard. Inducted in 1960)
Fuzzy Vandivier (Guard. Inducted in 1975)
Larry Bird (Forward. Inducted in 1998)
Clyde Lovellette (Center-Forward. Inducted in 1988)
Louie Dampier (Guard. Inducted in 2015)
George McGinnis (Forward. Inducted in 2017)
Famous Actors And Actresses
Embeth Davidtz
Jenna Fischer
Shelley Long
Famous Singers
Janet Jackson
Michael Jackson
John Mellencamp
Axl Rose
Indiana Fun Facts
The state of Indiana was named after the Native Americans. Indiana means "Indian Land."
The first long-distance auto race in the U. S. was held May 30, 1911, at the Indianapolis Motor Speedway. 
Indianapolis Motor Speedway, with a permanent seating capacity of 235,000, is the highest-capacity sports venue in the world.
The first professional baseball game was played in Fort Wayne on May 4, 1871. Fort Wayne Kekiongas beat Cleveland Forest Cities, 2-0.
Indiana is the first state to have a chapel inside the state capitol, built in memory of former first lady Beth Bowen.
Wabash, Indiana was the first electrically lighted city in the world.
Santa Claus, Indiana, receives hundreds of thousands of letters addressed to the Christmas legend every year—each of which is responded to individually.
In Indiana, it is illegal to catch a fish with dynamite, firearms, a crossbow or your bare hands.
Crawfordsville is the home of the only known working rotary jail in the United States. This jail was built in 1882 and served as the Montgomery County jail until 1973. It is now a museum.
This page was last updated on April 30, 2021.


ADVERTISEMENTS