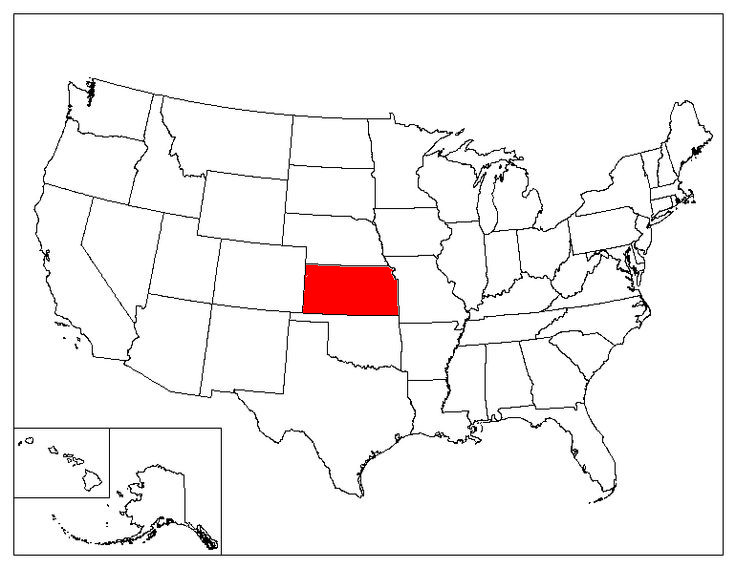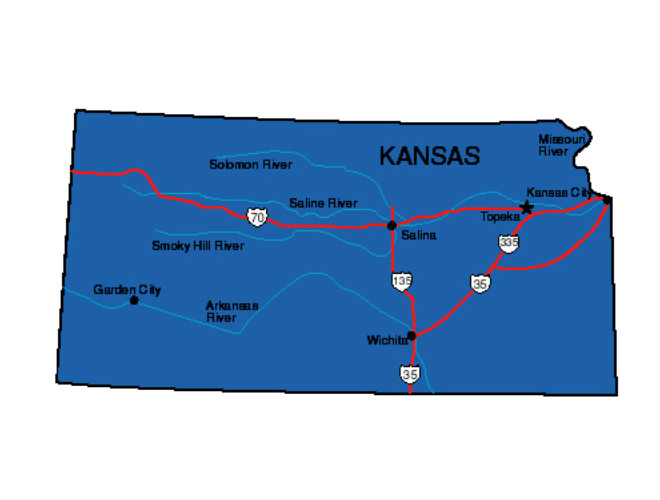 Kansas is known for:
Oil wells
Wizard of Oz
Wheat and cattle production
Great plains
Scorching summers and freezing winters
Geography & Demographics
State Abbreviation
KS
State Capital
Topeka
State Size
Total (Land + Water): 82,277 sq miles; Land Only: 81,815 sq miles
Number of Counties
105
Time Zone
Central Time Zone, Mountain Time Zone
Bordering States
Colorado, Missouri, Nebraska, Oklahoma
Highest Point
Mount Sunflower, 4,041 feet
National Parks
None
State Population (2020)
2,937,880
State Population Density
35.9 people / square mile
Area Codes
316, 620, 785, 913
Top 5 Cities (2020 population)
Wichita (391,731)
Overland Park (197,381)
Kansas City (152,727)
Olathe (141,665)
Topeka (124,558)
Government & Legislature
State Symbols
| | |
| --- | --- |
| State Amphibian | Barred tiger salamander |
| State Animal | American bison |
| State Bird | Western meadowlark |
| State Flower | Sunflower |
| State Grass | Little bluestem |
| State Insect | Western honey bee |
| State Motto | Ad astra per aspera (To the stars through difficulties) |
| State Nickname | Sunflower State; Jayhawk State |
| State Reptile | Ornate box turtle |
| State Tree | Cottonwood |
Sports Teams
Popular Tourist Attractions
Popular Iconic Kansas Foods
Kansas is famous for the following foods:
BBQ
Fried Chicken
Bierocks
Burnt Ends
Sour cream and raisin pie
The Z-Man
Slider
Famous People Born In Kansas
Nobel Prize Winners
Pro Football Hall Of Fame Members
Jack Christiansen (Safety, Kick Returner. Inducted in 1970)
Gale Sayers (Halfback. Inducted in 1977)
John Riggins (Running Back. Inducted in 1992)
Barry Sanders (Running Back. Inducted in 2004)
Will Shields (Guard. Inducted in 2015)
Baseball Hall Of Fame Players
Walter Johnson (Pitcher. Inducted in 1936)
Joe Tinker (Shortstop. Inducted in 1946)
Naismith Memorial Basketball Hall Of Fame Players
Bud Foster (Forward. Inducted in 1964)
Paul Endacott (Forward. Inducted in 1972)
Ernest Schmidt (Forward. Inducted in 1974)
Lynette Woodard (Guard. Inducted in 2004)
Eddie Sutton (Coach. Inducted in 2020)
Hockey Hall Of Fame Members
Silas Griffis (Defense. Inducted in 1950)
Famous Actors And Actresses
Kirstie Alley
Dennis Hopper
Kari Wahlgren
Famous Singers
Martina McBride
Jerrod Niemann
James Wesley
Kansas Fun Facts
The state of Kansas was named after Kansa, an Indian tribe that lived in the region about 12,000 years ago. The Kansa people were called Kansas and that became the name of the state.
The geographic center of the 48 contiguous United States is located about 2.6 miles northwest of the center of Lebanon, Kansas.
Because of its importance in the aircraft industry, Wichita is known as "the Air Capital of the World."
In 1958, the first Pizza Hut restaurant was opened in Wichita, Kansas.
The first woman mayor in the United States was Susan Madora Salter, who was elected to office in Argonia, Kansas in 1887.
Kansas State Game rules prohibits the use of mules to hunt ducks.
DeBruce Grain Elevator in Haysville, Kansas is the largest grain elevator in the world. It is 2,717 feet long.
Walt Disney opened his first animation studio in Kansas City. Supposedly he fed a small mouse in the building, which he later said was his inspiration for Mickey Mouse.
This page was last updated on January 30, 2023.


ADVERTISEMENTS