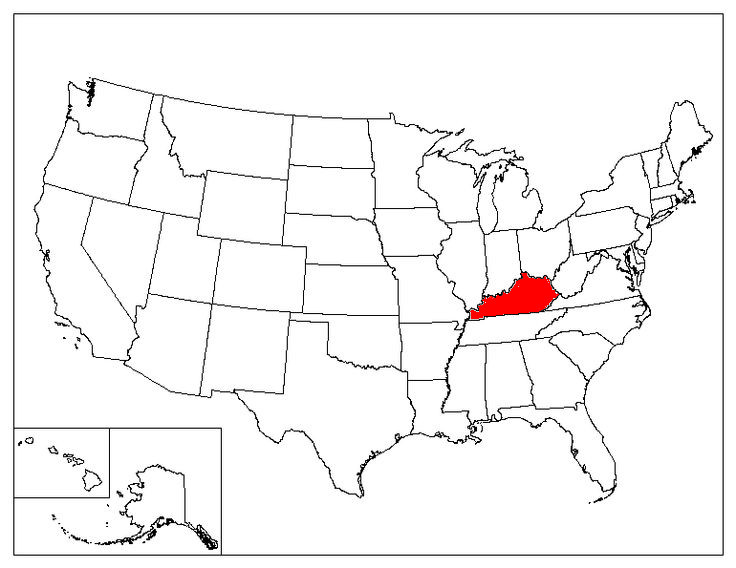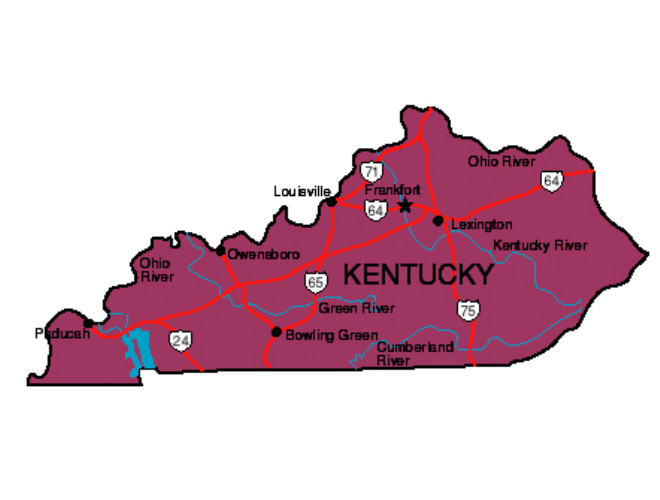 Kentucky is known for:
Horse racing
Famous bourbon distilleries
Coal mining industry
College basketball
Kentucky Fried Chicken
Bluegrass
Geography & Demographics
State Abbreviation
KY
State Capital
Frankfort
State Size
Total (Land + Water): 40,409 sq miles; Land Only: 39,728 sq miles
Number of Counties
120
Time Zone
Eastern Time Zone, Central Time Zone
Bordering States
Illinois, Indiana, Missouri, Ohio, Tennessee, Virginia, West Virginia
Highest Point
Black Mountain, 4,145 feet
National Parks
Mammoth Cave National Park
State Population (2020)
4,505,836
State Population Density
113.4 people / square mile
Area Codes
270, 364, 502, 606, 859
Top 5 Cities (2020 population)
Louisville (767,452)
Lexington (324,735)
Bowling Green (70,631)
Owensboro (60,344)
Covington (40,314)
Government & Legislature
State Symbols
| | |
| --- | --- |
| State Bird | Cardinal |
| State Butterfly | Viceroy butterfly |
| State Dance | Clogging |
| State Drink | Milk |
| State Fish | Kentucky spotted bass |
| State Flower | Goldenrod |
| State Fossil | Brachiopod |
| State Fruit | Blackberry |
| State Gemstone | Freshwater pearl |
| State Horse | Thoroughbred horse |
| State Mineral | Coal |
| State Motto | United we stand, divided we fall |
| State Music | Bluegrass music |
| State Musical Instrument | Appalachian dulcimer |
| State Nickname | Bluegrass State |
| State Rock | Kentucky agate |
| State Silverware Pattern | Old Kentucky Blue Grass, The Georgetown Pattern |
| State Soil | Crider soil series |
| State Tree | Tulip tree |
| State Wild Animal Game Species | Gray squirrel |
Sports Teams
| | |
| --- | --- |
| City | Table Tennis Club |
| Lexington | Lexington Table Tennis Club |
Popular Tourist Attractions
Popular Iconic Kentucky Foods
Kentucky is famous for the following foods:
Burgoo
Hot Brown
Derby Pie
Bourbon Balls
Barbecue
Benedictine
Henry Bain Sauce
Spoonbread
Ale-8-One Soda
Beer Cheese
Famous People Born In Kentucky
Nobel Prize Winners
United States Presidents
Abraham Lincoln (16th President)
Pro Football Hall Of Fame Members
George McAfee (Halfback. Inducted in 1966)
Paul Hornung (Halfback, Kicker. Inducted in 1986)
Dermontti Dawson (Center. Inducted in 2012)
Champ Bailey (Cornerback. Inducted in 2019)
Baseball Hall Of Fame Players
Earle Combs (Center Fielder. Inducted in 1970)
Pee Wee Reese (Shortstop. Inducted in 1984)
Jim Bunning (Pitcher. Inducted in 1996)
Naismith Memorial Basketball Hall Of Fame Players
Joe Fulks (Forward. Inducted in 1978)
Cliff Hagan (Guard-Forward. Inducted in 1978)
Frank Ramsey (Guard-Forward. Inducted in 1982)
Wes Unseld (Center-Forward. Inducted in 1988)
Dave Cowens (Center-Forward. Inducted in 1991)
Arnie Risen (Center. Inducted in 1998)
Famous Actors And Actresses
George Clooney
Johnny Depp
Jennifer Lawrence
Patricia Neal
Famous Singers
Naomi Judd
Loretta Lynn
Joan Osborne
Kentucky Fun Facts
The name "Kentucky" has an Indian origin. There are several sources:
- The Wyandots called it "Kah-ten-tah-teh," meaning "Fair Land of Tomorrow."
- The Shawnee name is "Kain-tuck-ee," meaning "At the Head Of The River."
- The Mohawks called it "Kentucke," meaning "Among the Meadows."
- The Delawares also called it "Kentucke," which means "Place of the Meadows."
- The Catawbas called it "Kentucke" as well, meaning, "The Prairie, or Barrens."
Held every year since 1875, the Kentucky Derby is the oldest continuously held horse race in the country.
In 1774, Ford Harrod (now Harrodsburg) was established as the first permanent settlement in the Kentucky region. It was named after James Harrod, who led the construction efforts.
Cumberland Falls in Kentucky is only place in Western Hemisphere to spot a moonbow on a regular basis (a moonbow is a rainbow made from light reflected off of the moon at night).
Kentucky's officeholders and judges must swear an oath before taking office that they have neither fought a duel with deadly weapons nor aided or assisted any person fighting one.
Kentucky is the only U.S. state to have a continuous border of rivers running along three of its sides-the Mississippi River to the west, the Ohio River to the north, and the Big Sandy River and Tug Fork to the east.
On January 30, 1900, Kentucky Governor William Goebel was assassinated in downtown Frankfort. Goebel is the only governor of a U.S. state to have been assassinated while in office.
The song "Happy Birthday to You" was the creation of two Louisville sisters, Patty Hill and Mildred J. Hill, in 1893.
Middlesboro is the only city in the United States built within a meteor crater.
In Kentucky, throwing eggs at a public speaker may result in one year in prison.
This page was last updated on January 30, 2023.


ADVERTISEMENTS