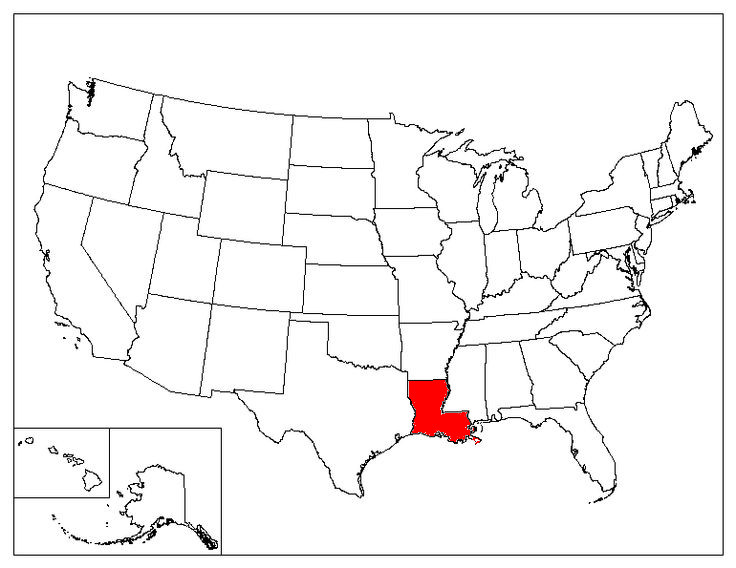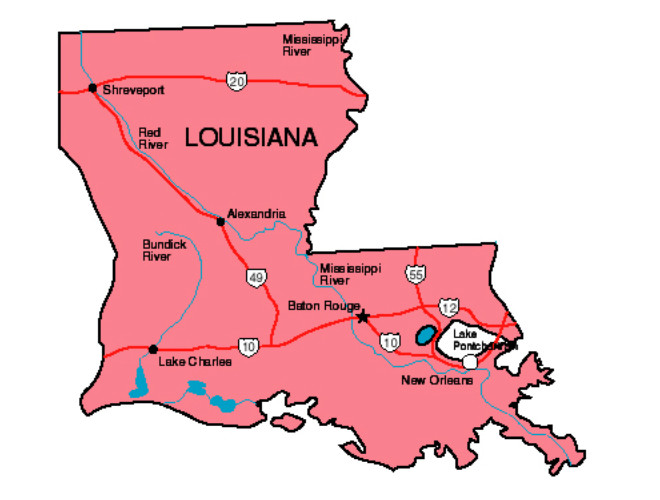 This page contains a wealth of information on the state of Louisiana. Please click on the type of the fact that you are interested in:
Geography & Demographics
State Abbreviation
LA
State Capital
Baton Rouge
State Size
Total (Land + Water): 51,840 sq miles; Land Only: 43,562 sq miles
Number of Counties
64
Time Zone
Central Time Zone
Bordering States
Arkansas, Mississippi, Texas
Highest Point
Driskill Mountain, 535 feet
National Parks
None
State Population (2015)
4,670,724
State Population Density
107.2 people / square mile
Area Codes
225, 318, 337, 504, 985
Top 5 Cities (2010 population)
New Orleans (343,829)
Baton Rouge (229,493)
Shreveport (199,311)
Metairie (138,481)
Lafayette (120,623)
Government & Legislature
State Symbols
| | |
| --- | --- |
| State Bird | Eastern brown pelican |
| State Crustacean | Crawfish |
| State Dog | Catahoula leopard dog |
| State Drink | Milk |
| State Flower | Magnolia |
| State Fresh Water Fish | White perch |
| State Insect | Honeybee |
| State Mammal | Black bear |
| State Motto | Union, justice, confidence |
| State Nickname | Pelican State |
| State Reptile | Alligator |
| State Tree | Bald cypress |
Sports Teams
Popular Tourist Attractions
Famous People Born In Louisiana
Pro Football Hall Of Fame Members
Jim Taylor (Fullback. Inducted in 1976)
Willie Davis (Defensive End. Inducted in 1981)
John Henry Johnson (Fullback. Inducted in 1987)
Terry Bradshaw (Quarterback. Inducted in 1989)
Charlie Joiner (Wide Receiver. Inducted in 1996)
Fred Dean (Defensive End. Inducted in 2008)
Marshall Faulk (Running Back. Inducted in 2011)
Aeneas Williams (Cornerback, Safety. Inducted in 2014)
Baseball Hall Of Fame Players
Mel Ott (Right Fielder. Inducted in 1951)
Bill Dickey (Catcher. Inducted in 1954)
Ted Lyons (Pitcher. Inducted in 1955)
Willard Brown (Center Fielder. Inducted in 2006)
Naismith Memorial Basketball Hall Of Fame Players
Clyde Drexler (Guard-Forward. Inducted in 2004)
Joe Dumars (Guard. Inducted in 2006)
Elvin Hayes (Center-Forward. Inducted in 1990)
Karl Malone (Forward. Inducted in 2010)
Robert Parish (Center. Inducted in 2003)
Bob Pettit (Center-Forward. Inducted in 1971)
Willis Reed (Forward. Inducted in 1982)
Bill Russell (Center. Inducted in 1975)
Famous Actors And Actresses
Ellen DeGeneres
Jared Leto
Tyler Perry
Reese Witherspoon
Famous Singers
Harry Connick Jr.
Lil Wayne
Hank Williams Jr.
Louisiana Fun Facts
Louisiana was named in honor of King Louis XIV of France.
Louisiana has the tallest state capitol building in the United States. It is 450 feet tall and has 34 stories.
Lake Pontchartrain Causeway in Louisiana is the longest continuous bridge over water in the world. It is 23.87 miles long and connects Metairie with Mandeville.
Breaux Bridge is known as the "Crawfish Capital of the World."
Rayne is known as the "Frog Capital of the World."
The Saint Charles streetcar line in New Orleans is one of only two mobile national monuments in the United States. San Francisco cable cars are the other.
The first documented Mardi Gras parade in New Orleans occurred in 1837. The first floats appeared 20 years later, in 1857.
The first opera performed in America was on May 22, 1796, in New Orleans.
Louisiana is the only state in the United States that follows the legal system established by Napoleon. The other 49 states follow English common law.
In Louisiana, staging a "fake" wrestling or boxing match is prohibited. The penalty is loss of license.
In 2007, Louisiana became the last state to ban cockfighting.
This page was last updated on October 01, 2017.