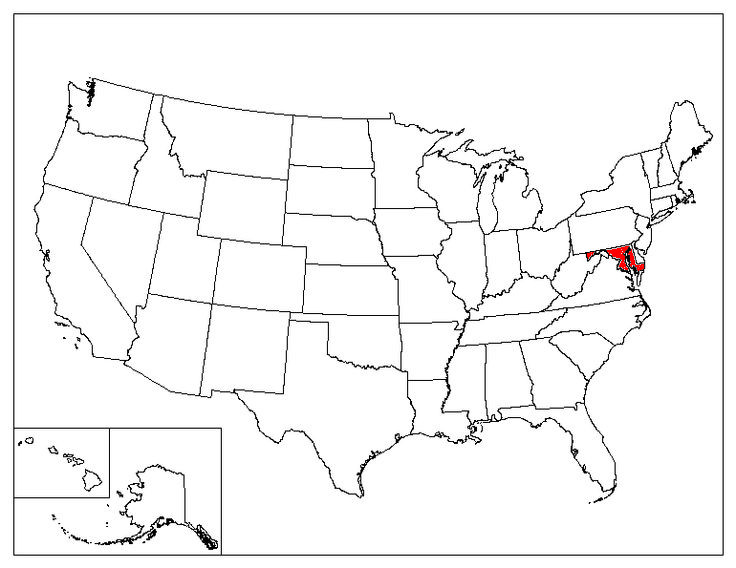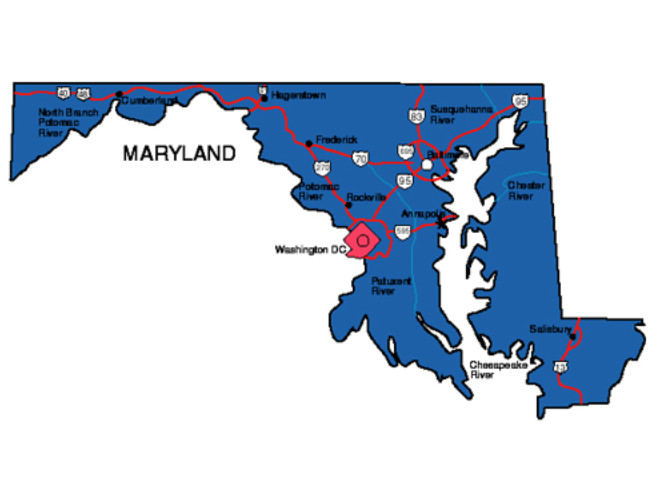 Maryland is known for:
Blue crabs
Birthplace of the U.S. National Anthem
The twin spans of the Chesapeake Bay Bridge
Fishing
Proximity to Washington D.C.
Geography & Demographics
State Abbreviation
MD
State Capital
Annapolis
State Size
Total (Land + Water): 12,407 sq miles; Land Only: 9,774 sq miles
Number of Counties
23
Time Zone
Eastern Time Zone
Bordering States
Delaware, Pennsylvania, Virginia, West Virginia
Highest Point
Hoye-Crest, 3,360 feet
National Parks
None
State Population (2020)
6,177,224
State Population Density
632.0 people / square mile
Area Codes
227, 240, 249, 301, 410, 443, 667
Top 5 Cities (2020 population)
Baltimore (586,131)
Frederick (73,308)
Rockville (69,512)
Gaithersburg (67,741)
Bowie (58,212)
Government & Legislature
State Symbols
| | |
| --- | --- |
| State Bird | Baltimore Oriole |
| State Boat | Skipjack |
| State Cat | Calico cat |
| State Crustacean | Blue crab |
| State Dessert | Smith Island cake |
| State Dinosaur | Astrodon johnstoni |
| State Dog | Chesapeake Bay retriever |
| State Drink | Milk |
| State Exercise | Walking |
| State Fish | Rockfish |
| State Flower | Black-eyed susan |
| State Folk Dance | Square dance |
| State Fossil Shell | Ecphora gardnerae gardnerae (Wilson) |
| State Gem | Patuxent river stone |
| State Horse | Thoroughbred horse |
| State Insect | Baltimore checkerspot butterfly |
| State Motto | Fatti maschii, parole femine (Manly deeds, womanly words) |
| State Nickname | Free State; Old Line State |
| State Reptile | Diamondback terrapin |
| State Sport | Jousting |
| State Team Sport | Lacrosse |
| State Tree | White oak |
Sports Teams
Popular Tourist Attractions
Popular Iconic Maryland Foods
Maryland is famous for the following foods:
Smith Island Cake
Burger Cookies
Pit Beef
Fisher's Popcorn
Crab Cakes
Old Bay
Thrashers French Fries
Natty Boh
Stuffed Ham
Snoball
Coddie
Famous People Born In Maryland
Nobel Prize Winners
Pro Football Hall Of Fame Members
George Young (General Manager. Inducted in 2020)
Baseball Hall Of Fame Players
Babe Ruth (Right Fielder. Inducted in 1936)
Lefty Grove (Pitcher. Inducted in 1947)
Jimmie Foxx (First Baseman. Inducted in 1951)
Frank Baker (Third Baseman. Inducted in 1955)
Judy Johnson (Third Baseman. Inducted in 1975)
Al Kaline (Right Fielder. Inducted in 1980)
Vic Willis (Pitcher. Inducted in 1995)
Cal Ripken, Jr. (Shortstop. Inducted in 2007)
John Schuerholz (Executive. Inducted in 2017)
Harold Baines (Designated Hitter. Inducted in 2019)
Famous Actors And Actresses
Julie Bowen
Anna Faris
David Hasselhoff
Famous Singers
Toni Braxton
Julienne Irwin
Scott Weinrich
Maryland Fun Facts
The state of Maryland was named after Queen Henrietta Maria, who was the wife of England King Charles I.
The Court of Appeals of Maryland is the only court in the United States whose judges wear red robes.
The Maryland State House in Annapolis is the oldest state capitol still in continuous legislative use. It is also the only state house ever to have served as the nation's capitol, from 1783 to 1784.
Havre de Grace is known as the "Decoy Capital of the World." The city also hosts the Havre de Grace Decoy Museum.
Maryland gave up some of its land to form Washington D.C.
Maryland is commonly referred to as "America in Miniature" and sometimes "Little America" because it's home to just about any type of nature feature, other than a desert.
Maryland was the first state to enact Workmen's Compensation laws in 1902.
The national anthem of the United States, The Star-Spangled Banner, was written by Francis Scott Key on September 13, 1814, after he witnessed the bombardment of Fort McHenry by the British during the Battle of Fort McHenry in the War of 1812.
Maryland is the only state in the United States with an official State Exercise: walking.
The longest escalator in the United States is in the Wheaton Station of the Washington Metro in Montgomery County, Maryland. It is 230 feet long.
In the city of Rockville, swearing on the road is a misdemeanor.
This page was last updated on January 30, 2023.


ADVERTISEMENTS