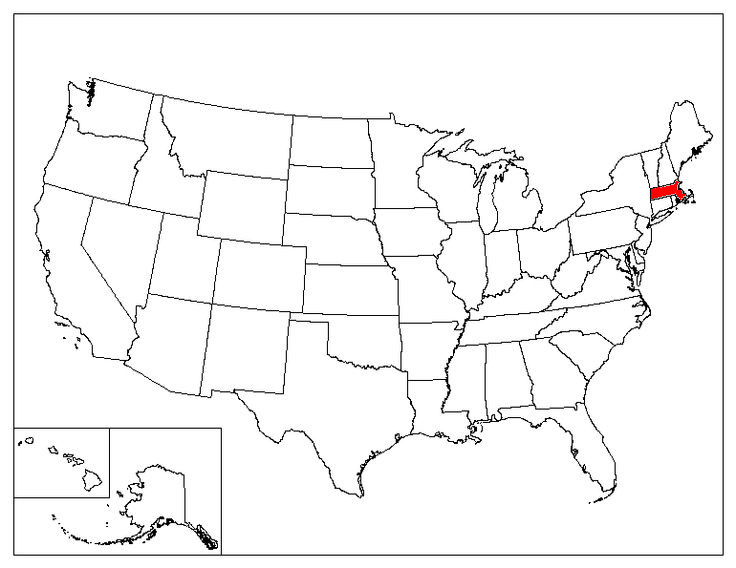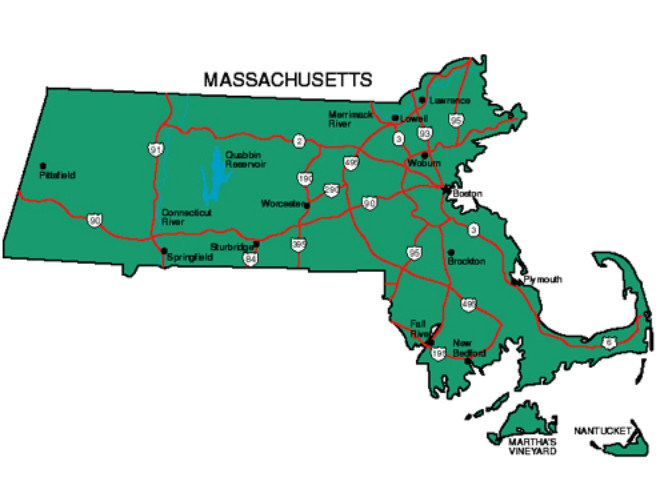 Massachusetts is known for:
The landing place of the Mayflower and the Pilgrims
Stunning fall foliage
Colonial landmarks
Top educational institutions: Harvard University and Massachusetts Institute of Technology (MIT)
The nation's first library
Geography & Demographics
State Abbreviation
MA
State Capital
Boston
State Size
Total (Land + Water): 10,555 sq miles; Land Only: 7,840 sq miles
Number of Counties
14
Time Zone
Eastern Time Zone
Bordering States
Connecticut, New Hampshire, New York, Rhode Island, Vermont
Highest Point
Mount Greylock, 3,489 feet
Tallest Building
John Hancock Tower in Boston, 790 feet
Largest Stadium
Gillette Stadium in Foxborough, capacity 68,756
National Parks
None
State Population (2020)
7,029,917
State Population Density
896.7 people / square mile
Area Codes
339, 351, 413, 508, 617, 774, 781, 857, 978
Top 5 Cities (2020 population)
Boston (691,531)
Worcester (184,570)
Springfield (152,646)
Cambridge (119,192)
Lowell (110,904)
Government & Legislature
State Symbols
| | |
| --- | --- |
| State Beverage | Cranberry juice |
| State Bird | Chickadee |
| State Cat | Tabby cat |
| State Cookie | Chocolate chip cookie |
| State Dessert | Boston cream pie |
| State Dog | Boston terrier |
| State Fish | Cod |
| State Flower | Mayflower |
| State Folk Hero | Johnny Appleseed |
| State Fossil | Dinosaur tracks |
| State Horse | Morgan horse |
| State Insect | Ladybug |
| State Mottos | Ense petit placidam sub libertate quietem (By the sword we seek peace, but peace only under liberty) |
| State Muffin | Corn muffin |
| State Nickname | Bay State; Old Colony State |
| State Tree | American elm |
Sports Teams
Major Sports Teams
MLB: Boston Red Sox
NFL: New England Patriots
NBA: Boston Celtics
NHL: Boston Bruins
MLS: New England Revolution
NCAA Division I Schools
Boston College (ACC)
Boston University (Patriot)
Harvard University (Ivy)
College of the Holy Cross (Patriot)
University of Massachusetts Amherst (Atlantic 10)
Northeastern University (Colonial Athletic Association)
Popular Tourist Attractions
Festivals and Events
Top festivals and events in Massachusetts. They are listed in approximate order of when they take place during the year.
Popular Iconic Massachusetts Foods
Massachusetts is famous for the following foods:
Clam Chowder
Boston Baked Beans
Boston Cream Pie
Fried Clams
Lobster Rolls
Apple Cider Doughnuts
Frappes
Famous People Born In Massachusetts
Nobel Prize Winners
United States Presidents
John Adams (2nd President)
John Quincy Adams (6th President)
John F. Kennedy (35th President)
George Bush (41st President)
Pro Football Hall Of Fame Members
Ed Healey (Tackle, Guard, End. Inducted in 1964)
Wayne Millner (Offensive End. Inducted in 1968)
Al Davis (Coach, General Manager, Team Owner, AFL Commissioner. Inducted in 1992)
Howie Long (Defensive End. Inducted in 2000)
Nick Buoniconti (Linebacker. Inducted in 2001)
Baseball Hall Of Fame Players
Jack Chesbro (Pitcher. Inducted in 1946)
Tommy McCarthy (Right Fielder. Inducted in 1946)
Mickey Cochrane (Catcher. Inducted in 1947)
Pie Traynor (Third Baseman. Inducted in 1948)
Rabbit Maranville (Shortstop. Inducted in 1954)
John Clarkson (Pitcher. Inducted in 1963)
Tim Keefe (Pitcher. Inducted in 1964)
Joe Kelley (Left Fielder. Inducted in 1971)
Frank Grant (Second Baseman. Inducted in 2006)
Tom Glavine (Pitcher. Inducted in 2014)
Jeff Bagwell (First Baseman. Inducted in 2017)
Naismith Memorial Basketball Hall Of Fame Players
Barbara Stevens (Coach. Inducted in 2020)
Hockey Hall Of Fame Members
Jerry York (Builder. Inducted in 2019)
Famous Actors And Actresses
Matt Damon
Bette Davis
Chris Evans
Jack Lemmon
Amy Poehler
Mark Wahlberg
Famous Singers
Paula Cole
Donna Summer
James Taylor
Massachusetts Fun Facts
British colonist John Smith named Massachusetts for the Massachusett tribe. The name "Massachusetts" meant "near the great hill."
The first lighthouse in the United States was built on Little Brewster Island in the Boston Harbor in 1716.
Basketball was invented in December 1891 by James Naismith in Springfield.
Volleyball was invented in 1895 by William Morgan in Holyoke. Volleyball was originally called "Mintonette."
Boston Common, established in 1634, is the first public park in the United States.
The Boston subway, which opened on September 1, 1897, is the first subway system in the United States.
Boston Public Library is the second largest public library in the United States. Harvard University Library, also in Boston, is the third largest library in the United States.
The first telephone call in history was made between inventor Alexander Graham Bell and his assistant, Thomas Watson, on March 10, 1876, in Boston. Bell spoke the words, "Mr. Watson, come here, I want to see you" and Watson heard it from the receiver in the next room.
Boston Latin School, founded in 1635, is the first public school in the United States. It is also the oldest existing school in the United States.
In 2003, Massachusetts became the first stage to legalize same-sex marriage.
In Massachusetts, it is illegal to give alcoholic beverages to a hospital patient, unless directed by a physician.
The first printed book in the United States was the Bay Psalm Book, first printed in 1640 in Cambridge, Massachusetts.
This page was last updated on July 10, 2023.


ADVERTISEMENTS