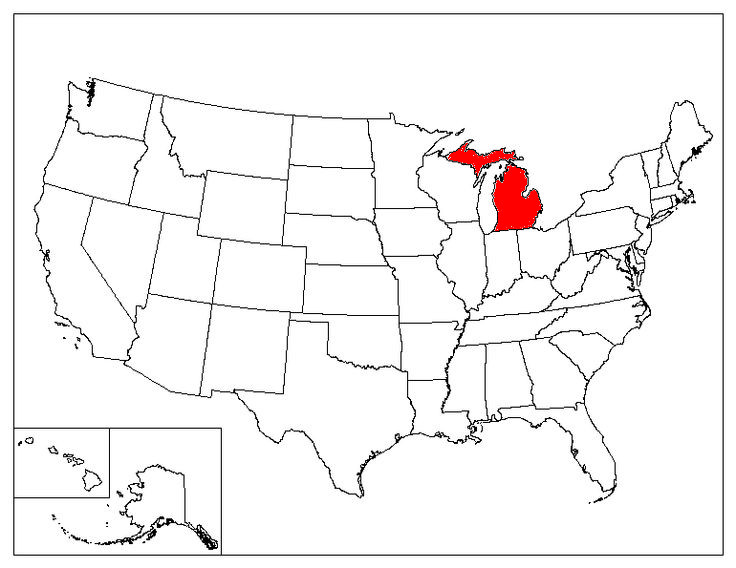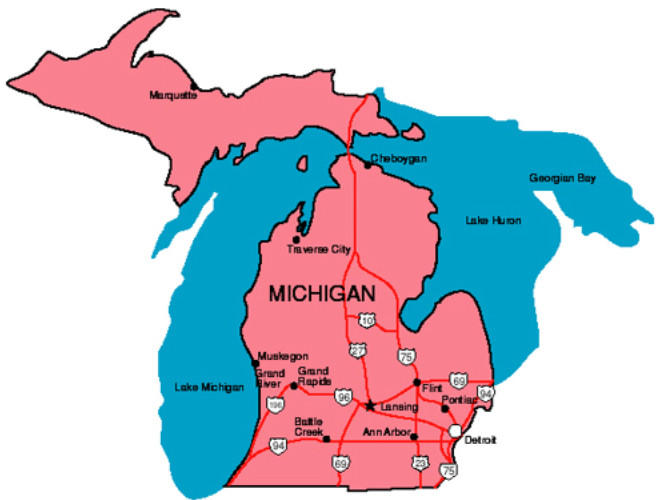 Michigan is known for:
Fishing
Cold and snowy winter
Automobile industry
Lakes
Agricultural industry, particularly cherries, apples, and blueberries
Geography & Demographics
State Abbreviation
MI
State Capital
Lansing
State Size
Total (Land + Water): 96,716 sq miles; Land Only: 56,804 sq miles
Number of Counties
83
Time Zone
Eastern Time Zone, Central Time Zone
Bordering States
Illinois, Indiana, Minnesota (water border), Ohio, Wisconsin
Highest Point
Mount Arvon, 1,979 feet
National Parks
Isle Royale National Park
State Population (2020)
10,077,331
State Population Density
177.4 people / square mile
Area Codes
231, 248, 269, 313, 517, 586, 616, 679, 734, 810, 906, 947, 989
Top 5 Cities (2020 population)
Detroit (665,369)
Grand Rapids (200,031)
Warren (132,877)
Sterling Heights (131,709)
Ann Arbor (119,280)
Government & Legislature
State Symbols
| | |
| --- | --- |
| State Bird | American robin |
| State Fish | Brook trout |
| State Flower | Apple blossom |
| State Fossil | Mastodon |
| State Game Mammal | White-tailed deer |
| State Gem | Chlorastrolite |
| State Motto | Si quaeris peninsulam amoenam circumspice (If you seek a pleasant peninsula, look about you) |
| State Nickname | Wolverine State |
| State Reptile | Painted turtle |
| State Soil | Kalkaska sand |
| State Stone | Petoskey stone |
| State Tree | White pine |
| State Wildflower | Dwarf lake iris |
Sports Teams
Popular Tourist Attractions
Popular Iconic Michigan Foods
Michigan is famous for the following foods:
Coney Island Hot Dog
Pasty
Detroit Style Pizza
Mackinac Island Fudge
Chipati
Paczki
Better Made Potato Chips
Whitefish
Web Burrito
Taverse City Cherries
Famous People Born In Michigan
Nobel Prize Winners
Pro Football Hall Of Fame Members
Bill Hewitt (End, Fullback. Inducted in 1971)
Paul Krause (Safety. Inducted in 1998)
Joe DeLamielleure (Guard. Inducted in 2003)
Jerome Bettis (Running Back. Inducted in 2015)
Tony Dungy (Coach. Inducted in 2016)
Baseball Hall Of Fame Players
Charlie Gehringer (Second Baseman. Inducted in 1949)
Kiki Cuyler (Right Fielder. Inducted in 1968)
Hal Newhouser (Pitcher. Inducted in 1992)
John Smoltz (Pitcher. Inducted in 2015)
Ted Simmons (Catcher. Inducted in 2020)
Jim Kaat (Pitcher. Inducted in 2022)
Naismith Memorial Basketball Hall Of Fame Players
Dave DeBusschere (Forward. Inducted in 1983)
George Gervin (Guard. Inducted in 1996)
Magic Johnson (Guard. Inducted in 2002)
Mel Daniels (Center. Inducted in 2012)
Rudy Tomjanovich (Coach. Inducted in 2020)
Chris Webber (Forward. Inducted in 2021)
Hockey Hall Of Fame Members
Mark Howe (Defense. Inducted in 2011)
Mike Modano (Center. Inducted in 2014)
Famous Actors And Actresses
Ellen Burstyn
Burt Reynolds
Tom Selleck
J. K. Simmons
David Spade
Kate Upton
Famous Singers
Alice Cooper
Madonna
Ted Nugent
Iggy Pop
Smokey Robinson
Diana Ross
Jackie Wilson
Stevie Wonder
Michigan Fun Facts
The name Michigan is derived from the Ojibwa Indian word "meicigama," meaning "large lake" or "large water."
Michigan is the only state in the United Sates that touches four of the five Great Lakes (Huron, Michigan, Erie, and Superior).
Michigan has world's only floating post office, a boat called J. W. Westcott II. It delivers mail to ships as they are underway.
The Detroit-Windsor Tunnel, a highway tunnel that connects Detroit, Michigan with Windsor, Ontario, Canada, is the first tunnel in the world that connects two countries.
The Kalamazoo Mall is the first outdoor pedestrian shopping mall in the United States.
Michigan has about 150 lighthouses, more than any other state in the United States.
Battle Creek is called the Cereal Capital of the World. It is home to Kellogg's.
In 1920, Detroit was home to the first four-way traffic light.
Michigan is the only state made up of two peninsulas.
In 1846, Michigan became the first state to abolish the death penalty (except for treason).
In Michigan, it is unlawful to buy or sell cars on Sundays.
This page was last updated on January 30, 2023.


ADVERTISEMENTS