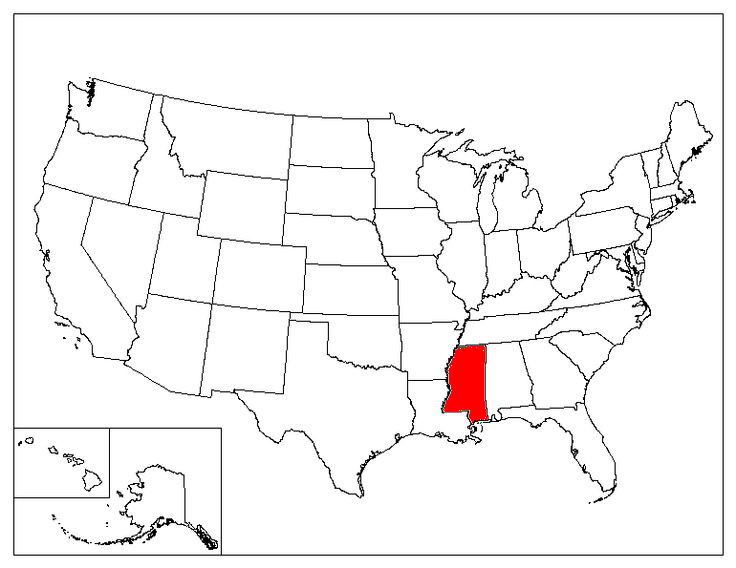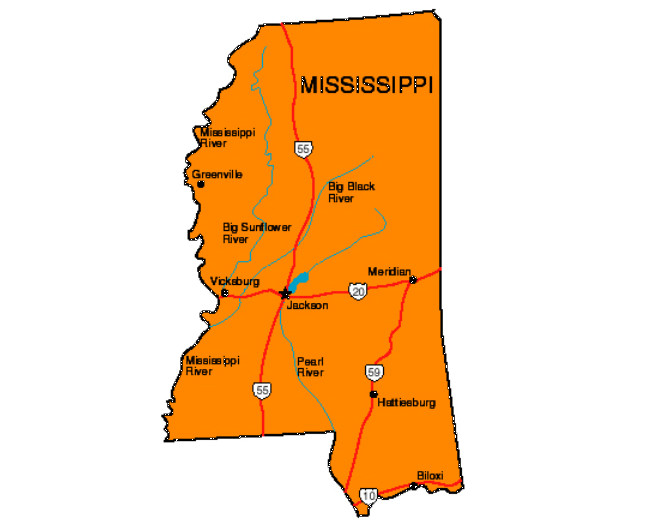 Mississippi is known for:
Catfish
Cotton
Bluegrass music
Southern Charm
Geography & Demographics
State Abbreviation
MS
State Capital
Jackson
State Size
Total (Land + Water): 48,430 sq miles; Land Only: 46,907 sq miles
Number of Counties
82
Time Zone
Central Time Zone
Bordering States
Alabama, Arkanssas, Louisiana, Tennessee
Highest Point
Woodall Mountain, 807 feet
National Parks
None
State Population (2020)
2,961,279
State Population Density
63.1 people / square mile
Area Codes
228, 601, 662, 769
Top 5 Cities (2020 population)
Jackson (157,821)
Gulfport (71,438)
Southaven (56,644)
Biloxi (46,127)
Hattiesburg (45,806)
Government & Legislature
State Symbols
| | |
| --- | --- |
| State Beverage | Milk |
| State Bird | Mockingbird |
| State Fish | Largemouth (black bass) |
| State Flower | Bloom of the magnolia or evergreen magnolia |
| State Fossil | Prehistoric whale |
| State Insect | Honeybee |
| State Motto | Virtute et armis (By valor and arms) |
| State Nickname | Magnolia State |
| State Shell | Oyster shell |
| State Stone | Petrified wood |
| State Water Mammal | Bottlenosed dolphin (porpoise) |
| State Tree | Magnolia |
| State Waterfowl | Wood duck |
Sports Teams
Popular Tourist Attractions
Popular Iconic Mississippi Foods
Mississippi is famous for the following foods:
Biscuits
Fried Chicken
Po'Boys
Barbecue
Gulf Shrimp
Fried Okra
Comeback Sauce
Mississippi Mud Pie
Hot Tamales
Crawfish
Corn Bread
Fried Catfish
Famous People Born In Mississippi
Nobel Prize Winners
Pro Football Hall Of Fame Members
Frank "Bruiser" Kinard (Tackle. Inducted in 1971)
Willie Brown (Cornerback. Inducted in 1984)
Lem Barney (Cornerback. Inducted in 1992)
Walter Payton (Running Back. Inducted in 1993)
Jackie Smith (Tight End. Inducted in 1994)
Billy Shaw (Guard. Inducted in 1999)
Jackie Slater (Offensive Tackle. Inducted in 2001)
Jerry Rice (Wide Receiver. Inducted in 2010)
Brett Favre (Quarterback. Inducted in 2016)
Baseball Hall Of Fame Players
Cool Papa Bell (Center Fielder. Inducted in 1974)
Naismith Memorial Basketball Hall Of Fame Players
Lusia Harris-Stewart (Center. Inducted in 1992)
Chet Walker (Forward. Inducted in 2012)
Spencer Haywood (Center-Forward. Inducted in 2015)
Famous Actors And Actresses
Lacey Chabert
James Earl Jones
Eric Roberts
Famous Singers
Jimmy Buffett
Sam Cooke
Faith Hill
Elvis Presley
Leann Rimes
Britney Spears
Mississippi Fun Facts
The state of Mississippi was named for the Mississippi River, whose name comes from the Ojibwa (Chippewa) Indian word "misi-ziibi," meaning "great river."
On April 25, 1866, women in Columbus decorated the graves of both the Confederate and Union soldiers in Friendship Cemetery. This gesture became known as Decoration Day, the beginning of what we observe today as Memorial Day.
The Mississippi city of Greenwood is commonly called the Cotton Capital of the World.
While on a hunting expedition near Onward in November of 1902, President Theodore (Teddy) Roosevelt refused to shoot a bear that had been surrounded. This event inspired a Brooklyn candy shop owner to create a stuffed "Teddy's Bear." Teddy bears soon became a favorite toy all over the world.
On June 11, 1963, Dr. James Hardy of the University of Mississippi performed the world's first human lung transplant.
The Mississippi city of Vardaman is called the Sweet Potato Capital of the World.
Greenville is called the Towboat Capital of the World.
The world's only cactus plantation is in Edwards, Mississippi.
In 1894, Coca-Cola was first bottled by Joseph A. Biedenharn in Vicksburg.
In Mississippi, it is illegal for a man to seduce a woman by pretending that he will marry her.
This page was last updated on March 01, 2022.


ADVERTISEMENTS