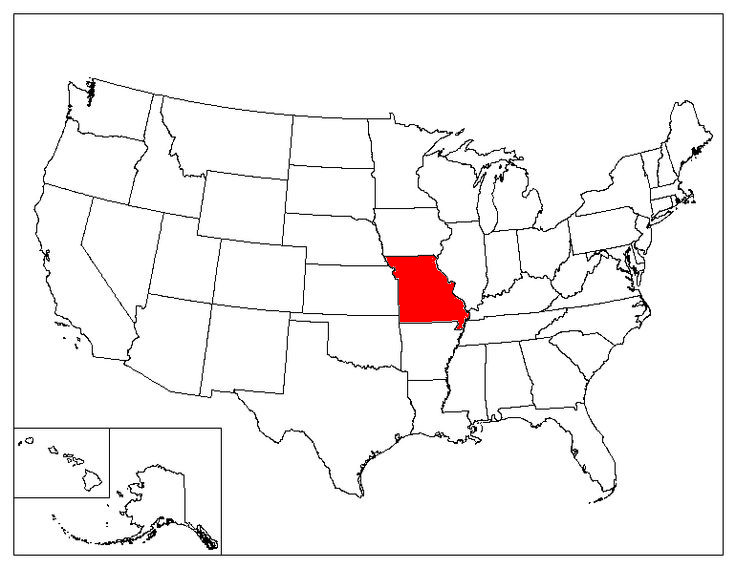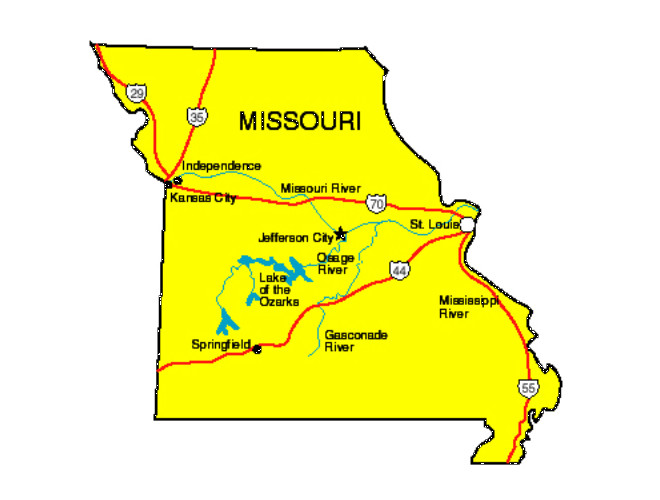 Missouri is known for:
Ozark Mountains
Prairies
Scenic rivers
Italian food
Mark Twain
Geography & Demographics
State Abbreviation
MO
State Capital
Jefferson City
State Size
Total (Land + Water): 69,704 sq miles; Land Only: 68,886 sq miles
Number of Counties
114
Time Zone
Central Time Zone
Bordering States
Arkansas, Illinois, Iowa, Kansas, Kentucky, Nebraska, Oklahoma, Tennessee
Highest Point
Taum Sauk Mountain, 1,772 feet
National Parks
Gateway Arch National Park
State Population (2020)
6,154,913
State Population Density
89.3 people / square mile
Area Codes
314, 417, 557, 573, 636, 660, 816, 975
Top 5 Cities (2020 population)
Kansas City (497,159)
St. Louis (297,645)
Springfield (168,090)
Columbia (124,769)
Independence (116,774)
Government & Legislature
State Symbols
| | |
| --- | --- |
| State American Folk Dance | Square dance |
| State Amphibian | American bullfrog |
| State Animal | Missouri mule |
| State Aquatic Animal | Paddlefish |
| State Bird | Bluebird |
| State Dessert | Ice cream cone |
| State Dinosaur | Hypsibema missouriense |
| State Fish | Channel catfish |
| State Flower | Hawthorn |
| State Fossil | Crinoid |
| State Game Bird | Bobwhite quail |
| State Grape | Norton/Cynthiana grape |
| State Grass | Big bluestem |
| State Horse | Missouri fox trotting horse |
| State Insect | Honeybee |
| State Invertebrate | Crayfish |
| State Mineral | Galena |
| State Motto | Salus populi suprema lex esto (Let the welfare of the people be the supreme law) |
| State Musical Instrument | Fiddle |
| State Nickname | Show-me State |
| State Reptile | Three-toed box turtle |
| State Rock | Mozarkite |
| State Song | Missouri Day |
| State Tree | Flowering dogwood |
| State Tree Nut | Eastern black walnut |
Sports Teams
Major Sports Teams
MLB: Kansas City Royals, St. Louis Cardinals
NFL: Kansas City Chiefs
NHL: St. Louis Blues
NCAA Division I Schools
University of Missouri (Southeastern)
University of Missouri - Kansas City (WAC)
Missouri State University (Missouri Valley)
Saint Louis University (Atlantic 10)
Southeast Missouri State University (Ohio Valley)
Popular Tourist Attractions
Popular Iconic Missouri Foods
Missouri is famous for the following foods:
St. Louis-Style Pizza
Toasted Ravioli
Gooey Butter Cake
Slinger
St. Paul Sandwich
Pork Steaks
Red Hot Riplets
St. Louis-Style Ribs
Famous People Born In Missouri
Nobel Prize Winners
United States Presidents
Harry S. Truman (33rd President)
Pro Football Hall Of Fame Members
Jim Finks (Administrator. Inducted in 1955)
Cal Hubbard (Tackle. Inducted in 1963)
Jimmy Conzelman (Quarterback, Coach. Inducted in 1964)
Kellen Winslow (Tight End. Inducted in 1995)
Roger Wehrli (Cornerback. Inducted in 2007)
Baseball Hall Of Fame Players
Carl Hubbell (Pitcher. Inducted in 1947)
Zack Wheat (Left Fielder. Inducted in 1959)
Pud Galvin (Pitcher. Inducted in 1965)
Jake Beckley (First Baseman. Inducted in 1971)
Yogi Berra (Catcher. Inducted in 1972)
Naismith Memorial Basketball Hall Of Fame Players
Ed Macauley (Center-Forward. Inducted in 1960)
Forrest DeBernardi (Center. Inducted in 1961)
Bob Kurland (Center. Inducted in 1961)
Bill Bradley (Guard-Forward. Inducted in 1983)
Jo Jo White (Guard. Inducted in 2015)
Cotton Fitzsimmons (Coach. Inducted in 2021)
Hockey Hall Of Fame Members
Pat LaFontaine (Center. Inducted in 2003)
Famous Actors And Actresses
Wallace Beery
John Goodman
Geraldine Page
Ginger Rogers
Jane Wyman
Famous Singers
Helen Cornelius
Sheryl Crow
Eminem
Missouri Fun Facts
The state of Missouri was named after a tribe of Sioux Indians of the state called the Missouris. The word "Missouri" means "wooden canoe people" or "he of the big canoe."
The Gateway Arch in St. Louis is the tallest man-made national monument in the United States. It stands 630 feet tall.
Richland, Missouri, is the only city in the U.S. with a cave restaurant.
Kansas City, Missouri has more fountains than any city in the world except Rome. Hence Kansas City is known as the City of Fountains.
St. Joseph, Missouri was the starting point of the famed Pony Express.
In 1873, Susan Elizabeth Blow opened the first public kindergarten in the United States in St. Louis.
Eight different states border Missouri, making it the state with the highest number of neighboring states. Tennessee also has eight bordering states.
Missouri has more than 6000 known caves.
In University City, Missouri, it is illegal for a person to have a yard sale on the front yard.
Missouri is one of two states with an official State Grape. Missouri's State Grape is Norton/Cynthiana grape.
This page was last updated on January 30, 2023.


ADVERTISEMENTS