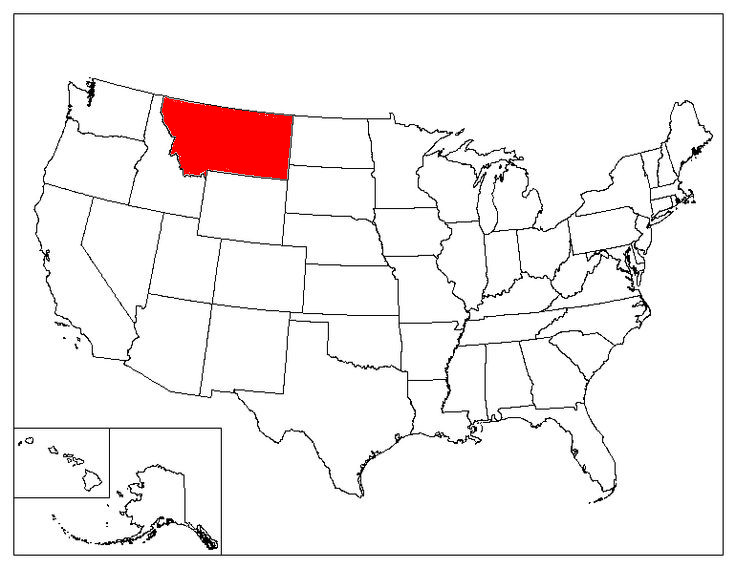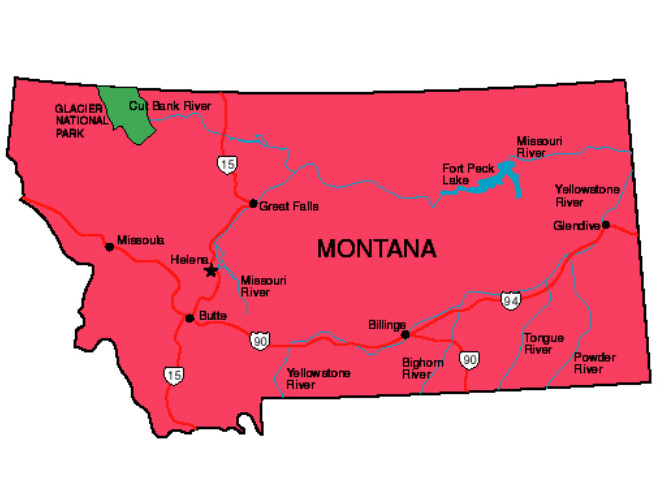 Montana is known for:
Yellowstone National Park
Bighorn Mountains
Wildlife
Sapphires
Rich deposits of minerals, particularly copper, gold, and silver
Geography & Demographics
State Abbreviation
MT
State Capital
Helena
State Size
Total (Land + Water): 147,042 sq miles; Land Only: 145,552 sq miles
Number of Counties
56
Time Zone
Mountain Time Zone
Bordering States
Idaho, North Dakota, South Dakota, Wyoming
Highest Point
Granite Peak, 12,807 feet
Tallest Building
First Interstate Center in Billings, 272 feet
Largest Stadium
Washington Grizzly Stadium in Missoula, capacity 25,200
National Parks
Glacier National Park
State Population (2020)
1,084,225
State Population Density
7.4 people / square mile
Area Codes
406
Top 5 Cities (2020 population)
Billings (109,736)
Missoula (76,848)
Great Falls (58,353)
Bozeman (50,970)
Butte-Silver Bow (35,180)
Government & Legislature
State Symbols
| | |
| --- | --- |
| State Ballad | Montana Melody |
| State Bird | Western meadowlark |
| State Butterfly | Mourning cloak |
| State Fish | Westslope cutthroat trout |
| State Flower | Bitterroot |
| State Fossil | Duck-billed dinosaur |
| State Gem | Sapphire and agate |
| State Grass | Bluebunch wheatgrass |
| State Mammal | Grizzly bear |
| State Motto | Oro y plata (Gold and silver) |
| State Nickname | Treasure State |
| State Song | Montana |
| State Tree | Ponderosa pine |
Sports Teams
Popular Tourist Attractions
UNESCO Heritage Sites
Festivals and Events
Top festivals and events in Montana. They are listed in approximate order of when they take place during the year.
Popular Iconic Montana Foods
Montana is famous for the following foods:
Huckleberries
Bison burgers
Flathead Cherries
Wheat Montana Cinnamon Roll
Rocky Mountain Oysters
Elk Burger
Pasties
Montana Trout
Famous People Born In Montana
Nobel Prize Winners
Pro Football Hall Of Fame Members
Jerry Kramer (Offensive Guard. Inducted in 2018)
Naismith Memorial Basketball Hall Of Fame Players
Denise Curry (Forward. Inducted in 1997)
Famous Actors And Actresses
Gary Cooper
Patrick Duffy
David Lynch
Montana Fun Facts
Montana's name is derived from the Spanish word "montaña" meaning "mountainous."
Montana is the only state in the United States to share land border with three Canadian provinces: British Columbia, Alberta, and Saskatchewan.
Montana is home to the hydrological apex of North America on Triple Divide Peak. From this spot, water flows to three oceans: Hudson Bay (Arctic), Gulf of Mexico (Atlantic), and the Pacific Ocean.
Jeannette Rankin of Missoula, Montana, was the first woman elected to the United States Congress. On November 9, 1969, she was elected to the House of Representatives.
The coldest temperature on record for the contiguous United States was -70°F (-57°C) recorded on January 20, 1954, in Rogers Pass, Montana.
The largest snowflake ever observed was 15 inches wide. It was recorded at Fort Keogh, Montana, on January 28, 1887.
The Montana city of Loma holds the world record for the greatest temperature change in 24 hours. On January 14-15, 1972, the temperature rose from -54°F to 49°F, a change of 103°F.
Yellowstone National Park in southern Montana and northern Wyoming was the first national park in the United States.
In Montana, it is illegal ro pretend to abuse an animal in the presence of a minor.
This page was last updated on July 10, 2023.


ADVERTISEMENTS