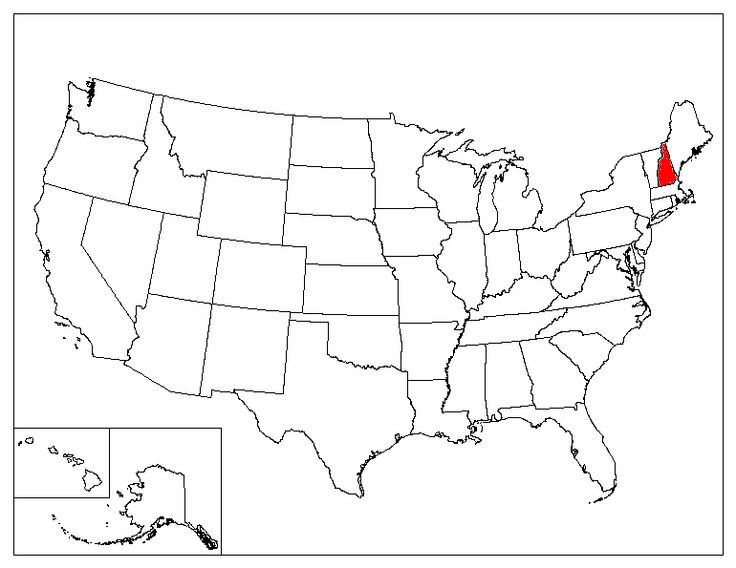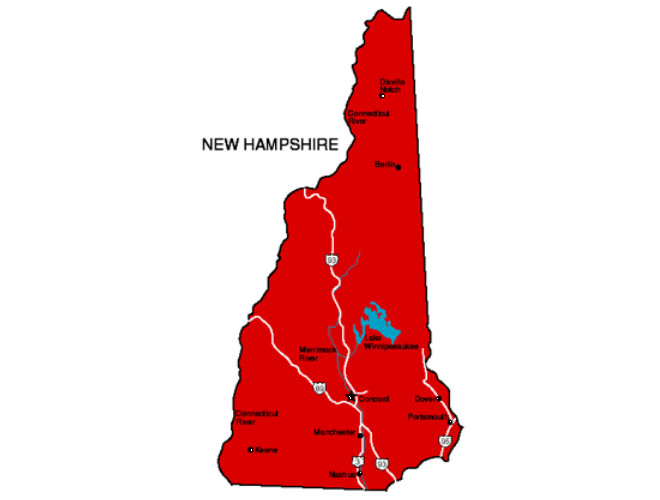 New Hampshire is known for:
Small, picturesque towns
Abundant wildlife
Large stretches of wilderness
Popular destinations for skiing and hiking
Geography & Demographics
State Abbreviation
NH
State Capital
Concord
State Size
Total (Land + Water): 9,350 sq miles; Land Only: 8,968 sq miles
Number of Counties
10
Time Zone
Eastern Time Zone
Bordering States
Maine, Massachusetts, Vermont
Highest Point
Mount Washington, 6,288 feet
Tallest Building
City Hall Plaza in Manchester, 275 feet
Largest Stadium
Wildcat Stadium in Durham, capacity 11,015
National Parks
None
State Population (2020)
1,377,529
State Population Density
153.6 people / square mile
Area Codes
603
Top 5 Cities (2020 population)
Manchester (112,546)
Nashua (89,167)
Concord (43,924)
Dover (32,443)
Rochester (31,719)
Government & Legislature
State Symbols
| | |
| --- | --- |
| State Amphibian | Red-spotted newt |
| State Animal | White tailed deer |
| State Bird | Purple finch |
| State Butterfly | Karner blue |
| State Flower | Purple lilac |
| State Freshwater Game Fish | Brook trout |
| State Fruit | Pumpkin |
| State Gem | Smokey quartz |
| State Insect | Ladybug |
| State Mineral | Beryl |
| State Motto | Live Free or Die |
| State Nickname | Granite State |
| State Rock | Granite |
| State Saltwater Game Fish | Striped bass |
| State Song | Old New Hampshire |
| State Sport | Skiing |
| State Tree | White birch |
| State Wildflower | Pink ladyslipper |
Sports Teams
Popular Tourist Attractions
Festivals and Events
Top festivals and events in New Hampshire. They are listed in approximate order of when they take place during the year.
Popular Iconic New Hampshire Foods
New Hampshire is famous for the following foods:
Boiled Dinner - Corned Beef with vegetables, all boiled
Fried Lake Bass
Apple Cider Donuts
New England Clam Chowder
Pancake With Maple Syrup
Venison
Stonyfield Yogurt
Mead
Lobster Roll
Streamers
Famous People Born In New Hampshire
Nobel Prize Winners
United States Presidents
Franklin Pierce (14th President)
Famous Actors And Actresses
Wilson Bethel
Mandy Moore
Sarah Silverman
Famous Singers
Charlie Clouser
Ronnie James Dio
Ray LaMontagne
New Hampshire Fun Facts
New Hampshire was named by Captain John Mason after the southern English county of Hampshire.
The first free public library supported by taxation in the United States was founded on April 9, 1833 in Peterborough, New Hampshire.
The record for the highest wind speed over land in the United States was recorded on Mount Washington April 12, 1934. The wind gust clocked in at 231 miles per hour. This is also the second highest wind speed over land recorded in the world.
Levi Hutchins of Concord, New Hampshire, invented the first alarm clock in 1787. It only rang at 4 a.m., the time he needed to wake up for his job.
New Hampshire still uses its original state constitution, ratified in 1784. It's the second-oldest continuously used constitution in the United States, after Massachusetts.
For each presidential election cycle, New Hampshire holds the first primary election in the United States. New Hampshire state law stipulates that the primary shall be on the second Tuesday in March, though the Secretary of State can change the date to ensure that the New Hampshire primary will occur at least seven days before any other state holds a "similar election."
New Hampshire is the only state in the United States that does not require adults to wear seat belts in their cars while traveling. Not coincidentally, New Hampshire has the lowest seat belt usage of any state in 2010.
New Hampshire is the only state that saw the formal conclusion of a foreign war. In 1905, Portsmouth was the scene of the treaty ending the Russo-Japanese War.
New Hampshire was the first state to offer lottery in the twentieth century United States in 1964.
New Hampshire has the shortest ocean coastline of any U.S. coastal state, with a length of 13 miles.
This page was last updated on July 10, 2023.


ADVERTISEMENTS