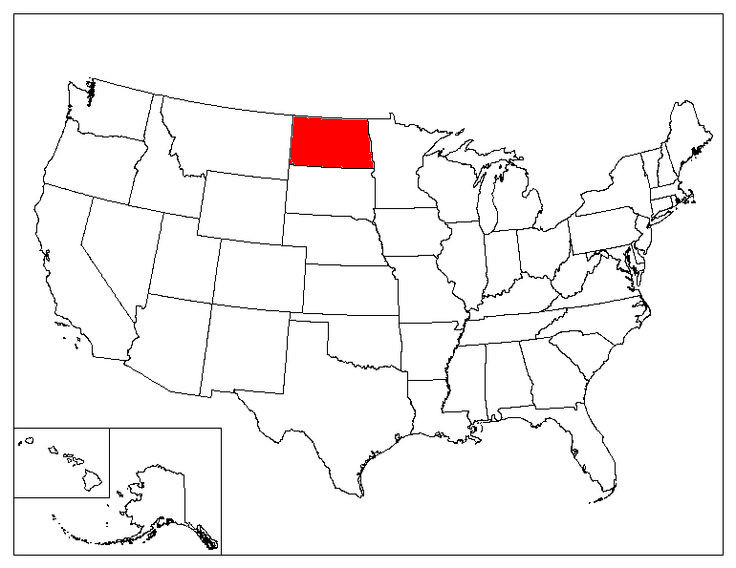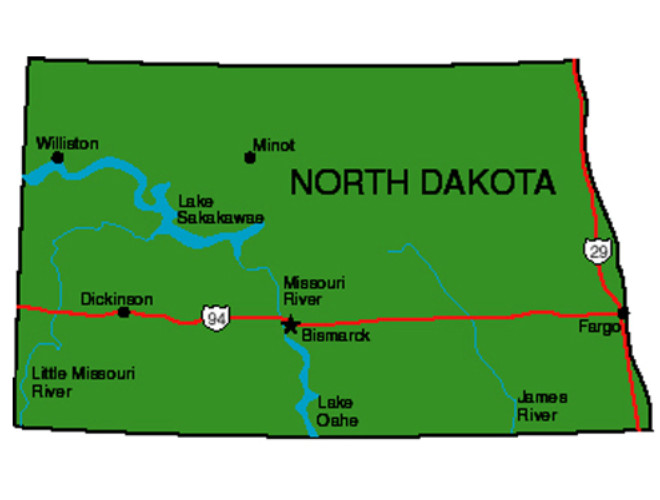 This page contains a wealth of information on the state of North Dakota. Please click on the type of the fact that you are interested in:
Geography & Demographics
State Abbreviation
ND
State Capital
Bismarck
State Size
Total (Land + Water): 70,700 sq miles; Land Only: 68,976 sq miles
Number of Counties
53
Time Zone
Central Time Zone, Mountain Time Zone
Bordering States
Minnesota, Montana, South Dakota
Highest Point
White Butte, 3,508 feet
National Parks
Theodore Roosevelt National Park
State Population (2020)
779,702
State Population Density
11.3 people / square mile
Area Codes
701
Top 5 Cities (2010 population)
Fargo (105,549)
Bismarck (61,272)
Grand Forks (52,838)
Minot (40,888)
West Fargo (25,830)
Government & Legislature
State Symbols
| | |
| --- | --- |
| Hononary State Equine | Nokota horse |
| State Beverage | Milk |
| State Bird | Western meadowlark |
| State Dance | Square dance |
| State Fish | Northern pike |
| State Flower | Wild prairie rose |
| State Fossil | Teredo petrified wood |
| State Fruit | Chokeberry |
| State Grass | Western wheatgrass |
| State Insect | Ladybug |
| State March | Flickertail March |
| State Motto | Liberty and union, now and forever, one and inseparable |
| State Nickname | Sioux State; Flickertail State; Peace Garden State; Rough Rider State |
| State Song | "North Dakota Hymn" |
| State Tree | American elm |
Sports Teams
Popular Tourist Attractions
Famous People Born In North Dakota
Famous Actors And Actresses
Leslie Bibb
Angie Dickinson
Josh Duhamel
North Dakota Fun Facts
Dakota is the Sioux word for "friend" or "ally." The Dakota Territory was divided into North Dakota and South Dakota on November 2, 1889.
The geographical center of North America is in Rugby, North Dakota.
North Dakota holds the Guinness World Record for the most snow angels made simultaneously in one place. On February 17, 2007, 8,962 people made snow angels at the state capitol grounds.
In North Dakota, it is legal to shoot an Indian on horseback, provided you are in a covered wagon.
North Dakota is the only state in the country with a state-owned bank, the Bank of North Dakota.
North Dakota's Jamestown, also known as Buffalo City, houses the "World's Largest Buffalo." The statue is 26 feet tall and 46 feet long.
North Dakota's state capitol is 242 feet high. It is the tallest building in North Dakota.
North Dakota is the coldest state in the contiguous United States.
North Dakota is one of two states with an official State March: Flickertail March.
This page was last updated on May 01, 2021.


ADVERTISEMENTS