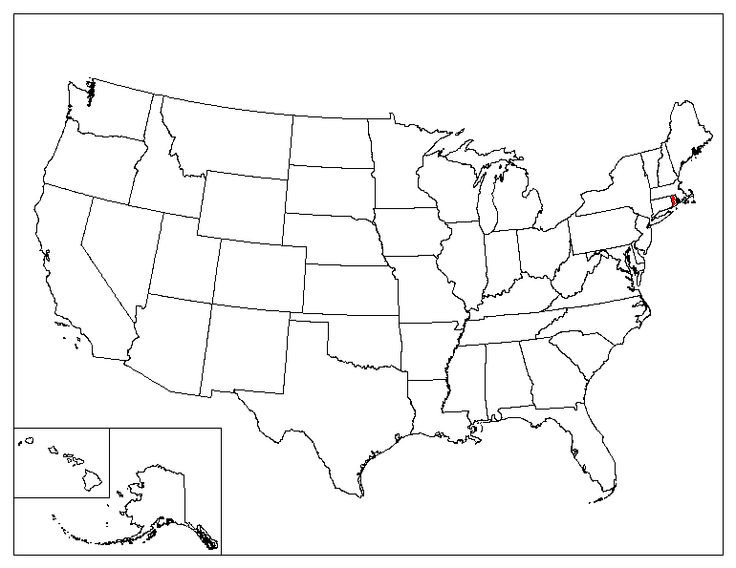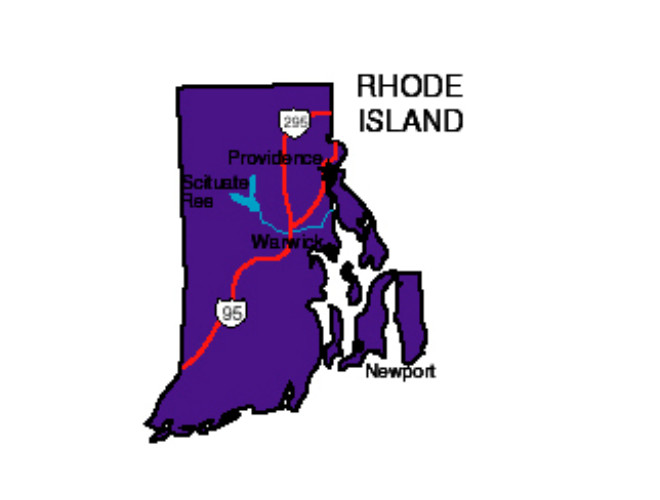 This page contains a wealth of information on the state of Rhode Island. Please click on the type of the fact that you are interested in:
Geography & Demographics
State Abbreviation
RI
State Capital
Providence
State Size
Total (Land + Water): 1,545 sq miles; Land Only: 1,045 sq miles
Number of Counties
5
Time Zone
Eastern Time Zone
Bordering States
Connecticut, Massachusetts, New York (water border)
Highest Point
Jerimoth Hill, 811 feet
National Parks
None
State Population (2020)
1,098,163
State Population Density
1,050.9 people / square mile
Area Codes
401
Top 5 Cities (2010 population)
Providence (178,042)
Warwick (82,672)
Cranston (80,387)
Pawtucket (71,148)
East Providence (47,037)
Government & Legislature
State Symbols
| | |
| --- | --- |
| State Appetizer | Calamari |
| State Bird | Rhode Island red |
| State Drink | Coffee milk |
| State Flower | Violet |
| State Fish | Striped bass |
| State Fruit | Rhode Island greening apple |
| State Insect | American burying beetle |
| State Mineral | Bowenite |
| State Motto | Hope |
| State Nickname | The Ocean State |
| State Rock | Cumberlandite |
| State Shell | Quahaug |
| State Symbol of American Folk Art | The Charles I.D. Looff Carousel |
| State Tall Ship and Flagship USS | Providence |
| State Tree | Red maple |
| State Yacht | Courageous, US-12/26 |
Sports Teams
Popular Tourist Attractions
Famous People Born In Rhode Island
Baseball Hall Of Fame Players
Nap Lajoie (Second Baseman. Inducted in 1937)
Hugh Duffy (Center Fielder. Inducted in 1945)
Gabby Hartnett (Catcher. Inducted in 1955)
Famous Actors And Actresses
Nicholas Colasanto
Jason Marsden
Mena Suvari
Rhode Island Fun Facts
The Rhode Island colony was founded on present-day Aquidneck Island, the largest island in Narragansett Bay. There are two theories on how Aquidneck Island came to be known as Rhode Island: 1) Explorer Giovanni da Verrazzano visited the island near the mouth of Narragansett Bay in 1524, and he compared it to the island of Rhodes in the Mediterranean. 2) Dutch explorer Adraen Block called Aquidneck "een rodlich Eylande," meaning "an island of reddish appearance" in 1625.
On May 4, 1776, Rhode Island declared its independence from Great Britain, the first state to do so. 
Judge Darius Baker imposed the first jail sentence for speeding in an automobile on August 27, 1904, in Newport, Rhode Island. The offender was found guilty of speeding at 15 miles per hour.
The first U.S. Open Championship was played on the nine-hole course of Newport Golf and Country Club in Rhode Island on October 4, 1895.
The Tennis Hall of Fame is located in Newport, Rhode Island.  
Even though Rhode Island has five counties, there is no county government. Local governance is provided by the eight cities and 31 towns.
The start of the Industrial Revolution is often attributed to the development and construction in 1790 of Samuel Slater's water-powered cotton mill in Pawtucket, Rhode Island.
Nine Men's Misery monument in Cumberland, Rhode Island, is the oldest known monument to veterans in the United States.
Roger Williams founded the first Baptist Church in Providence, Rhode Island, in 1638.  It is the oldest Baptist congregation in America. 
In 1852, Rhode Island became the first state to abolish the death penalty for all crimes.
In Rhode Island, the law requires that one must give a timely, audible signal before passing a car on the left.
This page was last updated on May 01, 2021.


ADVERTISEMENTS