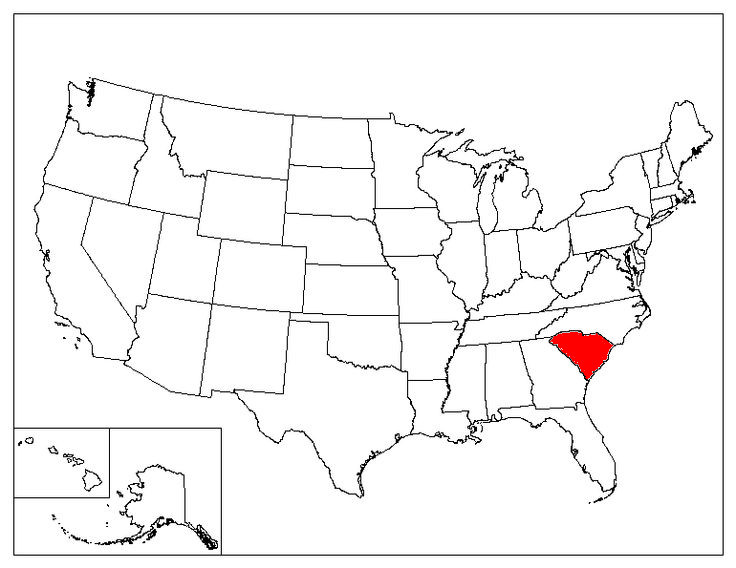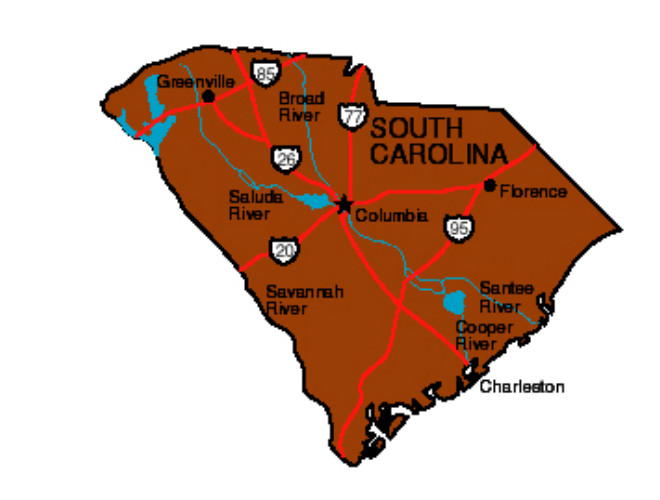 South Carolina is known for:
Beaches
Fishing and hunting
Golf courses
Historic districts
The first state to sucede from the Union, leading to the Civil War
Geography & Demographics
State Abbreviation
SC
State Capital
Columbia
State Size
Total (Land + Water): 32,020 sq miles; Land Only: 30,110 sq miles
Number of Counties
46
Time Zone
Eastern Time Zone
Bordering States
Georgia, North Carolina
Highest Point
Sassafras Mountain, 3,560 feet
Tallest Building
Capitol Center in Columbia, 349 feet
Largest Stadium
Memorial Stadium in Clemson, capacity 81,500
National Parks
Congaree National Park
State Population (2020)
5,118,425
State Population Density
170.0 people / square mile
Area Codes
803, 839, 843, 864
Top 5 Cities (2020 population)
Charleston (139,714)
Columbia (132,130)
North Charleston (118,752)
Mount Pleasant (92,799)
Rock Hill (76,318)
Government & Legislature
State Symbols
| | |
| --- | --- |
| State American Folk Dance | Square dance |
| State Animal | White-tailed deer |
| State Beverage | Milk |
| State Bird | Great Carolina wren |
| State Butterfly | Eastern tiger swallowtail |
| State Colors | Indigo blue |
| State Craft | Sweetgrass basket weaving |
| State Dance | Shag |
| State Dog | Boykin spaniel |
| State Duck | Wood duck |
| State Fish | Striped bass |
| State Flower | Carolina yellow jessamine |
| State Fossil | Columbian mammoth |
| State Fruit | Peach |
| State Gemstone | Amethyst |
| State Grass | Indian grass |
| State Heritage Horse | Carolina march tacky |
| State Heritage Work Animal | Mule |
| State Hospitality Beverage | Tea |
| State Insect | Carolina mantid |
| State Marine Mammal | Bottlenose dolphin |
| State Migratory Marine Mammal | Northern right whale |
| State Motto | Dum spiro spero Animis opibusque parati (While I breathe, I hope Ready in soul and resource) |
| State Music | Spiritual |
| State Nickname | Palmetto State |
| State Popular Music | Beach music |
| State Reptile | Loggerhead sea turtle |
| State Shell | Lettered olive |
| State Snack | Boiled peanuts |
| State Song | "Carolina" and "South Carolina On My Mind" |
| State Spider | Carolina wolf spider |
| State Stone | Blue granite |
| State Tapestry | "From the Mountains to the Sea" |
| State Tree | Sabal palmetto (also called cabbage palm tree) |
| State Waltz | "Richardson Waltz" |
| State Wild Game Bird | Wild turkey |
| State Wildflower | Goldenrod |
Sports Teams
Popular Tourist Attractions
Festivals and Events
Top festivals and events in South Carolina. They are listed in approximate order of when they take place during the year.
Popular Iconic South Carolina Foods
South Carolina is famous for the following foods:
South Carolina-Style Barbecue
Boiled Peanuts
Frogmore Stew
Oyster Roast
Collard Greens
Shrimp and Grits
Pimento Cheese
Okra
Hoppin' John
She-Crab Soup
Famous People Born In South Carolina
Nobel Prize Winners
United States Presidents
Andrew Jackson (7th President)
Pro Football Hall Of Fame Members
Art Shell (Offensive Tackle. Inducted in 1989)
Harry Carson (Linebacker. Inducted in 2006)
Donnie Shell (Safety. Inducted in 2020)
Richard Seymour (Defensive Tackle / Defensive End. Inducted in 2022)
Baseball Hall Of Fame Players
Larry Doby (Center Fielder. Inducted in 1998)
Ben Taylor (First Baseman. Inducted in 2006)
Jim Rice (Left Fielder. Inducted in 2009)
Naismith Memorial Basketball Hall Of Fame Players
Alex English (Forward. Inducted in 1997)
Katrina McClain (Forward. Inducted in 2012)
Kevin Garnett (Forward. Inducted in 2020)
Pearl Moore (Guard. Inducted in 2021)
Famous Actors And Actresses
Thomas Gibson
Chris Rock
Jessica Stroup
Famous Singers
Lee Brice
James Brown
Darius Rucker
South Carolina Fun Facts
The Carolina colony was established by British and it was split in 1729 into North and South Carolina as it was deemed to big to govern effectively. Carolina is named after King Charles I. Carolus is the Latin word for Charles.
The first opera performed in the United States, a comic ballad opera called Flora, opened in Charleston, South Carolina, in 1735.
The Charleston Tea Plantation, located on Wadmalaw Island, South Carolina, is the only working tea plantation in the United States.
Morgan Island in South Carolina houses the only colony of free-ranging rhesus monkeys in the United States. Morgan Island is also known as Monkey Island. There are about 3,500 monkeys in the colony.
The Charleston Museum in Charleston, South Carolina, is the first museum in America. It was founded in 1773 and opened to the public in 1824.
Johnston, South Carolina, is known as the Peach Capital of the World.
The largest Gingko farm in the world is located in Sumter, South Carolina.
The first battle of the Civil War took place at Fort Sumter, South Carolina.
On November 2, 1954, Strom Thurmond became the first US senator elected by write-in vote. Thurmond received 63.1% of the votes to win the election.
In South Carolina, a person must be 18 years old to legally play a pinball machine.
This page was last updated on July 10, 2023.


ADVERTISEMENTS