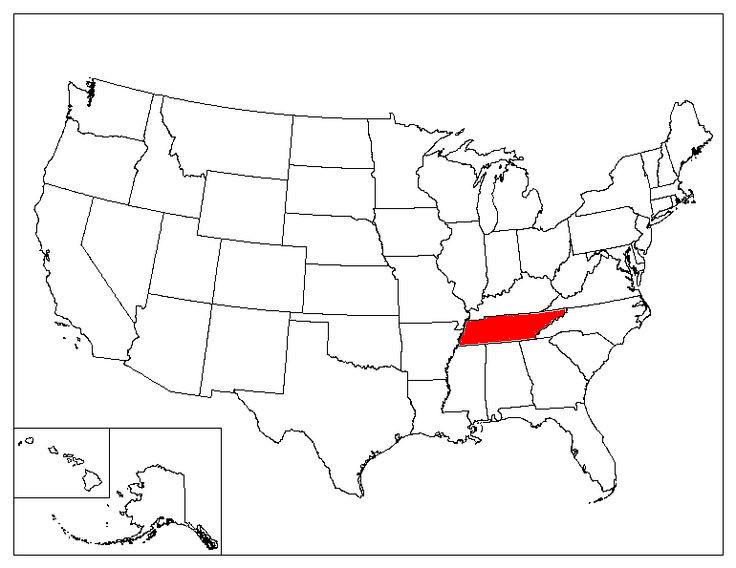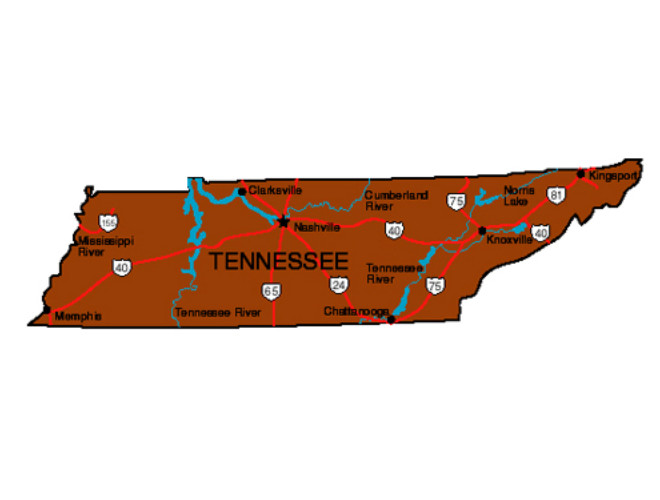 Tennessee is known for:
Country music
Whiskey
Graceland and Elvis
Tennessee whiskey
Geography & Demographics
State Abbreviation
TN
State Capital
Nashville
State Size
Total (Land + Water): 42,143 sq miles; Land Only: 41,217 sq miles
Number of Counties
95
Time Zone
Eastern Time Zone, Central Time Zone
Bordering States
Alabama, Arkansas, Georgia, Kentucky, Mississippi, Missouri, North Carolina, Virginia
Highest Point
Clingmans Dome, 6,643 feet
Tallest Building
333 Commerce in Nashville, 617 feet
Largest Stadium
Neyland Stadium in Knoxville, capacity 102,455
National Parks
Great Smoky Mountains National Park
State Population (2020)
6,910,840
State Population Density
167.7 people / square mile
Area Codes
423, 615, 731, 865, 901, 931
Top 5 Cities (2020 population)
Nashville (694,176)
Memphis (649,705)
Knoxville (190,223)
Chattanooga (184,742)
Clarksville (161,247)
Government & Legislature
State Symbols
| | |
| --- | --- |
| State Agricultural Insect | Honeybee |
| State Amphibian | Tennessee cave salamander |
| State Artifact | "Sandy" |
| State Beverage | Milk |
| State Bird | Mockingbird |
| State Butterfly | Zebra swallowtail |
| State Commercial Fish | Channel catfish |
| State Flower | Iris |
| State Fossil | Ptero |
| State Gem | Pearl |
| State Insect | Honeybee and ladybug |
| State Mineral | Agate |
| State Motto | Agriculture and Commerce |
| State Nickname | Volunteer State |
| State Painting | "Tenneessee Treasures" and "Tennessee Treasures Too" |
| State Reptile | Eastern box turtle |
| State Rock | Limestone |
| State Sport Fish | Smallmouth bass |
| State Tree | Tulip poplar |
| State Wild Animal | Raccoon |
Sports Teams
Popular Tourist Attractions
UNESCO Heritage Sites
Festivals and Events
Top festivals and events in Tennessee. They are listed in approximate order of when they take place during the year.
Popular Iconic Tennessee Foods
Tennessee is famous for the following foods:
Hot Fried Chicken
Memphis-Style Barbecue
Country Ham
Biscuits and Gravy
Fried Pickles
Catfish
Banana Pudding
Moon Pies
Meat and Three
Sweet Potato Fries
Fried Pies
Memphis Ribs
Nashville Hot Chicken
Fried Green Tomatoes
Famous People Born In Tennessee
Nobel Prize Winners
Pro Football Hall Of Fame Members
Doug Atkins (Defensive End. Inducted in 1982)
Lynn Swann (Wide Receiver. Inducted in 2001)
Reggie White (Defensive End. Inducted in 2006)
Gene Hickerson (Guard. Inducted in 2007)
Claude Humphrey (Defensive End. Inducted in 2014)
Baseball Hall Of Fame Players
Turkey Stearnes (Center Fielder. Inducted in 2000)
Naismith Memorial Basketball Hall Of Fame Players
Oscar Robertson (Guard. Inducted in 1980)
Nera White (Forward. Inducted in 1992)
Bailey Howell (Forward. Inducted in 1997)
Famous Actors And Actresses
Kathy Bates
Megan Fox
Morgan Freeman
Famous Singers
Kenny Chesney
Miley Cyrus
Aretha Franklin
Dolly Parton
Justin Timberlake
Tina Turner
Tennessee Fun Facts
The state of Tennessee was named after a Cherokee town named "Tanasi," which is in present-day Monroe County, Tennessee. The true meaning of Tanasi cannot be ascertained, though it's been said to mean "meeting place," "wind river," or "river of the great bend."
Tennessee borders with eight other states. This makes Tennessee, along with Missouri, the state with the most neighboring states.
The Grand Ole Opry in Nashville, Tennessee, is the longest continuously running live radio program in the world. It has been live since November 28, 1925.
Vanderbilt University, along with its affiliated hospitals, is the largest employer in Tennessee.
The Manhattan Project was based in Oak Ridge, Tennessee.
Memphis, Tennessee, is home to Graceland, Elvis Presley's former estate.
Tennessee bottlers Moses and Ally Hartman developed Mountain Dew in 1940.
Columbia, Tennessee, is the self-proclaimed Mule Capital of the World. It celebrates a city-designed Mule Day each April.
Tennessee was the last state to secede from the Union during the Civil War and the first state to be readmitted after the war.
Tennessee won its nickname as The Volunteer State during the War of 1812 when volunteer soldiers from Tennessee played a prominent role in the Battle of New Orleans.
This page was last updated on July 10, 2023.


ADVERTISEMENTS