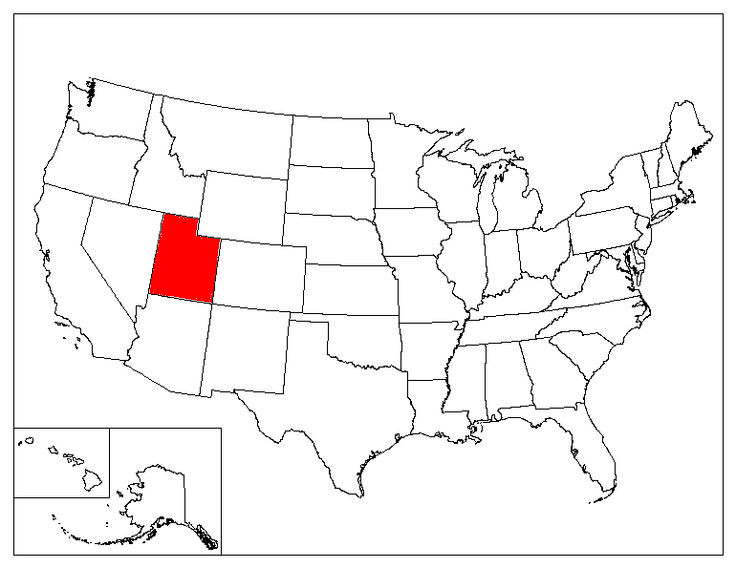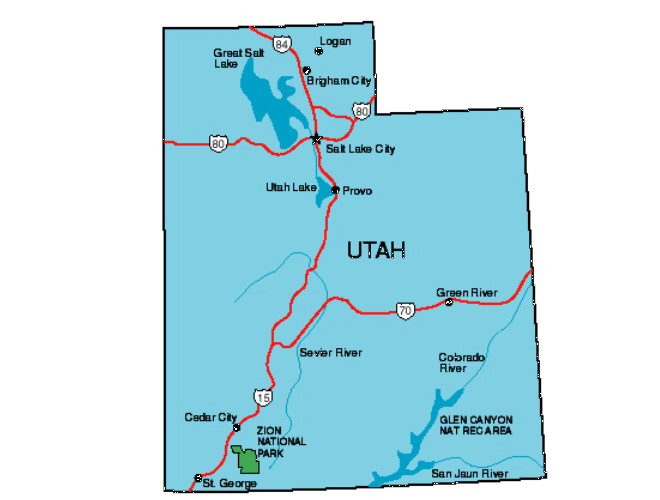 Utah is known for:
The Great Salt Lake, the largest waltwater lake in the Western Hemisphere
Skiing
National parks
Mormons
Sundance Film Festival
Geography & Demographics
State Abbreviation
UT
State Capital
Salt Lake City
State Size
Total (Land + Water): 84,899 sq miles; Land Only: 82,144 sq miles
Number of Counties
29
Time Zone
Mountain Time Zone
Bordering States
Arizona, Colorado, Idaho, Nevada, New Mexico, Wyoming
Highest Point
Kings Peak, 13,534 feet
Tallest Building
Wells Fargo Center in Salt Lake City, 422 feet
Largest Stadium
LaVell Edwards Stadium in Provo, capacity 63,470
National Parks
Arches National Park
Bryce Canyon National Park
Canyonlands National Park
Capitol Reef National Park
Zion National Park
State Population (2020)
3,271,616
State Population Density
39.8 people / square mile
Area Codes
385, 435, 801
Top 5 Cities (2020 population)
Salt Lake City (204,087)
West Valley City (133,894)
West Jordan (116,530)
Provo (116,295)
Orem (98,970)
Government & Legislature
State Symbols
| | |
| --- | --- |
| State Animal | Rocky Mountain elk |
| State Astronomical Symbol | Beehive cluster located in the constellation of Cancer the Crab |
| State Bird | Common American gull |
| State Cooking Pot | Dutch oven |
| State Firearm | John M. Browning designed M1911 automatic pistol |
| State Fish | Bonneville cutthroat trout |
| State Flower | Sego lily |
| State Folk Dance | Square dance |
| State Fossil | Allosaurus |
| State Fruit | Cherry |
| State Gem | Topaz |
| State Grass | Indian rice grass |
| State Historic Vegetable | Sugar beet |
| State Hymn | "Utah We Love Thee" |
| State Insect | Honeybee |
| State Mineral | Copper |
| State Motto | Industry |
| Nickname | Beehive State |
| State Railroad Museum | Ogden Union Station |
| State Rock | Coal |
| State Song | "Utah, This Is The Place" |
| State Star | Dubhe |
| State Tree | Quaking aspen |
| State Vegetable | Spanish sweet onion |
| State Winter Sports | Skiing and snowboarding |
Sports Teams
Popular Tourist Attractions
Festivals and Events
Top festivals and events in Utah. They are listed in approximate order of when they take place during the year.
Popular Iconic Utah Foods
Utah is famous for the following foods:
Pastrami Burgers
Fry Sauce
Funeral Potatoes
Utah Scones
Jell-O
Bear lake Raspberries
Dutch Oven Fare
Green River Melons
Utah Honey
Frog Eye Salad
Navajo Tacos
Famous People Born In Utah
Nobel Prize Winners
Pro Football Hall Of Fame Members
Merlin Olsen (Defensive Tackle. Inducted in 1982)
Steve Young (Quarterback. Inducted in 2005)
Naismith Memorial Basketball Hall Of Fame Players
John "Cat" Thompson (Forward. Inducted in 1962)
Famous Actors And Actresses
Roseanne Barr
James Woods
Loretta Young
Famous Singers
Jewel Kilcher
Donny Osmond
Marie Osmond
Utah Fun Facts
There are two theories on the origination of the word "Utah": The first is that it originates from the Native American "Ute" tribe which means "people of the mountains." The second is that it originates from the Native American word "yuttahih," meaning "higher up." In either case, the origin came from the Native Americans.
Utah is one of only two states in the United States to outlaw all forms of gambling.
At Four Corners, in the southeast, Utah meets Colorado, New Mexico and Arizona at right angles, the only such meeting of states in the country.
Approximately 62% of Utah residents are Mormons, or members of the Church of Jesus Christ of Latter-day Saints. Utah is the most homogeneous state in the nation in terms of religion.
The Great Salt Lake is saltier than the ocean. Its salt content can be more than seven times that of the ocean.
On May 10, 1869, the First Transcontinental Railroad was completed at Promontory Summit, Utah. The event was billed as the "Wedding of the Rails," as it represented the joining of railroads built by two companies, the Union Pacific Railroad and the Central Pacific Railroad.
In 1912, policeman Lester Wire invented the first red-green electric traffic lights in Salt Lake City, Utah.
In Utah, individuals may not supply beer to the public in containers larger than two liters unless they are licensed to do so.
Utah is the only state with an official State Cooking Pot: Dutch oven.
This page was last updated on July 10, 2023.


ADVERTISEMENTS