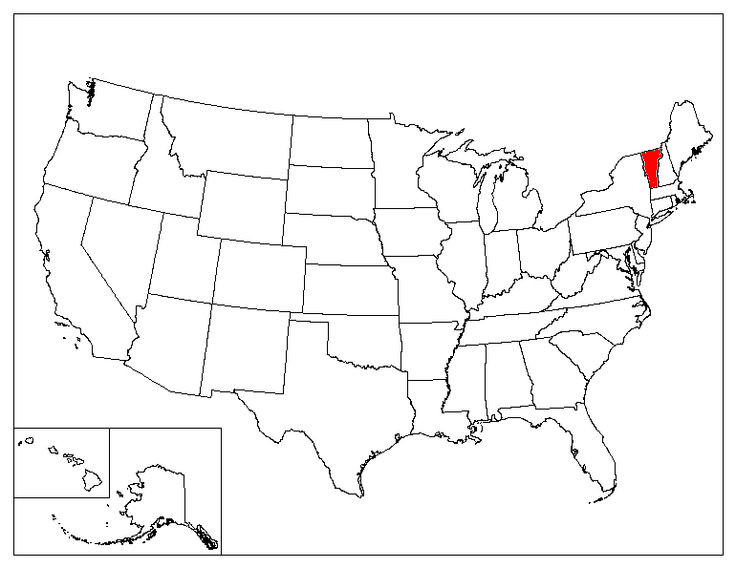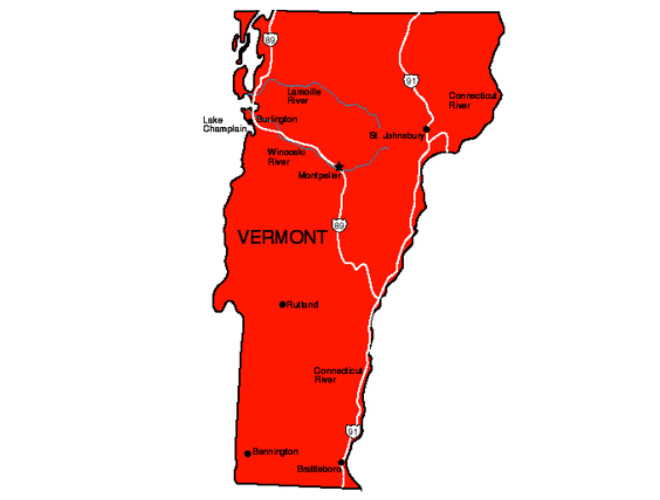 Vermont is known for:
Green mountains
Farms
Wineries and breweries
Ben & Jerry's
Maple syrup
Geography & Demographics
State Abbreviation
VT
State Capital
Montpelier
State Size
Total (Land + Water): 9,614 sq miles; Land Only: 9,250 sq miles
Number of Counties
14
Time Zone
Eastern Time Zone
Bordering States
Massachusetts, New Hampshire, New York
Highest Point
Mount Mansfield, 4,395 feet
National Parks
None
State Population (2020)
643,077
State Population Density
69.5 people / square mile
Area Codes
802
Top 5 Cities (2020 population)
Burlington (42,899)
South Burlington (19,578)
Rutland (14,914)
Essex Junction (10,793)
Barre (8,474)
Government & Legislature
State Symbols
| | |
| --- | --- |
| State Amphibian | Northern leopard frog |
| State Animal | Morgan horse |
| State Beverage | Milk |
| State Bird | Hermit thrush |
| State Butterfly | Monarch butterfly |
| State Cold-Water Fish | Brook trout |
| State Flower | Red clover |
| State Fossil | The beluga skeleton |
| State Gem | Grossular garnet |
| State Insect | Honeybee |
| State Mineral | Talc |
| State Motto | Freedom and Unity |
| State Nickname | Green Mountain State |
| State Pie | Apple pie |
| State Reptile | Painted turtle |
| State Soil | Tunbridge soil series |
| State Song | "These Green Mountains" |
| State Stone | Marble, granite, and slate |
| State Tree | Sugar maple |
| State Warm-Water Fish | Walleye |
Sports Teams
Popular Tourist Attractions
Popular Iconic Vermont Foods
Vermont is famous for the following foods:
Lamb
Heirloom Apples
Cheddar Cheese
Lake Champlain Chocolates
Mape Creemee
Cider Doughnuts
Sugar on Snow
Maple Syrup
Ben & Jerry's Ice Cream
Famous People Born In Vermont
Nobel Prize Winners
United States Presidents
Chester A. Arthur (21st President)
Calvin Coolidge (30th President)
Baseball Hall Of Fame Players
Carlton Fisk (Catcher. Inducted in 2000)
Famous Actors And Actresses
Orson Bean
Zosia Mamet
Gabriel Mann
Vermont Fun Facts
Vermont's name is derived from two French words–vert ("green") and mont ("mountain"). French explorer Samuel de Champlain first gave the name "Verd Mont" to Vermont's Green Mountains on his 1647 map.
Vermont is the largest producer of maple syrup in the United States.
Until 1996, Vermont was the only state without a Walmart.
Montpelier is the only state capital without a McDonald's.
Vermont does not have any skyscraper. Vermont is the only state that does not have any buildings taller than 124 feet.
Vermont is one of four states that were once independent nations (Texas, California, and Hawaii are the other three). Vermont was known as Republic of New Connecticut between 1777 and 1791.
On May 5, 1978, Ben Cohen and Jerry Greenfield opened their first Ben & Jerry's shop in an old gas station in Burlington, Vermont.
On July 31, 1790, Samuel Hopkins of Pittsford, Vermont, became the first person in the United States to file and to be granted a patent.
The socket wrench was invented by J. J. Richardson of Woodstock, Vermont, who received a patent on June 18, 1863.
This page was last updated on March 01, 2022.


ADVERTISEMENTS