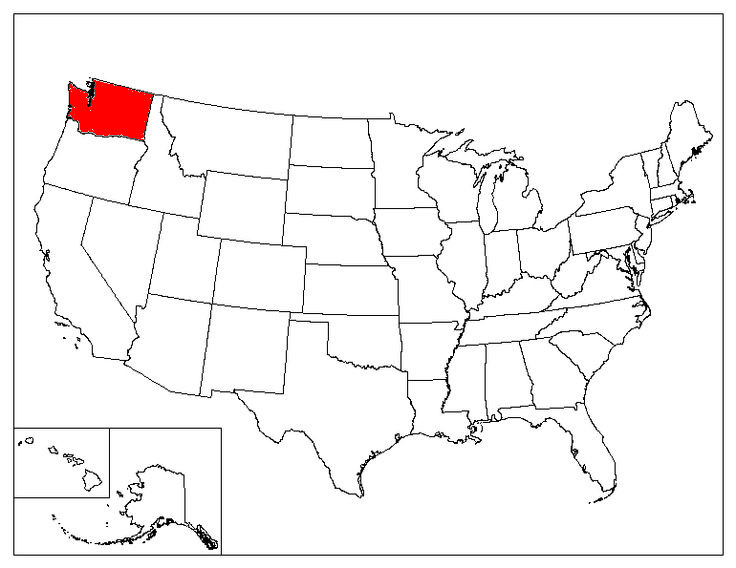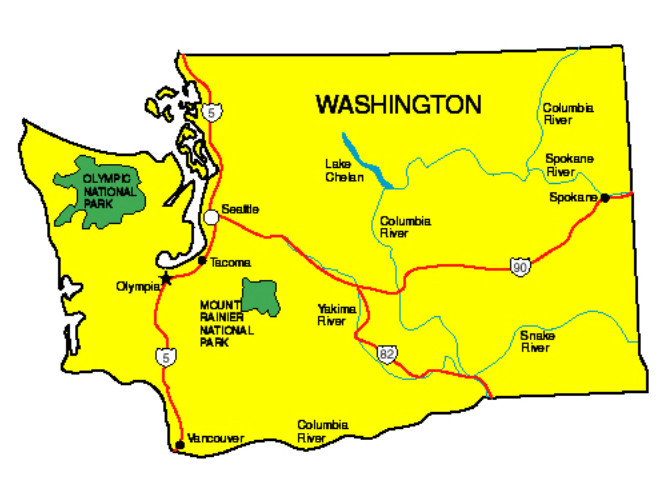 Washington is known for:
Beautiful Scenery
Agriculture
Birthplace of Starbucks
Aerospace industry and home of Boeing
Home of high tech giants Microsoft and Amazon
Geography & Demographics
State Abbreviation
WA
State Capital
Olympia
State Size
Total (Land + Water): 71,300 sq miles; Land Only: 66,544 sq miles
Number of Counties
39
Time Zone
Pacific Time Zone
Bordering States
Idaho, Oregon
Highest Point
Mount Rainier, 14,417 feet
Tallest Building
Columbia Center in Seattle, 933 feet
Largest Stadium
Husky Stadium in Seattle, capacity 70,083
National Parks
Mount Rainier National Park
North Cascades National Park
Olympic National Park
State Population (2020)
7,705,281
State Population Density
115.8 people / square mile
Area Codes
206, 253, 360, 425, 509, 564
Top 5 Cities (2020 population)
Seattle (769,714)
Spokane (222,050)
Tacoma (219,945)
Vancouver (186,192)
Bellevue (148,073)
Government & Legislature
State Symbols
| | |
| --- | --- |
| State Amphibian | Pacific chorus frog |
| State Bird | Willow goldfinch |
| State Dance | Square dance |
| State Endemic Mammal | Olympic marmot |
| State Fish | Steelhead trout |
| State Flower | Coast rhododendron |
| State Folk Song | "Roll On, Columbia, Roll On" |
| State Fossil | Columbian mammoth |
| State Fruit | Apple |
| State Gem | Petrified wood |
| State Grass | Bluebunch wheatgrass |
| State Insect | Green darner dragonfly |
| State Marine Mammal | Orca |
| State Motto | Al-ki (By and by) |
| State Nickname | Evergreen State |
| State Oyster | Ostrea lurida |
| State Ship | Lady Washington |
| State Song | "Washington, My Home" |
| State Tree | Western hemlock |
| State Vegetable | Walla Walla sweet onion |
| State Waterfall | Palouse Falls |
Sports Teams
Popular Tourist Attractions
UNESCO Heritage Sites
Festivals and Events
Top festivals and events in Washington. They are listed in approximate order of when they take place during the year.
Popular Iconic Washington Foods
Washington is famous for the following foods:
Geoduck
Rainier Cherries
Dungeness Crab
Artisanal Chocolate
Fish & Chips
Apples
Dick's Deluxe Burgers
Fair Scones
Oysters
Beecher's Handmade Cheese
Salmon
Walla Walla Sweet Onions
Famous People Born In Washington
Nobel Prize Winners
Pro Football Hall Of Fame Members
Albert Glen "Turk" Edwards (Tackle. Inducted in 1969)
Ray Flaherty (Offensive End, Coach. Inducted in 1976)
Red Badgro (End. Inducted in 1981)
John Elway (Quarterback. Inducted in 2004)
Len Ford (Defensive End. Inducted in 1976)
Willie Wood (Safety. Inducted in 1989)
Jonathan Ogden (Offensive Tackle. Inducted in 2013)
Brian Urlacher (Linebacker. Inducted in 2018)
Baseball Hall Of Fame Players
Earl Averill (Center Fielder. Inducted in 1975)
Ryne Sandberg (Second Baseman. Inducted in 2005)
Ron Santo (Third Baseman. Inducted in 2012)
Naismith Memorial Basketball Hall Of Fame Players
John Stockton (Guard. Inducted in 2009)
Famous Actors And Actresses
Erika Christensen
Bing Crosby
Rainn Wilson
Famous Singers
Kurt Cobain
Chris Cornell
Kenny G
Jimi Hendrix
Kenny Loggins
Layne Staley
Jennifer Warnes
Washington Fun Facts
The state of Washington was named after the first president of the United States, George Washington. It is the only state to be named after a president.
Washington state is the largest producer of apples in the United States.
Boeing's Everett factory is the world's largest building by volume, covering 4.3 million square feet and encompassing 472 million cubic feet of space.
Harbor Island, located in the mouth of Seattle's Duwamish Waterway, is the largest man-made island in the United States.
The world's largest coffeehouse chain, Starbucks, was founded in Seattle, Washington, in 1971.
57 people perished in the 1980 Mount St. Helens eruption, the deadliest volcano eruption in the recorded history of the United States.
Washington state flag is the only U.S. state flag with a field of green as well as the only state flag with the image of an American president.
Seattle is home to the first revolving restaurant in the 48 contiguous United States, the SkyCity Restaurant on top of the Space Needle.
Washington has more glaciers than any of the other 47 contiguous states.
Washington is the only state with an official State Oyster: Ostrea lurida.
In 2012, Washington (along with Colorado) became the first to legalize marijuana (weed) for recreational use.
In 2007, Washington became the first state to ban texting while driving.
This page was last updated on July 10, 2023.


ADVERTISEMENTS