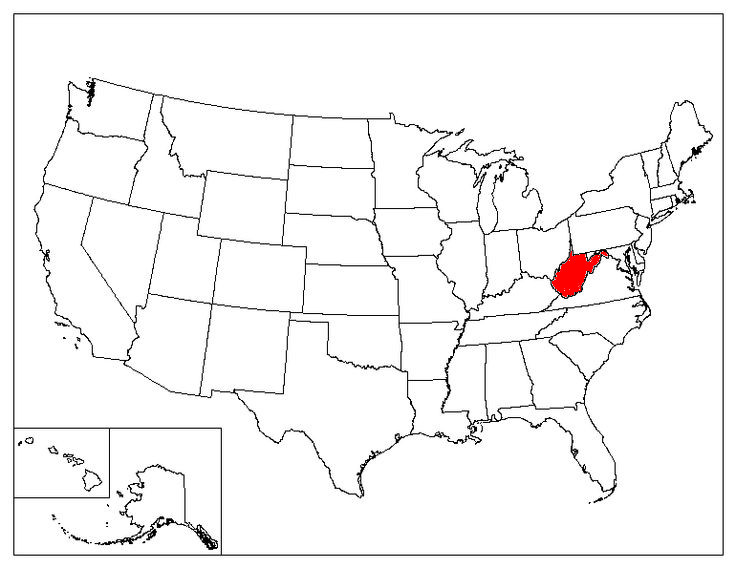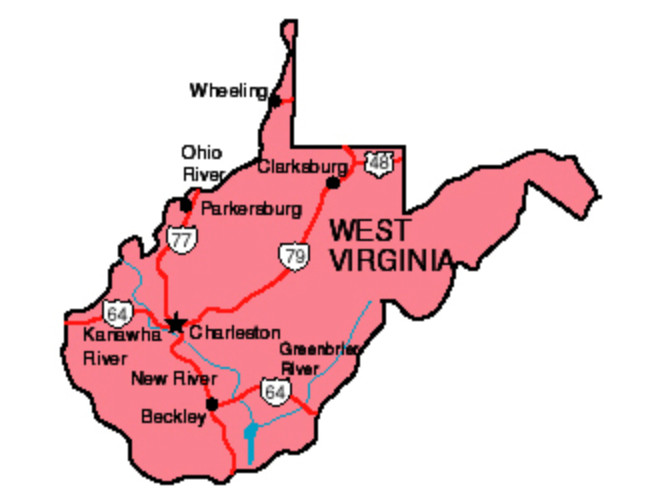 West Virginia is known for:
Scenic mountain beauty
Coal mining industry
Outdoor adventure opportunities
Historic sites
Geography & Demographics
State Abbreviation
WV
State Capital
Charleston
State Size
Total (Land + Water): 24,230 sq miles; Land Only: 24,078 sq miles
Number of Counties
55
Time Zone
Eastern Time Zone
Bordering States
Kentucky, Maryland, Ohio, Pennsylvania, Virginia
Highest Point
Spruce Knob, 4,863 feet
National Parks
New River Gorge National Park
State Population (2020)
1,793,716
State Population Density
74.5 people / square mile
Area Codes
304, 681
Top 5 Cities (2020 population)
Charleston (45,879)
Huntington (44,934)
Morgantown (30,847)
Parkersburg (29,009)
Wheeling (26,283)
Government & Legislature
State Symbols
| | |
| --- | --- |
| State Animal | Black bear |
| State Bird | Cardinal |
| State Butterfly | Monarch butterfly |
| State Colors | Old gold and blue |
| State Fish | Brook trout |
| State Flower | Rhododendron |
| State Fruit | Golden delicious apple |
| State Gem | Silicified Mississippian fossil coral |
| State Insect | Honeybee |
| State Motto | Montani semper liberi (Mountaineers are always free) |
| State Nickname | Mountain State |
| State Rock | Coal |
| State Soil | Monongahela silt loam |
| State Song | "West Virginia My Home Sweet Home", "The West Virginia Hills", "This is My West Virginia" |
| State Tree | Sugar maple |
Sports Teams
| | |
| --- | --- |
| City | Table Tennis Club |
| Charleston | Charleston Table Tennis Club |
Popular Tourist Attractions
Popular Iconic West Virginia Foods
West Virginia is famous for the following foods:
Pepperoni Rolls
Buckwheat Pancakes
West Virginia Slaw Dogs
Venison
Ramps
Apple Butter
Biscuits and Gravy
Soup Beans
Skillet Cornbread
Beans and Cornbread
Trout
Famous People Born In West Virginia
Nobel Prize Winners
Pro Football Hall Of Fame Members
George Preston Marshall (Team Owner, Team Founder. Inducted in 1963)
Greasy Neale (Coach. Inducted in 1969)
Gino Marchetti (Defensive End. Inducted in 1972)
Sam Huff (Linebacker. Inducted in 1982)
Frank Gatski (Center. Inducted in 1985)
Randy Moss (Wide Receiver. Inducted in 2018)
Baseball Hall Of Fame Players
Jesse Burkett (Left Fielder. Inducted in 1946)
George Brett (Third Baseman. Inducted in 1999)
Bill Mazeroski (Second Baseman. Inducted in 2001)
Naismith Memorial Basketball Hall Of Fame Players
Jerry West (Guard. Inducted in 1980)
Hal Greer (Guard-Forward. Inducted in 1982)
Hugh Evans (Referee. Inducted in 2022)
Bob Huggins (Coach. Inducated in 2022)
Famous Actors And Actresses
John Corbett
Elizabeth McLaughlin
Ashlie Rhey
Famous Singers
Wilma Lee Cooper
Red Sovine
Bill Withers
West Virginia Fun Facts
West Virginia was named for England's "Virgin Queen," Elizabeth I. It was part of Virginia until 1861. When Virginia seceded from the Union, the 40 western county delegates opposed the secession and formed their own government, which was granted statehood in 1863.
The New River Gorge Bridge in Fayetteville, West Virginia, is the longest steel-arch bridge in the United States, spanning 1, 699 feet across the New River Canyon.
The first state sales tax established in the United States went into effect on July 1, 1921, in West Virginia.
Weirton is the only city in the U.S. that extends from one state border to another. The eastern portion of the city borders Pennsylvania, and the western portion of the city borders on Ohio.
The first official Mother's Day celebration took in 1908 at a Methodist Church in Grafton, West Virginia, and was organized by Anna Jarvis.
In November 2014, 18-year-old Saira Blair was elected to the West Virginia House of Delegates, becoming the youngest elected lawmaker in the United States.
In West Virginia, a person can be fined one dollar each act of cursing, swearing, or public drunkenness.
Governor Cecil Underwood was the state's youngest governor at 34 when he was first elected in 1956. He was elected again in 1996 at 74, making him the oldest governor of the state.
The first municipally owned parking building in the U.S. was opened September 1, 1941 in Welch, West Virginia.
West Virginia got its first Starbucks in December, 2003, making it the last state in the United States to have a Starbucks store.
This page was last updated on January 30, 2023.


ADVERTISEMENTS