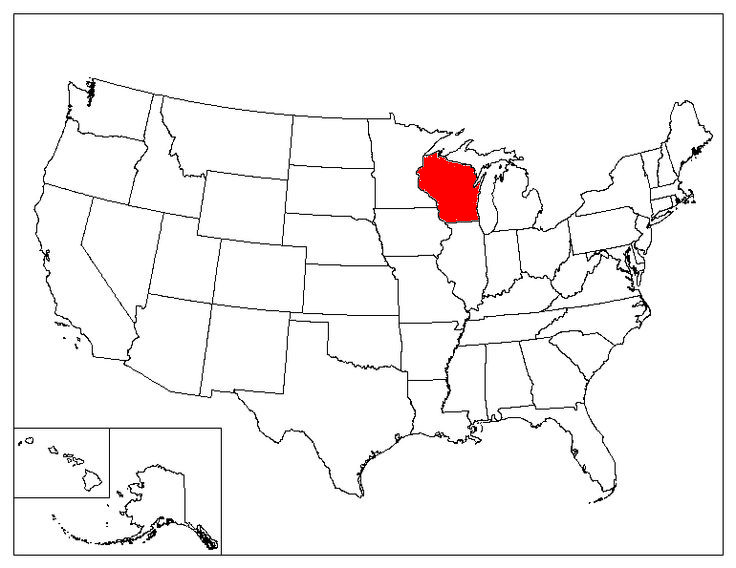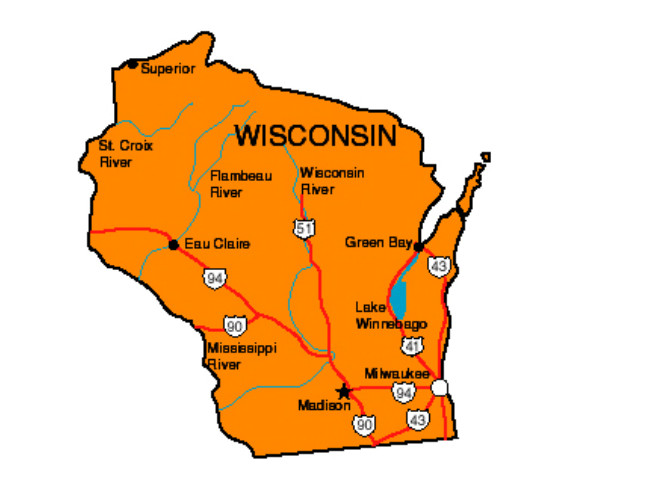 Wisconsin is known for:
Cheese
Dairy production
Beer
Cold winters
Outdoor activities
Native American culture
Geography & Demographics
State Abbreviation
WI
State Capital
Madison
State Size
Total (Land + Water): 65,498 sq miles; Land Only: 54,310 sq miles
Number of Counties
72
Time Zone
Central Time Zone
Bordering States
Illinois, Iowa, Michigan, Minnesota
Highest Point
Timms Hill, 1,951 feet
National Parks
None
State Population (2020)
5,893,718
State Population Density
108.5 people / square mile
Area Codes
262, 274, 414, 534, 608, 715, 920
Top 5 Cities (2020 population)
Milwaukee (589,067)
Madison (263,094)
Green Bay (103,836)
Kenosha (99,570)
Racine (76,237)
Government & Legislature
State Symbols
| | |
| --- | --- |
| State Animal | Badger |
| State Ballad | "Oh Wisconsin, Land of My Dreams" |
| State Beverage | Milk |
| State Bird | Robin |
| State Dance | Polka |
| State Dog | American water spaniel |
| State Domestic Animal | Dairy cow |
| State Fish | Muskellunge |
| State Flower | Wood violet |
| State Fossil | Trilobite |
| State Fruit | Cranberry |
| State Grain | Corn |
| State Insect | Honeybee |
| State Mineral | Galena |
| State Motto | Forward |
| State Nickname | Badger State |
| State Pastry | Kringle |
| State Rock | Red granite |
| State Soil | Antigo silt loam |
| State Song | "On, Wisconsin!" |
| State Symbol of Peace | Mourning dove |
| State Tree | Sugar maple |
| State Wildlife Animal | White-tailed deer |
Sports Teams
Popular Tourist Attractions
Popular Iconic Wisconsin Foods
Wisconsin is famous for the following foods:
Bratwurst
Frozen Custard
Butter Burger
Kringle
Fish Boil
Sausage
Cheese Curds
Cream Puff
Sprecher Root Bear
Beer Cheese Soup
Famous People Born In Wisconsin
Nobel Prize Winners
Pro Football Hall Of Fame Members
Earl "Curly" Lambeau (Halfback, Kicker, Coach, General Manager, Team Founder. Inducted in 1963)
John "Blood" McNally (Halfback. Inducted in 1963)
Mike Michalske (Guard. Inducted in 1964)
Arnie Herber (Quarterback. Inducted in 1966)
Elroy (Crazylegs) Hirsch (Halfback, End. Inducted in 1968)
Alphonse "Tuffy" Leemans (Running Back, Quarterback, Coach. Inducted in 1978)
Jim Otto (Center. Inducted in 1980)
Bud Grant (Coach. Inducted in 1994)
Mike Webster (Center. Inducted in 1997)
Pat Bowlen (Team Owner. Inducted in 2019)
Gil Brandt (Executive. Inducted in 2019)
Baseball Hall Of Fame Players
Kid Nichols (Pitcher. Inducted in 1949)
Al Simmons (Left Fielder. Inducted in 1953)
Burleigh Grimes (Pitcher. Inducted in 1964)
Addie Joss (Pitcher. Inducted in 1978)
Bud Selig (Executive. Inducted in 2017)
Naismith Memorial Basketball Hall Of Fame Players
Christian Steinmetz (Guard. Inducted in 1961)
Famous Actors And Actresses
Fredric March
Mark Ruffalo
Tony Shalhoub
Spencer Tracy
Famous Singers
Greg Graffin
Skylar Grey
Al Jarreau
Wisconsin Fun Facts
The state of Wisconsin was named after the Wisconsin River. The word Wisconsin originates from the Miami Indian word Meskonsing, meaning "this stream meanders through something red," a reference to the setting of the Wisconsin River as it flows through the red sandstone bluffs of the Wisconsin Dells.
Harley-Davidson, the American motorcycle manufacturer, was founded in Milwaukee, Wisconsin, in 1903 by William Harley, Arthur Davidson, and Walter Davidson.
The Ringling Brothers (Albert, Otto, Charles and John) gave their first circus show performance in Baraboo, Wisconsin, in 1884.
Noah's Ark Family Park is the largest water park in the United States. It features 51 water slides, among other attractions. The park is located in the city of Wisconsin Dells, Wisconsin.
The first hydroelectric plant in the United States began operation on the Fox River in Appleton, Wisconsin, on September 30, 1882.
The Wisconsin town of Bloomer hosts an annual jump rope competition and is the Jump Rope Capital of the World.
Eagle River, Wisconsin, hosts the annual World Championship Snowmobile Derby and is known as the Snowmobile Capital of the World.
In 1919, Stephen J. Poplawski of Racine, Wisconsin, invented the blender.
Wisconsin is one of two states with an official State Pastry: Kringle.
This page was last updated on January 30, 2023.


ADVERTISEMENTS