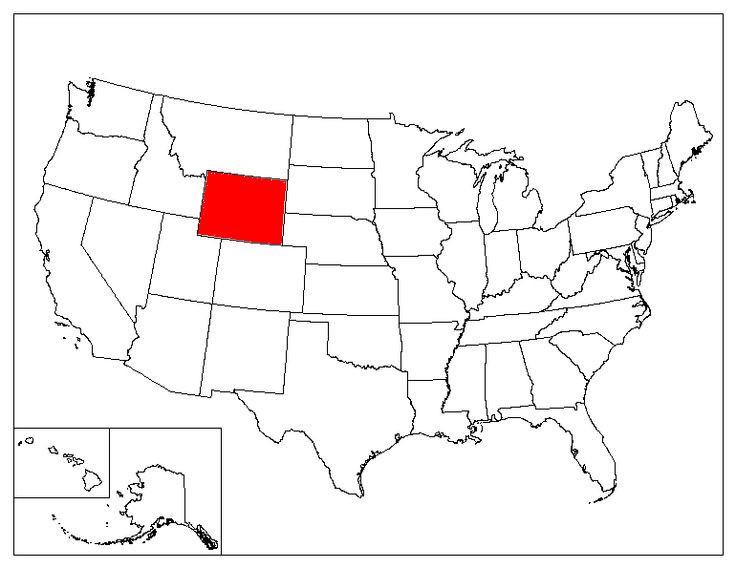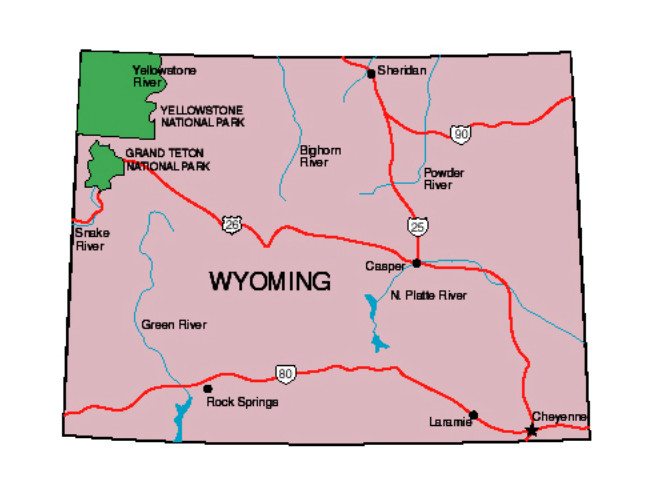 Wyoming is known for:
Yellowstone National Park
Devil's Tower
Diverse wildlife
Hot springs
Oil and gas production
Harsh environment
Geography & Demographics
State Abbreviation
WY
State Capital
Cheyenne
State Size
Total (Land + Water): 97,814 sq miles; Land Only: 97,100 sq miles
Number of Counties
23
Time Zone
Mountain Time Zone
Bordering States
Colorado, Idaho, Montana, Nebraska, South Dakota, Utah
Highest Point
Gannett Peak, 13,809 feet
Tallest Building
White Hall in University of Wyoming in Cheyenne, 146 feet
Largest Stadium
Jonah Field at War Memorial Stadium in Laramie, capacity 32,580
National Parks
Grand Teton National Park
Yellowstone National Park
State Population (2020)
576,851
State Population Density
5.9 people / square mile
Area Codes
307
Top 5 Cities (2020 population)
Cheyenne (64,742)
Casper (58,498)
Laramie (32,661)
Gillette (32,220)
Rock Springs (22,943)
Government & Legislature
State Symbols
| | |
| --- | --- |
| State Bird | Western meadowlark |
| State Butterfly | Sheridan's green hairstreak |
| State Coin | Sacagawea Golden Dollar Coin |
| State Dinosaur | Triceratops |
| State Fish | Cutthroat trout |
| State Flower | Indian paintbrush |
| State Fossil | Knightia |
| State Gemstone | Jade |
| State Grass | Western wheatgrass |
| State Mammal | Bison |
| State Motto | Equal Rights |
| State Nickname | Equality State |
| State Reptile | Horned toad |
| State Shrub | Wyoming big sagebrush |
| State Song | "Wyoming" |
| State Sport | Rodeo |
| State Tree | Plains cottonwood |
Sports Teams
Popular Tourist Attractions
UNESCO Heritage Sites
Festivals and Events
Top festivals and events in Wyoming. They are listed in approximate order of when they take place during the year.
Popular Iconic Wyoming Foods
Wyoming is famous for the following foods:
Rocky Mountain Oysters
Trout
Chicken Fried Steak
Elk
Bison Burgers
Chokecherry Preserves
Rack of Lamb
White Chili
Famous People Born In Wyoming
Famous Actors And Actresses
Jim Beaver
Jim J. Bullock
Darren Dalton
Wyoming Fun Facts
The name Wyoming originated from a Native American word, mecheweamiing, meaning "at the big plains."
Wyoming is nicknamed "The Equality State" as it was the first state in the United States to give women the right to vote, which it did as a territory in 1869.
Devil's Tower in Wyoming, established on September 24, 1906, was the first national monument in the United States.
Most of the Yellowstone National Park lies in Wyoming. Established in 1872, it is the first national park in the United States.
The first national forest was established in Wyoming on March 30, 1891, when President Teddy Roosevelt created the Shoshone National Forest as the Yellowstone Forest Reserve.
J. C. Penney (James Cash Penney) opened a Golden Rule Store in Kemmerer, Wyoming, on April 14, 1902. Penney later expanded the business, and changed the store's name to "J. C. Penney" as it is known today.
The ten largest coal mines in the United States are all located in Wyoming.
White Hall, on the University of Wyoming's campus in Laramie, is the tallest building in the state. The 12-story dormitory is 200 feet high.
Established in 1886, the Laramie County Library System is the oldest continually operating county library system in the country.
Wyoming is one of two states with an official State Shrub: Wyoming big sagebrush.
This page was last updated on July 10, 2023.


ADVERTISEMENTS